You're ready to take your clothing line to the next level and start manufacturing custom apparel overseas. It can be a very exciting but also overwhelming process, so let's go through an overview of what it the process looks like.
How to Design & Spec for Custom Garments
Design of custom garments typically begins with a fashion flat to convey all details about the garment. Depending on your drawing skills, most designers will do these on the computer using Adobe Illustrator, although some will hand sketch. Regardless of how you start out, most sketches are finalized digitally where they transform from fashion flats to tech sketches which include callouts of all garment details. These flats are then compiled into a tech pack which includes everything a factory would need to know about making the garment including: tech sketches, detail drawings, fabric details, trim details, colorway details, print/pattern details, and a graded spec.
Finding A Factory & Sourcing
This can be one of the most intimidating parts of the process if you don't already have established relationships or know where to look to find a reputable factory. Many companies will enlist an agency or a service to help them find a factory, as it can be a bit daunting to do on your own and feel confident that you're working with a factory that will delivery quality product on time. Additionally, it can be challenging to find a factory that is willing to work with new designers, which is why working with an intermediary can be a great option. While it costs money to hire an agency, it can save time, resources and aggravation over the long run.
If you want more info check out this article on Apparel Sourcing.
Production Development
After sourcing and finding a factory to manufacture your products, the product development begins. The process will include submit and review of many items relevant to your garment including: lab dips, knit downs, hand looms, strike offs, trim submits, fabric quality submits, prototypes, fit samples, photo & sales samples, pre-production (PP) samples, and top of production (TOP) samples. All of these items go through the review and approval/rejection process to ensure the final garment is made correctly and any mistakes are caught and corrected during development.
Challenges: Minimums & Lead Time
Some of the biggest challenges with overseas manufacturing include minimums and lead time. Depending on your product and factory, minimums on the low side will be between 600-800 pieces per style for complete custom work, and if you're lucky you might be able to break that into 300-400 pieces per color way (for example, 300-400 blue jackets and 300-400 red jackets, both the same jacket style). You can find factories that will do lower quantities than this, but you'll most likely have to use stock fabric and trims. You'll also need to plan about a year from initial prototype to delivery of bulk production. That's right, an entire year from the time you start sourcing to the time your bulk production lands in your warehouse. This timeline is especially true (and can even be longer) for new companies as they have to develop everything from scratch (working out kinks in construction and fit can be two of the most challenging issues).
Pricing
Overseas manufacturing can often provide a unit price that is lower than stateside manufacturing, but take into account a few things first. While the unit price is lower, the total price may be higher since you have to buy more inventory, which can be riskier. You'll also want to be sure to factor in additional costs, such as freight, duty (on some products this can be as high as 30%, increasing a $10 garment to $13), and insurance.
Manufacturing overseas to create your own custom garments is a huge and scary but often necessary step to take for many designers. The best advice is to do your research and don't try to do it alone. You're the expert designer, so do what you do best, and hire others to do what they do best.
Fashion Flat Templates: Illustrator Stuff (fashion flat & tech sketch compliments of Illustrator Stuff artist FIEND
Production Form Templates: Human B
Overseas Manufacturing Resource: The Fashion Element
Stateside Manufacturing Resource: Manufacture NY, Maker's Row
Custom Crowd Funded Fashion: The Cotery, Beta Brand
Fashion tech evangelista Sew Heidi is founder of Illustrator Stuff, an online marketplace for vector fashion flats, repeating patterns and more.  She's worked professionally as a fashion designer and educator for over 10 years, working with companies to design, spec and source apparel for overseas manufacturing.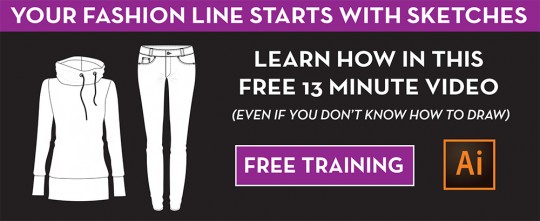 Need an E-Commerce Website?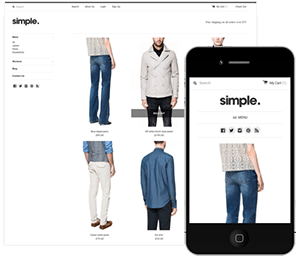 Shopify
is perfect for beginners and experts. You don't need to have any technical or design experience to easily create a beautiful online store with your branding. Choose from tons of well designed e-commerce templates that look great on desktops, phones, and tablets. Easily customize, create pages, add products, and you're pretty much ready to accept payments. Plans come with a free no risk 30 day trial period. Check out
our in depth review of Shopify here
and see why Shopify is our number 1 recommended shop for clothing companies.