Written by Ray Masaki
So assuming that you have a bunch of great products and you have the money to produce them, the next most important thing is to have a professional website. To us indie designers, a website is everything. It's pretty much our only storefront, well, for those who can't afford a brick and mortar store anyway. So like any store that you would visit in a mall or in SoHo or in Tokyo or wherever, it has to be presentable and professional and give the customer a good impression of your brand.
What is a website?
So to those who own a clothing brand, a website is our tool to sell the item at any time to any person anywhere. Imagine the website as your own wonderful employee who will always sit behind the virtual counter and take orders from people across the globe. And like any store, you wouldn't want your employee to be irresponsible and unprofessional (and ugly), so that's why a good, functional website is necessary.
So here are a few tips for a successful ecommerce website:
1. Make sure that your website is custom-designed
I personally think customization is extremely important when it comes to ecommerce stores. If your website looks like everyone else's, how is the customer going to know that the products are unique and professional? Of course, that doesn't necessarily mean that you can't use templates, but just use them as a guideline and customize them to the point that they are unique.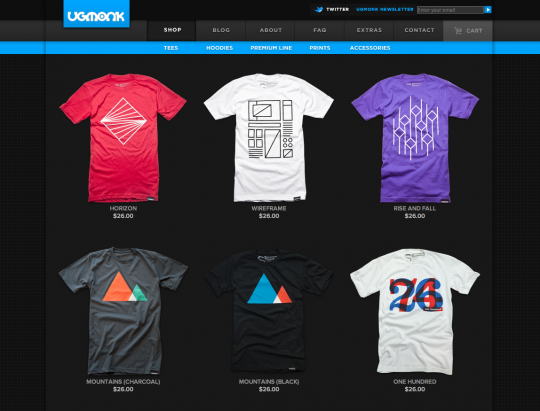 I know a lot of people use BigCartel, and that is perfectly fine. The BigCartel admin panel is top notch, and the whole user experience is great. But I have a problem with everyone who uses the premade template and all they change is the background and the header. When I see a website that has a cookie-cutter template look, I automatically don't feel as attached to the products because I feel like they didn't put enough effort into getting my attention. But of course, that doesn't mean that there is a problem with BigCartel whatsoever. There are some fantastic examples of well-designed BigCartel websites.
The one website that comes to mind is the ugmonk site. Even though Jeff used the BigCartel backend, he customized the storefront to fit the aesthetic of his products.
And that brings me to my next point…
2. The website must fit the aesthetic of your brand.
Going back to the physical store example, if you had a very minimalistic, elegant store with white marble and sold Deathmetal shirts filled with blood and gore, people would be confused and terrified to the point where they would probably not come back ever again. Your website design must match the aesthetic of your products.
One of my favorite sites, and a perfect example of this is Ser-vice. Their products focus on minimalism and beautiful design, and their website fits this perfectly. They use a very minimal color palette, using only shades of grey and the one orange color. Their navigation is also very well designed, and the use of typography is thoughtfully used throughout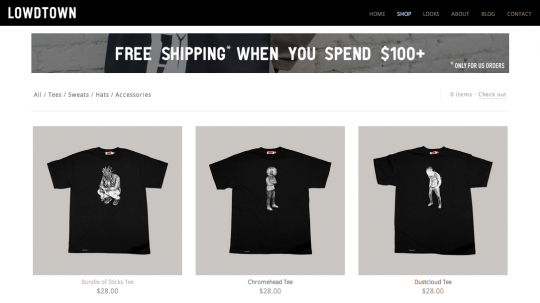 And not to toot my own horn, but I went for a similar effect with the Lowdtown Friends & Freaks website. Since I'm a streetwear brand, I wanted something that was professional but also bold. So I chose to use a very stark, high-contrast black and white color scheme and used the bright pink for emphasis.
3. Think about what your website is used for
I think that some storeowners don't understand the power of a website. Therefore, I believe that people should take full advantage of their website. A website should not only be there to sell, but also as an engine for advertising and marketing your product. Think about it, now that you own a piece of the internet, your website can be the fuel to get your name out there. So use that to your advantage! One of the best things to do with a website is to set up a blog. Not only does a blog give your readers a little insight about the company, but it also gives the customers a reason to keep returning to the website. Always think of how to keep your customers coming back. This way, you can build a loyal fanbase, and have customers for life. Another useful tool is a newsletter, use it to your advantage and create loyal fans. (Shameless plug: sign up for my newsletter if you haven't already, haha.) Also on your website, be sure to have an about section and tell the viewers a little about yourself. I don't like when companies are anonymous, faceless corporations. If you get a little piece of personality from the owner, I would be much more likely to buy a product from them. Back to the analogy, you'd probably be more likely to buy a product from someone if the employee was being kind and helpful rather than someone who is unresponsive and apathetic.
4. Make the website easy to use and understand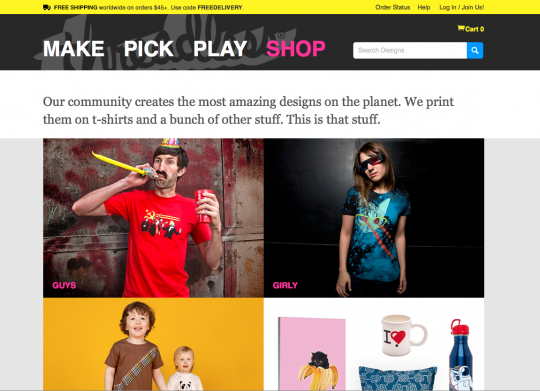 Make sure that your website is easy to understand and that the viewer instantly understands what you're selling. Online shoppers all have ADD, if they don't know what's going on within the first five seconds, they will leave without hesitation. I mean, I'm certainly guilty too. Whenever I'm trying to find something, like hmm… a digimon action figure, for example, if I search on google "digimon action figure" and click on the first website that appears, if it doesn't instantly tell me where or how to get a digimon action figure, I'll leave. It's as simple as that, humans have the tendency to be douchebags on the internet, so we'll leave your online store without hesitation. So make the navigation easy enough for a second grader to understand, and make it very clear what you're selling without being obnoxious. Be attention grabbing, but don't shove it in our faces, we're not idiots!
Threadless is actually a great example of this, in my opinion. If you go to the homepage of Threadless, there is no way you can mistaken the website for a site that sells stationary or something. The navigation is simple, and you can easily click through the designs. Great!
What do I do, I don't know how to make a website?
A website is extremely important, and it is not something you can simply dismiss or ignore. If you have no experience with web design, I would honestly recommend that you drop some good money for a professional website. An alternative would be to learn web design, but not to sound like an asshole, but it takes so much time and effort to learn enough to make a professional ecommerce website. Personally, it took me a couple years to get to the web design experience level I am now, and I think it would take more time and effort than it's worth. I'm not saying, "don't learn web design", but if you're planning to release your brand in the near future, it's just more practical to pay for a web design service. There are many people out there who have a lot of experience coding and designing websites (especially BigCartel), so it's not a bad alternative if you have the money and want to save some valuable time.
I have a website, now what?
Now that you have a website, it's important to get your name out. I'll talk about basic promotion techniques in a future post, so stay tuned!
Conclusion
I hope that this article gave you an idea of how important and essential a website is to an indie brand. Remember, a website can take orders at anytime, any day, and from anywhere. But be sure that your website is professional and matches your brands aesthetic. There is nothing worse than a brand with great products but a terrible website. I get the impression that they don't care about their appearance, and maybe their products will not be good quality either.
In closing, here's a link to an article by Smashing Magazine showcasing some great ecommerce web designs. These certainly gave me some good inspiration when I was thinking about the web design of Lowdtown.
http://www.smashingmagazine.com/2008/08/06/design-showcase-of-creative-online-shops/
Need an E-Commerce Website?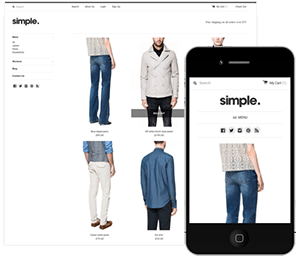 Shopify
is perfect for beginners and experts. You don't need to have any technical or design experience to easily create a beautiful online store with your branding. Choose from tons of well designed e-commerce templates that look great on desktops, phones, and tablets. Easily customize, create pages, add products, and you're pretty much ready to accept payments. Plans come with a free no risk 30 day trial period. Check out
our in depth review of Shopify here
and see why Shopify is our number 1 recommended shop for clothing companies.