By Liz at Pop Culture Tees
Telling your story, how to write a great mission statement
Have you ever read a mission statement that starts something like this?:
"Brand X is a brand that represents urban culture and is for creative edgy people everywhere. Every product of Brand X incorporates our unique vision, style, and attitude. We're not just a t-shirt shop, we're a culture…"
Horrible, right? Because there's a half dozen problems with this:
Of course your products are unique… but what actually makes them different from anyone else's?
T-Shirts are not culture, and they're not a representation of the entirety of urban culture or anything else. They're clothing. And unless you're really lucky, they reflect pop culture, not create it.
Lots of words without saying much. Buzz words are cheap, and you can string them together to make something that sounds great. Problem is, they usually don't mean anything.
Trying to defining and classify your customers is a great way to drive would be buyers away. If I don't feel like I'm edgy and creative person, I'm not going to feel like your tees are for me.
This isn't a real mission statement, but it is inspired by (and in some spots roughly borrowed from) dozens I've read from submissions to the site, and around the web. Your mission statement says who you are, and what you're about, so why short change yourself by writing a bad one that doesn't really say much at all?
If you want to write a great mission statement, follow these 3 simple rules:
Tell people where you came from: how your brand started, what was the inspiration, why are you doing what you are.
Tell people what's really unique about your brand: Maybe all your tees and ink are organic or maybe your designs are all inspired by your favorite Star War characters, or maybe you donate 10% of each sale to the WWF. Whatever it is, make it plain and easy to understand.
Tell people what your designs are about: This is hard if you don't have a theme that connects your clothing line (hint: your brand will be stronger if you have a central theme), but you should be able to talk about what connects all your designs and what they're about.
Need an E-Commerce Website?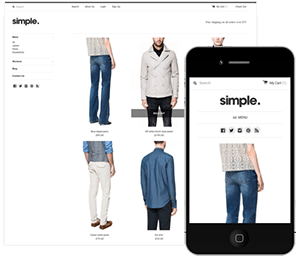 Shopify
is perfect for beginners and experts. You don't need to have any technical or design experience to easily create a beautiful online store with your branding. Choose from tons of well designed e-commerce templates that look great on desktops, phones, and tablets. Easily customize, create pages, add products, and you're pretty much ready to accept payments. Plans come with a free no risk 30 day trial period. Check out
our in depth review of Shopify here
and see why Shopify is our number 1 recommended shop for clothing companies.


Thread's not Dead is "the ESSENTIAL strategy guide for dominating the t-shirt business"
- Says Jeffery Kalmikoff, Former CCO of Threadless.com
Start your own clothing company and become the next Mark Ecko, Obey, or Johnny Cupcakes! Learn how to dominate the t-shirt business.

 How to Start and Grow your Own Clothing Company

 How to Build a Massive Following Using Social Media

 Case Studies and Interviews with the Best of the Best
Use the code "howtostart" for 20% OFF