My name is Ryan Miller; I'm a 21 year old designer from West Palm Beach, Florida. I do freelance design work under the name Relentless Studio and run Carraway Clothing for a living.
In 2006, when I first started Carraway Clothing, I immediately started endorsing bands. Carraway endorses quite a few bands now, eighteen to be exact. From my experiences so far, it's definitely an effective way to get a fair share of exposure; especially when you're just starting out.
When starting any company, clothing or not, you're going to want to spend your money very sparingly. Mainly because you don't have any profit coming in just yet. Endorsing bands is a great way to get exposure for little or no money at all; minus the cost of the clothing that you're giving away, of course. It sure beats the cost of advertising online or in magazines. Let the bands record label or management do the work for you. The bigger the band gets, the more exposure you get. Some companies will pay to have certain bands wear their apparel, but I've never done that. There's plenty of bands out there that just enjoy getting some new clothes. From my past experiences being on the road, you'll resort to wearing anything that doesn't smell like sweat or cigarettes on tour; if it's a shirt you actually like, well that's just a plus.
Always get pictures of the band wearing your clothing. Post these pictures on your site. Fans love seeing bands wearing stuff they're able to get their hands on. Get live shots, promotional pictures, stills of them wearing your clothing in a video they made; anything at all. The more pictures you have, the better. Make it seem like they wear nothing else besides your clothing. Think about someone you really look up to for a minute, whether they're in a band or not. If you had the chance to wear what they're wearing or wore in the past, wouldn't you? When fans see a new clothing company that's endorsing a band that they look up to, it will get them interested without a doubt. Getting them to check out your site is what you want. It's all about traffic. When you have the combination of traffic and attractive designs, you are going to get sales.
Be smart about it. If your designs have blood and guts all over them, attempt to endorse a band that you think will appreciate it. Bands want to wear clothing that fits their style. For example, you're not going to want to endorse a band like Dashboard Confessional with clothes that resemble Rockett Clothing. Neither the band or their fans would be interested. Pick a market and stick to it. Carraway tends to sponsor more pop rock bands than anything. Cartel, Paramore and Say Anything to name a few. I feel my designs fit their style best.
The amount of exposure you will receive all depends on what bands are being endorsed and what they give back to you. Of course you're going to want to endorse bands that have thousands and thousands of fans. If you can do that, great, but sometimes that's just not an option. If you have a local band in your area that draws kids, endorse them and sell your clothing at their shows. Have them mention your company on stage if you can. This has gotten me hundreds of sales in the past. When trying to get a band endorsed, mention what other bands you sponsor, especially if you have larger bands on your roster. Everyone wants to jump on the bandwagon; literally. If not, explain to them that you're a new company and you have big plans in the future. I found that when dealing with a larger band it's better to go through their management. Do a little research and find out who manages them. More than likely you can find their managers email address without a problem. It's more reliable than sending a MySpace message or something along those lines. Speaking of MySpace, a lot of bands will send messages asking to be endorsed. This is very common. If they're a band that you think doesn't have potential and won't help your sales, then avoiding being pressured into it. Stick to a solid roster.
Just having bands wear your clothing won't be enough. You have to get them to somehow get their fans to know what they're wearing. Otherwise, how will kids know where to buy your stuff? Use MySpace to your advantage. Have the band put you in their Top Friends or post a banner. If you can get both, great. Have them agree to this before shipping them clothing to avoid getting screwed over.
When you start making some profit, and are ready to start advertising, why not use a photograph of a band wearing your clothing? This is a great way to get some recognition in music magazines and such. Make sure it's not just a picture you took with your camera phone though; make sure it's a good quality shot that shows off your clothing well. Be sure that all the members are wearing a different design as well.
I hope this article helped. Good luck with everything and feel free to email me with any questions you may have.
Need an E-Commerce Website?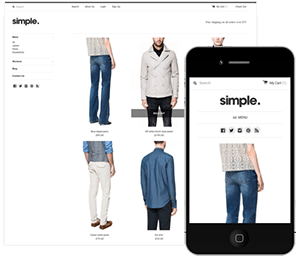 Shopify
is perfect for beginners and experts. You don't need to have any technical or design experience to easily create a beautiful online store with your branding. Choose from tons of well designed e-commerce templates that look great on desktops, phones, and tablets. Easily customize, create pages, add products, and you're pretty much ready to accept payments. Plans come with a free no risk 30 day trial period. Check out
our in depth review of Shopify here
and see why Shopify is our number 1 recommended shop for clothing companies.


Thread's not Dead is "the ESSENTIAL strategy guide for dominating the t-shirt business"
- Says Jeffery Kalmikoff, Former CCO of Threadless.com
Start your own clothing company and become the next Mark Ecko, Obey, or Johnny Cupcakes! Learn how to dominate the t-shirt business.

 How to Start and Grow your Own Clothing Company

 How to Build a Massive Following Using Social Media

 Case Studies and Interviews with the Best of the Best
Use the code "howtostart" for 20% OFF