Dance Party Massacre is a small clothing line with its roots based in Boston, MA. Drawing inspiration from film, music, pop culture, and nightlife, it's a youth-oriented brand with an independent spirit. It's conceptually-driven with the main focus based upon horror elements, and juxtaposing them with a fun edge.
Started in 2007 by designer Alex Dakoulas, the brand has grown from a few t-shirts sold online to a full line being carried in boutiques overseas. Collaborating with event promoters, musical acts, and visual artists the brand continues to expand its efforts while strengthening its core based in playful and rebellious graphic apparel.
1. When did you start Dance Party Massacre and what is the story behind the brand?
I started DPM soon after graduating college. I had an awesome final year of school working hard and playing hard, and it gave me inspiration. It was a time when I felt really happy, and part of it was because I stopped worrying about pleasing others and just did what I wanted.
I just let go, and the freedom of feeling alive and fighting to be happy was a great influence on the ideas behind the line. Taking horror ideas where things are dark, and often are about people struggling, and combining them with parties and nightlife I thought was interesting. That felt like my life during that time. I was living it.
2. What has been the biggest challenge you have faced in running the company? Is there anything you know now that you wish you had known in the beginning?
Biggest challenge as the sole owner is all the tasks that come with it. It can be very daunting at times, but when it does I just step back and stop working even a couple hours. Lately, I've been allowing others to come in more and more to help me too.
I usually tell people when starting like a clothing line, always order minimum amounts. You can always buy more of a design, but you can't return them if no one buys them.
3. Some people say that there are too many "horror themed" brands on the market. What would you say to the nay sayers? Do you consider DPM to just be a horror themed brand, why or why not?
Well, that whole trend kind of came as a surprise to me. I had not seen horror making its way into indie or streetwear brands.  Part of the reason why I started up DPM was because I saw something that could be new and cool. I mean, I freakin love horror movies and I had been buying horror movie memorabilia for years. I wanted to take what I loved about horror, bring it beyond the cult fans, and make it more "hip" for lack of a better word.
With that being said, I don't see DPM as a horror line. It's obviously influenced by those themes and imagery, but the idea is to add other aspects to it creating something else. As we evolve, the horror aspect of the line can be interpreted as something further like rebellious, punk rock, edgy, or anything unsettling. It doesn't have to mean blood and guts.
4. You guys have a blog on your site that you update regularly. How important do you think it is for a brand to stay in touch with their customers through blogging? Has it had a big impact on your brand personally?
The blog is on par with the online shop with traffic, so I think it's definitely helpful. It gives people a reason to keep coming back to the website, and it allows me to update customers easily with news.
I also collect images, video, and bookmarks basically every day on things that relate to DPM, or inspire it. I wanted to have a place where I could gather all of those ideas, and even if no one else was looking at them I could go back and get immersed all over again.
5. A lot of people looking to start up their own company have questions about investments and finding the money. What advice would you give someone looking to get more information about the financial issues involved in starting up?
Personally, I have another job that brings in income besides DPM. I just kind of blindly started up this brand, and I have only ever put money into it that I had. I wouldn't say I'm the best person to ask on business advice, because I'd be weary even to take out a loan. Although I know a lot of people do it to succeed.
6. What are some goals you have for DPM for the future? Where would you like to be in a year from now? Five years from now?
I want it to become more than a tee line. T-shirts are my background, but it's been fun evolving it. We already have some winter-wear in the works, and if all things turn out well some rings. I just want to get bigger and better.
Five years from now DPM could be huge and in stores all across country, but I think a dream would be to have our own store. That would be the ultimate dream right now.
7. What are some other brands that you look up to or have inspired you in some way?
I would say it's less brands, and more people. I am personally inspired by creative, independent people. I respect a lot of my friends and colleagues who are artists and designers and I love hearing what they're working on.
Outside of people I know I've followed Rob Dobi and his line Fullbleed for a while. I love his style and substance to what he does. I like that 410 BC has an artist collective side to them, as I came from an art school. I still keep up with Johnny Cupcakes. Being in Boston and watching what he did grow, it just feels like I've constantly checked in on his stuff.
8. In your experience, what makes a tee "popular" or "sell well"? Can you usually predict which tees are going to be the best sellers? What has been the best selling DPM tee to date?
I think the best-selling tees are ones people can relate to instantly. They can be easily liked and understood by all types of people. The best-selling tee for us has been the Vampire Grill. I think it's because it combined two things many people understand right away into something new and clever.
I wouldn't say I can tell which tee is going to sell well, but you might get a hunch. If I could predict what people will buy I'd be a rich man. 😉
9. You guys have had a TON of amazing press. A feature in The Boston Globe, Thrillist, Nicky Digital, AMP Magazine, Boston Herald, The Hipster Collective, etc. What advice would you give for someone looking to get press for their business? And how has this press impacted DPM?
A lot of the initial press came on its own actually. I don't mean that to sound snooty, but my point being I think people saw something interesting, and perhaps new, when the line first started. I think if you are doing something worth talking about, people will just talk about it. Those initial interviews and press features gave me confidence that I was onto something good.
Lately, it's been more about keeping things fresh and continuing to get people interested. First you get people's attention, but then you have to keep it. Now I do a lot more of contacting the press on new products. I'd say that would be my advice if you're looking for publicity. Just e-mail, write, or call all the newspapers, blogs, magazines, etc. that you think might be interested. You can never contact too many.
Need an E-Commerce Website?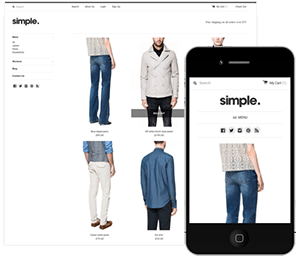 Shopify
is perfect for beginners and experts. You don't need to have any technical or design experience to easily create a beautiful online store with your branding. Choose from tons of well designed e-commerce templates that look great on desktops, phones, and tablets. Easily customize, create pages, add products, and you're pretty much ready to accept payments. Plans come with a free no risk 30 day trial period. Check out
our in depth review of Shopify here
and see why Shopify is our number 1 recommended shop for clothing companies.