Almost two months ago, Assault had the honor of being reviewed by Buy-Tees.net.  After reading what came from that review, I felt compelled to dig in on the mind of Paul, co-owner and main contributor at Buy Tees.  I was very impressed with both the writing style and in-depth review of the art itself, rather than just a bland t-shirt review.  If you aren't familiar with their site, I recommend you BEG Paul to check your stuff out; he has this uncanny ability to actually tell you things about your work that you may not have known.
I had the honor of interviewing him to try and get a little insight into what drives him, enjoy!
First and foremost, what is buy-tees.net?
Hmm… well I suppose the clue is in the name heh. It's a t-shirt reviews blog first and foremost–although it's probably not quite like any other you've read. I do have a tendency to quote the world and his wife and just about every homespun philosophy imaginable when I get cracking on a review. I am probably what you'd call a 'natural blogger' – I'm from a creative background in both the fine arts and literature and so I suppose it made sense to hone my abilities by venturing into blogging. It just so happens that I use the excuse of t-shirt reviews to express my opinions to the world.
What drove you to start it?
There are two answers to this. The first was simply to promote a few of my own t-shirt designs, way back when I'd decided to set up my own independent t-shirt label, I was sick of the enormous profits and poor service that many major print-on-demand sites were offering and so I thought I'd have a bash. Promoting the label was a total nightmare, besides which the overall costs of setting up a label were beyond my reach at the time and so I thought a blog would save on marketing costs and be a good way of drumming up business. The second reason came along within a week or two of blogging. Essentially, I found that a lot of other designers were in the same proverbial boat – vis-a-vis they also hadn't two pennies to rub together and needed quality sources of promotion and marketing without the extortionate expense of traditional advertising such as Adwords or hiring an SEO expert. So I filled the gap, featuring designers' work in return for a back link to the blog.
I know buy-tees.net is made up of yourself and another silent partner; is there anyone else that is part of the team?  Do you ever have guest posts and if so, how do you go about selecting the individual?
Short answer no – I have had offers – although for the main part they're rather self-promotional in the main. I'm not exactly an objective reviewer myself, I am however an artist and so I know when I see something conceptually or visually superior and that always urges me on when it comes to deconstructing the mindset or ethos of a brand/designer. I'm also not 'in it for the money' as they say – I make a few dollars from the odd banner now and again but it doesn't even cover hosting most of the time.

I have always enjoyed the company of artists, whatever medium they may choose to specialize in – it just so happens that I believe t-shirt design has until recently been treated as a rather lowly distant cousin of say illustration or graphic design and thought it'd be rather satisfying both personally and for the arts community at large if someone could give this niche a boost.

My partner helps out with some administration of the site from time to time and we discuss our reactions to designers' work, we like to bounce ideas off of each other and see if there's anything more I can add to the review than the usual 'pic and click' offerings out there.
Read the rest of the article here at assaultblog.com
Need an E-Commerce Website?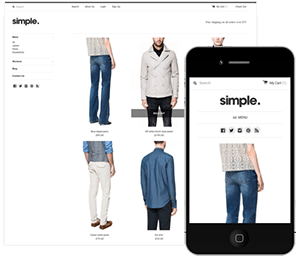 Shopify
is perfect for beginners and experts. You don't need to have any technical or design experience to easily create a beautiful online store with your branding. Choose from tons of well designed e-commerce templates that look great on desktops, phones, and tablets. Easily customize, create pages, add products, and you're pretty much ready to accept payments. Plans come with a free no risk 30 day trial period. Check out
our in depth review of Shopify here
and see why Shopify is our number 1 recommended shop for clothing companies.