A few questions with Johnny Minardi of Snakes and Suits about his company and advice he would give to those looking to start up a similar venture.
Snakes & Suits is a clothing company from Chicago, IL. The brand launched on November 23rd, 2007. The company was started and is run by three friends with a background in music, fashion and skateboarding.
Who are the people behind Snakes & Suits and when did you guys start the company?
There are 3 of us that collectively run Snakes & Suits. There's Tony Marino who is a tour manager for a few different bands. Eric Ryan who is a graphic designer and has designed everything we've ever printed, posted online, etc. And myself, Johnny Minardi, I'm an A&R guy at Fueled By Ramen. We've had ideas for years but actually launched on November 23rd 2007.
One of the unique things about Snakes & Suits is the simple and classic designs. Why did you decide to go that route instead of the more over the top designs that many other companies prefer?
You said it best about the simple and classic look. We've always wanted to release shirts that we love and would wear. I hate to use the word timeless because it makes us sound like we have egos but we never wanted to be pigeonholed into any one type of tee so we've tried to create a classic look that can be around for a long time.
What is your personal favorite Snakes & Suits tee and why?
I think the strongest shirt we've put out is the "Create New. Destroy Old." design. Not even because of the look but because of the message. One of the biggest problems with every industry, especially the fashion industry, is that everyone is copying each other and is afraid to try something new. I think the message is clear to own whatever you're doing and not to settle just because something has worked for someone else
What do you hope for the future of Snakes & Suits? Can you tell us anything about upcoming lines?
We're very excited to continue to expand and take big steps forward. We are planning a complete relaunch of the company. We've spent months designing our new web site and our brand new custom web store. Our Winter Line will be November 27th as well and features some new items that we've never done. We're doing a big retail push as well and will be sold in stores all over the U.S. in the coming months.
Snakes & Suits has been at Warped Tour and Bamboozle, what were those experiences like? Has selling at major concert festivals been very helpful in terms of business and getting your brand out there?
We love the festivals! We've done a few Warped Tour dates each year and have done Bamboozle in NJ this past year. Those have both proved to be an amazing place to meet people that support the brand and really give a great chance to get the word out about a new line or just the brand in general. Luckily, we've had huge support from bands that were playing the festivals to stop by our booth for a signing and to wear the clothes on stage while they play that day.
Your ampersand logo is amazing! Very strong aesthetically and memorable. Who came up with it?
Thank you! Our designer, Eric, has designed everything for the company. He came up with a lot of variations of early logos and we kept expanding on the ones we liked. That one stuck out the second he showed us.
I know a lot of bands wear Snakes & Suits. What are some of your favorite bands to work with?
We've had amazing support from bands. They all contribute on different levels from helping with photo shoots, wearing the clothes live, promoting the brand on tour and online, etc. We just did our new Winter line photo shoot with This Providence and The Summer Set.
What is one piece of advice that you would give to someone wanting to start a clothing company?
Do what you love. Simple as that. Obviously it's a business but just have fun and do whatever you want. Oh, and don't copy each other.
What do you like to do when you're not running Snakes & Suits?
Watch football, browse the internet and blogosphere, listen to tunes, play basketball and idea farming.
Need an E-Commerce Website?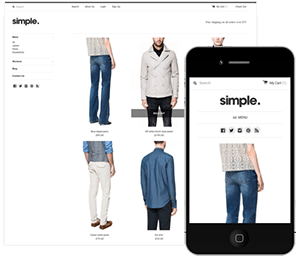 Shopify
is perfect for beginners and experts. You don't need to have any technical or design experience to easily create a beautiful online store with your branding. Choose from tons of well designed e-commerce templates that look great on desktops, phones, and tablets. Easily customize, create pages, add products, and you're pretty much ready to accept payments. Plans come with a free no risk 30 day trial period. Check out
our in depth review of Shopify here
and see why Shopify is our number 1 recommended shop for clothing companies.