Some tips from what I have learned over the years about storing tees.
-NEVER hang them! After about a month or 2 the tees will get permanent crease marks and if they are a V-neck or a softer material neck the back of the neck will fold down the middle pointing out and it looks bad.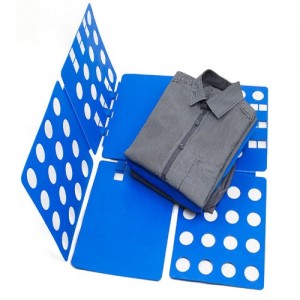 -Folding them correctly. Do not fold the neck on half. Yes you maybe able to get the folded shirt smaller but it is stays folded in half you will have stretching of the collar and permanent fold crease where it was folded. I suggest picking up one of these bad boys. (or making one yourself out of cardboard!)
Plastic Adjustable Clothes Folding Board 
This site has them for like $18 shipped and for me its totally worth it. It is also makes it easier to poly bag them because you can measure the folded size and all your products will be the same size! Which brings me to my next point…
-I would recommend always poly bagging your tees. Why? Because it protects your investment! What if it was raining while you were on vacation and came back to find out you had a small leak in your room were you were keeping your shirts and the water fell on your tees ruining 20 shirts. Now if you had paid the 2-5 cents per bag to fold them then you would been saved.
Here is a great site to get bags. Of course I recommend getting recycled or biodegradable bags.
Standard Lip & Tape Self Sealing Bags
The site is ghetto but I have been to their warehouse and it is anything but small and ghetto the place is huge with hundreds of people working there! Prices are great and have a huge selection! I also recommend getting the self seal tab at the end that way it looks more professional and is easier then taping each one shut! I learned that one the hard way!
-That brings me to my text point of actual storage. I would suggest putting and transporting them in a clear or frosted colored tote. You can get them at a Target type store for around $6 each. I use a divider in the middle to separate the designs. What is also an advantage to doing this is taking them to events you do you can put multiple designs in each bin and with a divider you can put a piece of tape with the design name written on it and it will make the design very easy to find when in a sales rush! It will also be safer for your product because no one can reach in and grab them like if you were storing them on a shelf at an event. Keeping the products in a tote bin at home or where ever you store the products can also help cause if any natural sun light comes in it will discolor your products over time. I also suggest getting a colored tote bins. I have blue for the guys and pink for the ladies stuff that way I can go to the guys bin or ladies bin directly and it cuts down time when at an event or filling an order.
-After poly bagging the tee put a small round sticker (about 3/4″ to an 1″ round and put the size on it. A simple XS,S,M,L,XL,2XL and so on. This makes it very simple to find what size you need at an event. I suggest always putting the size sticker on the same side. For example, I always put the size sticker on the bottom right because I am right handed and when I pull out the bin I always grab for the bottom right so it makes it easier to just flip the tees until you get to the size you want.
-I also think that if you did a hang tag and it can be hung outside of the tee in the bad I think you should do that as well because (in my opinion) it looks more professional. Especially when you have a tag that is unique or is pushing a sale or advertising something that it should be showing. that might make someone checkout your site or sale you are having because they instantly saw that unique tag when they first pulled out the poly bag from your mailer.
Those are just a few tips I have learned over time.
-Tim
Subeco
Need an E-Commerce Website?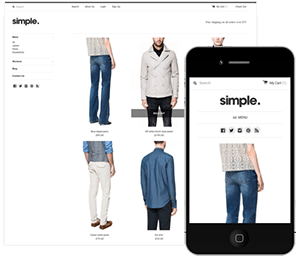 Shopify
is perfect for beginners and experts. You don't need to have any technical or design experience to easily create a beautiful online store with your branding. Choose from tons of well designed e-commerce templates that look great on desktops, phones, and tablets. Easily customize, create pages, add products, and you're pretty much ready to accept payments. Plans come with a free no risk 30 day trial period. Check out
our in depth review of Shopify here
and see why Shopify is our number 1 recommended shop for clothing companies.


Thread's not Dead is "the ESSENTIAL strategy guide for dominating the t-shirt business"
- Says Jeffery Kalmikoff, Former CCO of Threadless.com
Start your own clothing company and become the next Mark Ecko, Obey, or Johnny Cupcakes! Learn how to dominate the t-shirt business.

 How to Start and Grow your Own Clothing Company

 How to Build a Massive Following Using Social Media

 Case Studies and Interviews with the Best of the Best
Use the code "howtostart" for 20% OFF