Here is some great insight from Eric Terry of Linty Fresh about getting started.
After 2 years of running Linty Fresh, I've learned a lot of things, many resulting from trial and error. Thinking back, these are the top 3 things that were (or would have been) really important to consider…
1. Make a clear business plan
Before you even think about printing your first shirt, your most crucial move is getting a clear plan on paper. Set specific goals for yourself, both in terms of products and earnings. Decide exactly how you plan to market (see step 2 for more), how much you'll need to launch the line, and how you'll manage received orders, shipments, and customer service. Getting it all down on paper solidifies it in your mind, and will lead you to asking questions and resolving issues before they come up and become an actual problem. Set short as well as long time goals (How much do you plan on making after a year? Two years? How many products do you plan on having in stock?) and figure out what you'll do if things just don't work out, and at what point you'll determine that.
2. Brand for your market
Are you just making cool tees in general, or are you trying to build a brand? If you're going for the latter, what will your look be? Who are you trying to appeal to? Figuring this out before you even start designing is important, and it'll help to mold your decisions about your company as time goes on. It's also important to keep in mind that a brand isn't just a bunch of products under a single name. A brand is a look, a feel, a style, and a personality. These characteristics should be consistent from one product to the next. Often I see new brands that start out by hiring a bunch of artists with various styles and having them make tees with their company name. This may be a good way sell a bunch of shirts right off the bat (especially if these designers have some sort of following), but in the long run, this can hinder the brand from attaining a specific identity, especially when those designers are doing similar tees for other companies.
Again, getting this all on paper before actually going into production is a must. Come up with a one-sentence brand description and 5 specific adjectives to describe it. If, after you've got this all written out, it sounds generic, it's a good indication that it needs something more.
3. Research
As you plan the launch of your line, start looking for resources. Learn all you can about the products and services you'll be needing. If you'll be using screen printers, get a thorough understanding of the process before getting any designs created. This will make your printer respect you more as a client and may even result in better quality service. Ask lots of questions. Look things up online. Talk to people in the business. Knowing your options will give you ideas, and will put you ahead of the game. Again, it's all about figuring problems out before they arise.
Once you've completed these 3 steps, you're ready to get into the fun stuff – designing, building buzz, and production. Starting any business venture is a nerve-wracking experience, but with ample preparation, careful forethought, and a clear plan, you can make it a huge success!
Need an E-Commerce Website?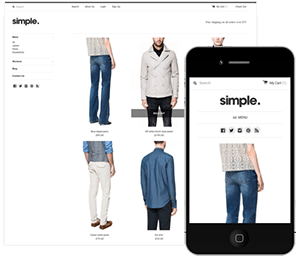 Shopify
is perfect for beginners and experts. You don't need to have any technical or design experience to easily create a beautiful online store with your branding. Choose from tons of well designed e-commerce templates that look great on desktops, phones, and tablets. Easily customize, create pages, add products, and you're pretty much ready to accept payments. Plans come with a free no risk 30 day trial period. Check out
our in depth review of Shopify here
and see why Shopify is our number 1 recommended shop for clothing companies.


Thread's not Dead is "the ESSENTIAL strategy guide for dominating the t-shirt business"
- Says Jeffery Kalmikoff, Former CCO of Threadless.com
Start your own clothing company and become the next Mark Ecko, Obey, or Johnny Cupcakes! Learn how to dominate the t-shirt business.

 How to Start and Grow your Own Clothing Company

 How to Build a Massive Following Using Social Media

 Case Studies and Interviews with the Best of the Best
Use the code "howtostart" for 20% OFF