Design
You don't have to go to Art Center to become a great graphic designer. Yeah I would've loved going there but I don't think I would've loved paying the bills. The truth is, only you can make yourself become a better designer- and it doesn't matter that much where you go. You should do your research and find out what state-run schools have good design programs (some community colleges offer some great courses too). In California I've heard great things about Cal State Long Beach, and the school I went to, Cal State Northridge, wasn't bad either.
The best thing you can do to grow is get immersed in design culture. I saw so many of my peers that just came to class and that was it. I don't think very many of them made it in the graphic design field. I would be in LA every chance I had to go to lectures, art gallery openings, and studio tours. AIGA is a great resource for listing these types of events (find your local chapter's site). Books are great resources, I bought a ton on designers I liked and stuff I found at the bookstore. For used books Amazon, Half, and Campus Books are great places to find deals. Campus books is great because it shows you the prices of a lot of different book companies including Amazon and Half so you can find the best deal. I also subscribed to How, Print, and Communication Arts. The best thing about How and Communication Arts were their design annuals that come out with once a year–they're filled with amazing designs. The Internet is also a great place to discover new designers and work.
Research
This is such an important step. I didn't decide out of the blue that I wanted to make shirts. It started almost a year ago when I got out of school. I went to skate stores and took pictures of designs, I took pictures of merch at concerts, and I saved images from online stores. I tried to soak in as much information as I could about shirt design. It's great for people now because emptees is around and there are some really amazing artists on there with really great advice.
Screen printing resources.
I wanted to do screen-printing but I had no idea where to start. I searched on amazon and bought the book How to print T-shirts for fun and profit and I hit the ground running. There is a ton of information in this book, but it's a little dated and hard to read. I found T-shirt forums which has a great community of silk screeners and other printers that can answer any question you have. Months later I got a screen printing DVD from Silk screening supplies.com which is pretty good.
Next post I'll show you my silk-screening setup that I made, where to buy supplies, and much more!
Need an E-Commerce Website?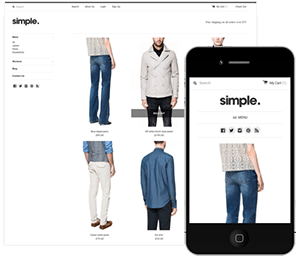 Shopify
is perfect for beginners and experts. You don't need to have any technical or design experience to easily create a beautiful online store with your branding. Choose from tons of well designed e-commerce templates that look great on desktops, phones, and tablets. Easily customize, create pages, add products, and you're pretty much ready to accept payments. Plans come with a free no risk 30 day trial period. Check out
our in depth review of Shopify here
and see why Shopify is our number 1 recommended shop for clothing companies.


Thread's not Dead is "the ESSENTIAL strategy guide for dominating the t-shirt business"
- Says Jeffery Kalmikoff, Former CCO of Threadless.com
Start your own clothing company and become the next Mark Ecko, Obey, or Johnny Cupcakes! Learn how to dominate the t-shirt business.

 How to Start and Grow your Own Clothing Company

 How to Build a Massive Following Using Social Media

 Case Studies and Interviews with the Best of the Best
Use the code "howtostart" for 20% OFF