Written by Ray Masaki
Being in the t-shirt business, I've done a fair share of research on the t-shirt printing processes. I wanted to share all the processes I know, because I feel that it is useful for anyone that is starting out. Mind you, the only processes that I have personal experience with are plastisol screen-printing and heat press, so the other categories are all based on research. Regardless, I think this could be a very helpful resource for people looking for the right type of look and feel.
Screen-printing Ink Types:
Plastisol
This is the most common form of ink used for printing. Used for mostly all types of t-shirt prints.
Benefits:
Cheapest method of screen-printing
Many colors
Low minimums
Disadvantages:
Prints thicker on the shirt, unless you're using a higher mesh screen
If you have a large area of plastisol ink, the print feels a bit heavy
Sometimes has a gummy texture if not done correctly
Discharge
This method bleaches the ink from the shirt, which leaves a light print and you can print over it with regular inks or you can add dye to the discharge to give a subtle-colored look.
Benefits:
Super soft print
Cool look; has a more vintage look and feel
Disadvantages:
Expensive process
Difficult to print
Don't recommend DIY discharge printing
Plascharge
A hybrid of discharge and plastisol; it is mixed with plastisol inks to get pigment in discharge printing.
Benefits:
Has softer feel than plain plastisol
More vibrant colors than discharge
Disadvantages:
More expensive than plastisol
Not as many printers use plascharge
Waterbased
This ink uses concentrated pigment based dyes that are, as the name suggests, waterbased.
Benefits:
Superior feel
Environmentally friendly
Disadvantages:
For best results use dark inks on light shirts
Colors are not always consistent
Coverage may sometimes be uneven
Foil
This is a specialty printing method where an adhesive print is made and then the foil is heat pressed onto the fabric.
Benefits:
Disadvantages:
Not many variations
Has to be used sparingly
Other printing processes:
Belt Printing
This printing process prints over the t-shirt seams, which allows the printer to print extremely large prints.
Benefits:
Disadvantages:
Very expensive process
Very high minimums
Registration is difficult; printing over one color is not recommended
Cut and Sew
This process uses custom made fabric with the print directly on it, and then the manufacturer custom makes the garment using the custom fabric.
Benefits:
One of a kind look
Really professional
Disadvantages:
Extremely expensive
Very high minimums
Uncommon (usually outsourced outside of US)
DTG (Direct to Garment)
This process uses a printer to directly print onto the garment without the use of screens or sublimation.
Benefits:
Low minimums
Full color printing
Quick turnaround for low quantities
Disadvantages:
Prints on demand, so ordering more shirts doesn't necessarily make it cheaper
More difficult to print on colored shirts
Best results on 100% cotton shirts
Large orders take much longer
Heat press
This process uses transfer paper, so it can be done in a very DIY fashion.
Benefits:
Very easy for beginners
You can easily make custom shirts (sports teams, custom names)
Available anywhere
Disadvantages:
Depending on brand and equipment, results may not be the best of quality
May start to peel after couple washes
Will not retain color very well as well as screen-printing
Dye Sublimation
With this process the dye turns into a vapor and is absorbed into the fabric, you must use a fabric that is at least 50% polyester.
Benefits:
Full color
Great feel
No minimums
Disadvantages:
Very expensive
Can only print on synthetic shirts
You can only print on white shirts
So that's a quick overview of the printing processes I'm familiar with. If you're interested in a process, I recommend researching more on the process before you decide to use it for your shirts. Also, if you are planning to do your own printing, be sure to be careful because some of these processes have harmful chemicals that could be potentially harmful to your health. Good luck!
Need an E-Commerce Website?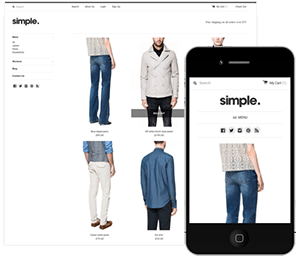 Shopify
is perfect for beginners and experts. You don't need to have any technical or design experience to easily create a beautiful online store with your branding. Choose from tons of well designed e-commerce templates that look great on desktops, phones, and tablets. Easily customize, create pages, add products, and you're pretty much ready to accept payments. Plans come with a free no risk 30 day trial period. Check out
our in depth review of Shopify here
and see why Shopify is our number 1 recommended shop for clothing companies.