You need to be a part of your company and give proper art direction for a design to succeed. The worst jobs I've had were when the client didn't really know what they wanted and couldn't even answer my basic question about where they want the designs direction to go. The saying "I'll know what I want when I see it" is very painful for a designer because they can be working hours on a design only to find out that it wasn't what the client wanted.
Usually after I've talked with the artist I send them my idea for the design along with any pictures or visuals that I think will help them. I look over the art that they've done for previous projects and tell them what designs I like the most and why I am hiring them for the job. I make it clear in the first emails that I want rough sketches in the beginning. I can see great composition with just a few lines and tell if a design is going the right way by just a simple sketch. I really want to make any changes at the early stages because I don't want to waste the artists time. Trying to fix problems after the art has been inked and colored is a lot more time consuming than fixing a sketch.
Ways to Art Direct
You can tell them exactly what you want but one thing that really helped me as a designer was to just get a lot of thoughts and ideas about a design. When I get a bunch of feedback usually something clicks and I can see it in my head. It depends on the artist and the design but sometimes I just throw out a bunch of ideas and see if anything sticks.
Use Design terminology
If you want to communicate what you want you need to know the correct way to say it. Read this article on Elements and Principles of Design for more information
Here are some thumbnails of the  notes I sent to our artist Mathew Skiff. In the end I thought the text wasn't working an I am going to try and find another artist to finish this design.

Need an E-Commerce Website?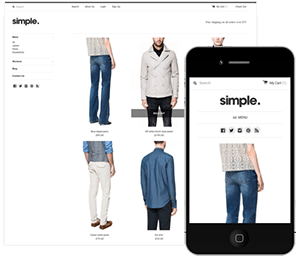 Shopify
is perfect for beginners and experts. You don't need to have any technical or design experience to easily create a beautiful online store with your branding. Choose from tons of well designed e-commerce templates that look great on desktops, phones, and tablets. Easily customize, create pages, add products, and you're pretty much ready to accept payments. Plans come with a free no risk 30 day trial period. Check out
our in depth review of Shopify here
and see why Shopify is our number 1 recommended shop for clothing companies.


Thread's not Dead is "the ESSENTIAL strategy guide for dominating the t-shirt business"
- Says Jeffery Kalmikoff, Former CCO of Threadless.com
Start your own clothing company and become the next Mark Ecko, Obey, or Johnny Cupcakes! Learn how to dominate the t-shirt business.

 How to Start and Grow your Own Clothing Company

 How to Build a Massive Following Using Social Media

 Case Studies and Interviews with the Best of the Best
Use the code "howtostart" for 20% OFF