Written by Ray Masaki
Question:
Who is your t-shirt manufacturer? Do you make them in house or outsource them to get a tag and design printed on them? I don't plan to make my own shirts. I would much rather buy a base t-shirt (a thicker, more quality t-shirt…and I want a variety of colors) from a t-shirt manufacturer and have them print my design on it. Do you buy your base t-shirts one place and have the design printed on them elsewhere…or what (and what companies) would you suggest?
Answer:
Ok, so a lot of these are pretty basic questions. Really, it doesn't take a lot of research to find these answers, but I suppose I can help you out. For t-shirt manufacturers, there's numerous companies that produce imprintables. I'd say that there's very few indie t-shirt designers such as myself who produce their own t-shirts. It's most cost efficient to print onto blank shirts. A few popular t-shirt brands are American Apparel, Tultex, Gildan, Anvil, Fruit of the Loom. To buy the shirt, you usually have to set up a wholesale account with the company to get the wholesale discount.
With my current printer, I buy the blank t-shirts, and give it to my printer for them to print on. This is most cost effective in my opinion because often times the printer can jack up the price of the blanks because it cuts out a middle man.
Question:
Do you have a designer and who would you suggest for getting your ideas on paper? I am not good at drawing, but I have them all in my head! Also, what form do t-shirt manufacturers take the design; does it have to be on a computer program or what?
Answer:
Obviously, a lot of companies work with designers. Luckily, I happen to be a designer, so I often design for my own clothing company. However, that doesn't mean that I don't collaborate with other artists. It's good to diversify your brands style to cater to other groups. If you're not good at drawing, I would suggest you hire a designer and give the designer specific details of what you want the t-shirt design to look like. Just be prepared to pay a good amount of money for a professional design. If you want to be serious about your clothing brand, you have to have a good amount of starting capital.
Screenprinters usually require you to give them the design file as a hi-res raster file or as a vector format. So in other words, it's a good idea to have a hi-res photoshop file or have the design as an illustrator file if you want the design to print well. If you end up using a file that isn't prepared for t-shirt printing, it'll end up looking like crap, and no one will want to buy it.
Question:
I have not owned one of your shirts, but I like the fit of brands like Famous, DC and Nixon t-shirts (so basically a thicker, standard fit t-shirt). So what is the t-shirt company that makes the thicker, more quality base t-shirt for printing (not Hanes or Gilden)? And secondly, what is the best way to get your design on a shirt…is silk screen printing the choice of the companies styles I like?
Answer:
Yea, I don't think I can be that helpful with this question. The brands you mentioned use a thicker stock shirt than I do. I use shirts that have fashion fits, so they're usually a bit thinner and slimmer. If you're looking for a thicker shirt, I suggest you set up accounts with a few companies and get samples.
Screenprinting is definitely the way to go if you want to print on shirts. Of course, there's many types of inks and processes to use.
Question:
So RAWR Clothing is a LLC…do you suggest that for most small t-shirt businesses? Did you register your LLC, got your tax ID (is a sales and use permit needed too…I'm from Nebraska??), register your trademark, and then you made some shirts and began to advertise and sell them…or what order did you go in or would you suggest?
Answer:
I'm not really too savvy on all the legal business, so I recommend you talk to an accountant or search online. I needed a lot of help too when I first started off. This is a very essential part that you can't cut corners on, so I recommend you do your research. Either way, since you're selling something, regardless of if you're a sole proprietor or LLC, you need to pay sales tax, so be sure you're all set up before you start selling shirts.
Question:
I am kinda scared about doing this, but no risk no reward I guess…but a main factor is that this shirt may only sell to people from Nebraska…but hopefully my designs will be so cool they will sell other places. So you say eCommerce is the best bet…di you try going to a retail store you could imagine your shirts selling at…or do they not take cold approach t-shirts at most shops and retail stores? I thought maybe consignment shops too…I keep hearing marketing before I even register my biz is crucial…but I also want to protect myself…so any tips on marketing?
Answer:
If you're scared about starting your clothing company, there's no reason for you to rush things. If you end up hastily starting something as big as a clothing brand, you might end up faltering a lot on the way. That's what I did with RAWR! Clothing, so I had to learn my lesson the hard way. So I would really do as much research as possible. If you don't properly prepare, you might end up regretting it later.
I have my shirts in a few stores, but it really depends on your market too. If you're going to approach a store just be sure that your brand's image fits in well with the store. But starting off, I'd definitely recommend getting your store online.
Just try to create some buzz. Word of mouth is always the best kind of marketing.
-Ray
Need an E-Commerce Website?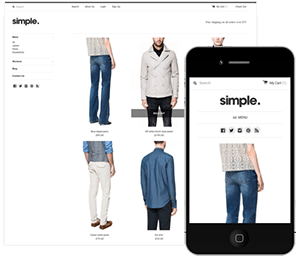 Shopify
is perfect for beginners and experts. You don't need to have any technical or design experience to easily create a beautiful online store with your branding. Choose from tons of well designed e-commerce templates that look great on desktops, phones, and tablets. Easily customize, create pages, add products, and you're pretty much ready to accept payments. Plans come with a free no risk 30 day trial period. Check out
our in depth review of Shopify here
and see why Shopify is our number 1 recommended shop for clothing companies.