I'm going to write reviews on some of my favorite e-commerce solutions. First up is my big cartel review. I have used big cartel for a number of years and seen it grow and include more features over the years. It is a hosted, pay-by-the-month shopping cart system described on the site as "easy to use, customizable, and awesome."
I am going to split this review into a couple sections.
Overview
Pricing
Design
Backend
Features
Shortcomings.
Big Cartel Review: Overview
Big cartel is easy to use and you can get your website up quickly with big cartels themes and visual editor.
You can use your own domain.
You don't have a built in blog with big cartel, but you an import your content from an rss feed.
The backend is very easy and user friendly to upload images, create categories, and manage inventory.
Paypal is the only payment gateway it accepts.
There is a free option but the $9.99 is what I would suggest everyone to use.
Big Cartel Review: Pricing
The platinum $9.99 plan with big cartel is what most people will start out with. The free option doesn't let you track your inventory, have your own url, and has only 5 products, so I would suggest skipping it and going to the paid one. For the more expensive ones (Diamond and Titanium) it offers you all the same stuff just more products. The stats being better on the other big cartel plans doesn't matter because google analytics is far more advanced then big cartels stats and you should be using that.
Big Cartel Review: Design
I have developed a lot of sites on big cartel with my web development company Double Dragon Studios. It's very simple to develop a website in big cartel if you have knowledge of web coding. I have used a couple of different coders help me in the past and they have always been able to work with big cartel easily. Below are some of my favorite sites I've developed in big cartel.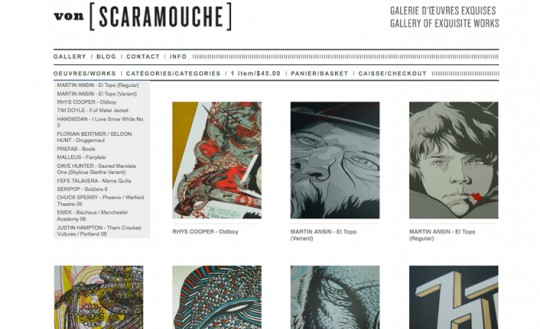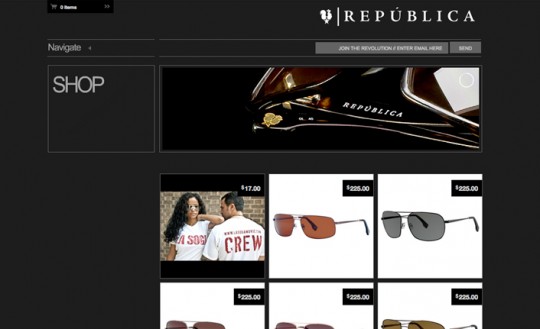 As you can see you can make the site look like whatever you want. If you need help with any customization contact my web development company Double Dragon Studios.
If you don't have knowledge of coding and don't want to pay someone they also have a visual editor where you can add a logo, background image, and change the colors and a few other options in the site.
Below is a short video on big cartels visual editor
In big cartel there are three themes that you can chose from in big cartels visual editor. Sexy, blocks, and sidecar.
Sexy was the only theme when big cartel first came out and it's a bit dated now. Solid design just nothing amazing.
They introduced Blocks later and it was more sleek but I really hated how it didn't show product prices and that the product images on the side were so small.
Sidecar is the latest and best offering from big cartel. You can have the product name and price be displayed below the product. The theme even has a somewhat responsive design (design that changes sizes for different screen sizes). It doesn't resize well for a phone but it's better then the other themes. If you are going to use big cartel I would highly recommend using this theme. It is super simple, sleek, has a very solid design and is easy to edit.
I made a test site with the sidecar theme in about 10 minutes. The result is a very professional looking website without any coding knowledge needed. You can easily customize this to your own brand with a logo, background image, and different colors.
Big Cartel Review: Backend
Big cartel's backend is very easy to use and intuitive. The visual editor for site design has been improved so much over the years and it's very simple.
Below is a short video about product options and inventory in big cartel.
Big cartels product backend is one of the easiest I've ever used. It's nice I can save my product options so I don't have to keep on adding the same thing on every shirt. Sounds intuitive to do this but I have used a lot of other e-commerce systems that make it a pain to just do simple options.
Big cartel has also made it so you can set some options at a higher price point. This is important for 2xl and 3xl shirts. Those usually cost more to manufacture so you want to raise that price for the consumer to.
One of the things I dislike about big cartel is that you have to enter in your shipping info on each product page. This becomes a real pain when shipping rates increase and you have to manually go into each product page and change the shipping. Shipping classes would be great to have in the future
Another thing I dislike is that you can't have multiple variants. So let's say size, and color. In big cartel you would have to enter in each option (for example: red small. red medium, red large, blue small, blue medium, blue large). Not a huge deal, but you might want to have each color be its own product page if you are going to do something like this.
Big Cartel Review: Features
Big cartel has been fairly slow on adding new features but every time they update something it is very thought out and well put together.
Discount codes is something big cartel has made a huge improvement in. It is super easy and offers pretty much anything you would want to do for discount codes. Check out the video below for an overview
Big cartel also has e-commerce analytics now so you can track your sales with google analytics. There visual editor for their theme is also very good.
Big cartel also has a facebook app to put your products on your facebook page
Big Cartel Shortcomings
Big cartel really needs to offer shipping classes so it isn't necessary to update every products shipping when it changes.
Big cartel also should allow for multiple variants like size, and color.
There should be more themes offered, and premium themes. I often suggest other e-commerce options over big cartel just because big cartel doesn't offer premium themes.
Built in blog is also something that is missing.
SEO could be better. It's all optimized but you can't fine tune everything like you can in wordpress and other systems.
Widgets and plugins would also be an amazing improvement.
Paypal is the only payment gateway option
No related products option to cross sell products.
Big Cartel Review: Summary
To summarize my Big Cartel review Big cartel is an amazing deal for $9.99 a month, with some powerful features. It's super simple and very intuitive but it is missing some things that other e-commerce systems have. I would recommend it to any company starting out and paired with a wordpress site you will have the best of both worlds.
If you need help customizing your site send me an email through my contact page on http://www.doubledragonstudios.com/
If you have any questions or comments please leave me a message below and I will answer.
Update
Big cartel has made some improvements since I originally posted this review. They released a new theme called Luna. It is big cartels first truly responsive theme and is a big step up. It's very simple and well layed out but there are a few things I wish were better.
The biggest problem I have is how the store product pics look for mobile devices. The images get cropped and you have no idea what the product actually looks like (see picture below).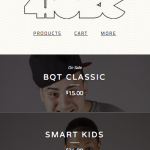 Another problem I have with the theme is that you can't display the prices automatically on the store front. The user needs to scroll over the product to see the price. It just gets annoying and you don't want to annoy your customer.
Need an E-Commerce Website?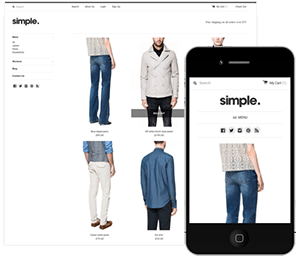 Shopify
is perfect for beginners and experts. You don't need to have any technical or design experience to easily create a beautiful online store with your branding. Choose from tons of well designed e-commerce templates that look great on desktops, phones, and tablets. Easily customize, create pages, add products, and you're pretty much ready to accept payments. Plans come with a free no risk 30 day trial period. Check out
our in depth review of Shopify here
and see why Shopify is our number 1 recommended shop for clothing companies.