Up until recently, companies considered making more sales as being their biggest concern, with customer loyalty rating low on their list of priorities. There has been a major paradigm shift in this respect, with a study by Bain & Company indicating that companies which increase customer retention rates by just 5%, reap 25% more profits.[1] Another study by Adobe indicated that the top 10% of a company's existing client base spends three times more per order than average customers, with the top 1% spending five times more.[2]  Shopify, meanwhile, states that a mere 2% increase in customer retention has the same effect on profits as cutting costs by 10%.
If you have an online store, there are many ways that you can boost your customer retention rate without going over-budget. Customer loyalty programs, clever content, and regular use of newsletter emails are just a few ways to ensure an improved conversion rate.
Shopify Apps for Customer Loyalty
Shopify has a host of customer loyalty program apps, many of which are free (paid apps sell at between $9 and $20, approximately). These apps allow e-commerces stores to create a plethora of customizable offers aimed specifically at boosting loyalty. Features to entice clients with include discounts based triggered by specific items, rewards based on amounts spent, 'buy one get one' offers, and so much more. The benefits range beyond increased sales, since reports are generated which permit you to understand each customer's tastes and habits. This information allows you to make targeted offers and campaigns.
Other apps give rewards for taking specific actions; these might include sharing content on social media, following you or your affiliates, commenting, and more. Referrals are another important source of potential revenue, and a definite consideration for reward. Another way to ensure customers take action is to set a loyalty points expiration date, thus creating a sense of urgency.
Content Creation
Your e-commerce site should be more than just a place where customers can find the immediate items they need; it should also boost customer loyalty to drive more sales. Customers are thankful for useful information and the more dynamic your content is, the more likely they are to visit your site to check out your news, perhaps making an unexpected purchase in the process. Cater your blog/resources section to clients. For instance, if you are selling children's clothes, make a blog for parents with tips on styling and grooming for kids will be well received.
The Importance of Newsletters and Emails
The organic reach of Facebook is practically dead, with the social network having recently changed its news feed to prioritize content shared by family and friends. Therefore, companies will have to increase their budget for paid advertising to garner the same amount of views enjoyed in the past. Luckily, research also shows that email is a more effective sales channel than social networking sites.
Email allows you to personalize communications to customers, which can make them feel more appreciated. An interesting study by ExactTarget found that 77% of those surveyed preferred email for permission-based marketing messages, while only 4% opted for Facebook.
When building your email strategy, look into Shopify apps such as Cross-Selling Emails, which sends your buyers a post-purchase email recommending your top products in an attempt to encourage further purchases. Emailing is fully automated, which frees up your time and energy for other important strategies.
Customer loyalty apps cost almost nothing yet boost customer loyalty in a big way. Clients feel connected to companies that reward them for purchases, shares, mentions and the like, so ensure you say 'thank you' in many ways – through points, discounts, two for one offers, etc. Also, keep your customers engaged with interesting content and don't forget the potential of regular email communications.
Article written by: Jennifer Dawson
[1] Forbes Artice: Customer Retention Is King
[2] Essential Customer Loyalty Statistics 2017
Need an E-Commerce Website?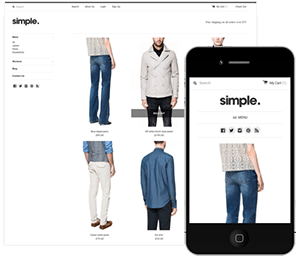 Shopify
is perfect for beginners and experts. You don't need to have any technical or design experience to easily create a beautiful online store with your branding. Choose from tons of well designed e-commerce templates that look great on desktops, phones, and tablets. Easily customize, create pages, add products, and you're pretty much ready to accept payments. Plans come with a free no risk 30 day trial period. Check out
our in depth review of Shopify here
and see why Shopify is our number 1 recommended shop for clothing companies.