Creating a brand identity is one of the most important aspects of building a successful clothing line. Your brand identity is how your customers are able to identify your business, and is achieved by any images, lingo, philosophy or other details about your clothing line. It's what makes your business unique, and in a world of billions of other t-shirt businesses, it's crucial that you have a great brand.
Building Your Brand
It starts with your overall philosophy. What is your brand all about? What does your brand represent? Then think about your brand as its own entity, separate from yourself and your business partners. How does your brand talk? How does it act? Who would it hang out with on a Saturday night? Most likely your brand will be alot like yourself, and that's the way it should be. It would be pretty hard to try and create a brand you don't truly believe in. If you're a computer nerd you definitely shouldn't try to create a punk rock brand. Well, unless you enjoy jamming to punk rock too, and in that case, a punk rock-tech geek brand would be quite interesting.
Tips
–Own your brand, don't let customers own it. Pay attention to what your customers want but don't let them get in the way of what YOU want your brand to be. Maintain control of what you want your brand to mean.
-Just as mentioned before, your brand should be something you truely believe in. If you don't believe in your brand, how do you expect anyone else to?
–Make sure your brand is clearly communicated. Every thing about your brand should communicate your philosophy.
-It's important that your business partners also understand and believe in your brand. Build the brand as a team.
-It is said that it takes up to 12 times of a person seeing, hearing, or reading of your brand for it to really make an impression. Find as many ways as you can to make your brand visible to potential customers.
read the rest of the article at teebiz
Need an E-Commerce Website?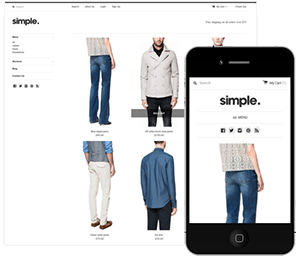 Shopify
is perfect for beginners and experts. You don't need to have any technical or design experience to easily create a beautiful online store with your branding. Choose from tons of well designed e-commerce templates that look great on desktops, phones, and tablets. Easily customize, create pages, add products, and you're pretty much ready to accept payments. Plans come with a free no risk 30 day trial period. Check out
our in depth review of Shopify here
and see why Shopify is our number 1 recommended shop for clothing companies.


Thread's not Dead is "the ESSENTIAL strategy guide for dominating the t-shirt business"
- Says Jeffery Kalmikoff, Former CCO of Threadless.com
Start your own clothing company and become the next Mark Ecko, Obey, or Johnny Cupcakes! Learn how to dominate the t-shirt business.

 How to Start and Grow your Own Clothing Company

 How to Build a Massive Following Using Social Media

 Case Studies and Interviews with the Best of the Best
Use the code "howtostart" for 20% OFF