So I've run into a lot of people talking the talk, gloating about how well their company is doing, or trying to get me involved with their project.
If I don't know you I will be skeptical and look at a few things that will let me know if you are full of shit : )
Alexa Ranking
Go to www.alexa.com and pull up their site. I've run a bunch of different sites so I know how much traffic a site is getting compared to what their alexa ranking is. For example the ranking of this site is 235,304. I get 18k in visitors every month.  Around 1-2 million in ranking will be a couple thousand hits. Also look at the traffic Rank for 7 day and 1 month. If they are a new site it will take a while for their 3 month average to go up but they could be getting amazing traffic right now.
Page Rank
Google uses it to tell how much value to place on your site and I use it the same way. Page rank is calculated by google and gives you a rating from 0-10 depending on how many link backs you have. So if you have a 2 or below I know you aren't linked to a lot of websites.
This really gets me a good overview on how well a company is doing. Sometimes they run on subdomains, like if they have a bigcartel store, and alexa just calculates the ranking for bigcartel.com and not the actual store. By the way, you can have your own domain on bigcartel by using cnames. So now you are equipt with a bullshit detector, use it wisely.
Need an E-Commerce Website?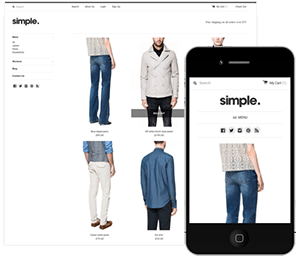 Shopify
is perfect for beginners and experts. You don't need to have any technical or design experience to easily create a beautiful online store with your branding. Choose from tons of well designed e-commerce templates that look great on desktops, phones, and tablets. Easily customize, create pages, add products, and you're pretty much ready to accept payments. Plans come with a free no risk 30 day trial period. Check out
our in depth review of Shopify here
and see why Shopify is our number 1 recommended shop for clothing companies.


Thread's not Dead is "the ESSENTIAL strategy guide for dominating the t-shirt business"
- Says Jeffery Kalmikoff, Former CCO of Threadless.com
Start your own clothing company and become the next Mark Ecko, Obey, or Johnny Cupcakes! Learn how to dominate the t-shirt business.

 How to Start and Grow your Own Clothing Company

 How to Build a Massive Following Using Social Media

 Case Studies and Interviews with the Best of the Best
Use the code "howtostart" for 20% OFF