I decided to use Disqus which is a comment replacement system for WordPress and other blogging platforms. In addition to all basic functionality, it is also well integrated with Facebook Connect and Twitter. I want to make this more of a community and promote sharing of all the information posted on this site. Please post questions and comments.
You will also see a feedback button on the left side of the site. I really want to know what you guys think about the site so this will make it a lot easier.
I have also been toying with the idea of doing a forum but I feel like I don't have the following yet to have a successful forum. I think it might just be a good way for people to post questions and get answers but I really want to make sure the posts content are all quality. I just fear it will turn out to be like t-shirt forums where a lot of the posters are misinformed and not posting from experience. Let me know what you guys think of this idea.
Need an E-Commerce Website?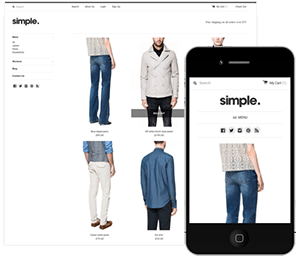 Shopify
is perfect for beginners and experts. You don't need to have any technical or design experience to easily create a beautiful online store with your branding. Choose from tons of well designed e-commerce templates that look great on desktops, phones, and tablets. Easily customize, create pages, add products, and you're pretty much ready to accept payments. Plans come with a free no risk 30 day trial period. Check out
our in depth review of Shopify here
and see why Shopify is our number 1 recommended shop for clothing companies.


Thread's not Dead is "the ESSENTIAL strategy guide for dominating the t-shirt business"
- Says Jeffery Kalmikoff, Former CCO of Threadless.com
Start your own clothing company and become the next Mark Ecko, Obey, or Johnny Cupcakes! Learn how to dominate the t-shirt business.

 How to Start and Grow your Own Clothing Company

 How to Build a Massive Following Using Social Media

 Case Studies and Interviews with the Best of the Best
Use the code "howtostart" for 20% OFF