This was originally posted by Dejan at Tee Zine
Tee zine is around for quite some time now, and as you may presume I get a LOT of emails from various T-shirt labels, asking if they could be featured on Tee zine. Among all of them, there is a certain amount of emails which seem to be sent out just for the cause of it, which can actually be quite iritating and detract relatively severe T-shirt blogger like me from the original idea – to get me interested in particular tee label or a shirt.
Now, I know this is a case with many T-shirt bloggers around, and if you're a blogger you can just skip such emails, thinking: "who cares about those people anyway"? Well, okay, but I wanted to give a couple of advices to newly established tee labels on how NOT to contact a T-shirt blogger in order to actually GET a feature on desired T-shirt blog (don't get me wrong – I'm not trying to "sell you brains" here, I just think it could be really useful if you're getting started in this whole T-shirt business).
First – do NOT start an email with a matrix. I get a lot of emails starting something like: "hello (insert name), I really like your blog and I think we need more blogs like yours out there". I mean – if you want me (or any T-shirt blogger, in that sense) to actually check out the links or images you've added to your email, please take some time and in fact DO check out that particular blog you're trying to contact. Read a couple of articles, see what kind of tees / designs the blogger is into, try to write something that will show a blogger you REALLY like what he writes. Matrices are good only for mass emails. We bloggers are people, too
Second – do NOT send emails with a lot of info – I mean, it's great you started this wonderful T-shirt label with those amazing designs, but giving me a lot of info in your initial email in which you ask me for a feature on my blog may also turn me over. In other words – be relatively short and to the point, and if I really like what you do and decide to write about your line I will surely reply to your email with some questions on particular details. I am sure many T-shirt bloggers have this problem, so if I'm writing "me" you can be sure that it in fact means "us".
Here's an example of a well-written initial email from Connor Fathers of Alive & Well tee line, who's "Owl" tee design can be seen below the text: "My name is Connor and I run a small, independent line, Alive & Well, from my garden shed in the south of England. I really like what you have going on, it looks really clean and you pick out some great shirts, I was wondering how I could go about possibly being featured? I'll keep it short and sweet as I'm sure you're very busy, here is the link to my store so if you like what you see, please let me know! aliveandwell.bigcartel.com Thanks for your time, I really hope to hear back from you".
Third – do NOT expect a reply right away – like I already said, there are a lot of emails coming to T-shirt bloggers' inboxes, so give us a chance to read them all and decide which ones we'll feature on our blogs. It's also the case that some labels send out an initial email and get my reply some weeks later, but I cannot tell you how many times I didn't hear the label back. I mean – why did you contact me in the first place?
Fourth – do NOT be the same as others – in other words: try to be original and think of something unique which will set apart your email from dozens of others. Some kind of contest for the readers of particular blog, a discount coupon, an original idea of promoting your tee or a line… It guarantees you almost 100% blog coverage, and some curious blogger (like me) may really like what you've got going on and write a couple of extra sentences on your original and unique little company (even if she / he doesn't like your designs so much).
For example, Richard Wilde of art & design community ArtyBuzz.com, which also features T-shirts, needed a judge for his next tee contest, so he wrote me an email to see if I was interested in it. Why not, I thought, and so I've checked his site and found out a great new place for tee designers and other artists, which I now visit more or less often. There I found this particular shirt I really liked.
Fifth – do NOT neglect the contact once you've been featured – I really don't know why this happens, but there is a certain amount of labels which just don't stay in touch after they've been reviewed or mentioned on a blog. Isn't it logical you want that particular blog to write about you again? So why not add it to your mailing list and shoot an email once in awhile with some news on your latest activities? To me, as a more or less dedicated T-shirt blogger, it's important to make lasting connections, plus it's always nice to have some "fresh juice" in my news section.
Another good example – Dalene and Alexa of T-shirt designer community Springleap.com often inform me on their tee design contest winners. Now, I know they may be using matrices for such emails, but it's always nice to see they haven't forgotten what's my birth name
By the way – one of their latest winners is called Whoo Hoo!!! and the winning design is called "Rabobi, Rabobi" (it's the South African version of Spiderman).
At the end – I hope this article doesn't sound like some kind of T-shirt preach. Also, these are not "the sacred rules" or something like that. I just want these tips to be useful and help you get a feature on desired T-shirt blog. Since you obviouly got into T-shirt business to CREATE, and not neccessarily just to SELL, why don't you start with creating a good & (kvalitetan) relationship with a T-shirt blogger?
This was originally posted by Dejan at Tee Zine
Need an E-Commerce Website?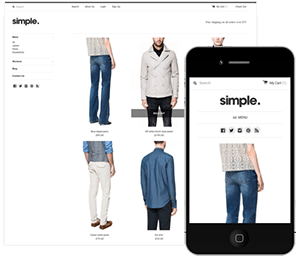 Shopify
is perfect for beginners and experts. You don't need to have any technical or design experience to easily create a beautiful online store with your branding. Choose from tons of well designed e-commerce templates that look great on desktops, phones, and tablets. Easily customize, create pages, add products, and you're pretty much ready to accept payments. Plans come with a free no risk 30 day trial period. Check out
our in depth review of Shopify here
and see why Shopify is our number 1 recommended shop for clothing companies.


Thread's not Dead is "the ESSENTIAL strategy guide for dominating the t-shirt business"
- Says Jeffery Kalmikoff, Former CCO of Threadless.com
Start your own clothing company and become the next Mark Ecko, Obey, or Johnny Cupcakes! Learn how to dominate the t-shirt business.

 How to Start and Grow your Own Clothing Company

 How to Build a Massive Following Using Social Media

 Case Studies and Interviews with the Best of the Best
Use the code "howtostart" for 20% OFF