I started watching this speech and it is pretty bad in the beginning but I let it keep going while I made some food. At 6:45 is when it starts getting good and I would advise you to fast forward to this point.
Denzel Washington talks about putting yourself out there and not being afraid of failure saying "If you don't fail you're not even trying." I feel like a lot of people see the success stories of clothing companies out there but they don't realize all the failures that went with it. I remember Johnny Cupcakes saying something like it takes 3 years to be an overnight success. I thought it was an interesting commencement speech, not the best but it had some good points.
Need an E-Commerce Website?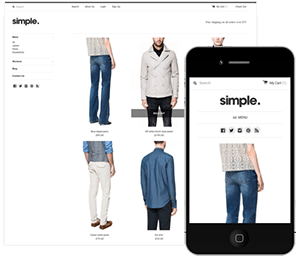 Shopify
is perfect for beginners and experts. You don't need to have any technical or design experience to easily create a beautiful online store with your branding. Choose from tons of well designed e-commerce templates that look great on desktops, phones, and tablets. Easily customize, create pages, add products, and you're pretty much ready to accept payments. Plans come with a free no risk 30 day trial period. Check out
our in depth review of Shopify here
and see why Shopify is our number 1 recommended shop for clothing companies.