Two important things
When taking on the endeavor of a new market it is always important to realize and address couple things. The first is that you must realize that you are doing something new. Hence, all of your experience that is in marketing but is not in the same niche is almost irrelevant and should be called upon in later situations. Second, look at the situation from an outsider's perspective and take in everything that you can about what would make your product/service sell. These observations will lead you in the right direction – to know your consumer and his/her selling points.
I have dealt with car products, product service and sales, and home improvement services. Taking on an endeavor pertaining to the fashion industry is a new angle for me and that is why I follow the logic that I have written above.
The Story
When first looking into what kind of vendors Shred should target market, the only solution was to immerse myself in the culture that could be Shred. Without knowing what the product looked like I went out to some stores and browsed. I made sure to get all the information that I thought would be useful for my later plans so I collected a list of all the brands that were carried in the store when I browed through. After seeing a couple of the same stylish/urban/hip boutiques I ran into a store that seemed perfect. I don't know why, but the whole vibe that I got from the store made me think about what I was branding, Shred. As a sales/promotions/marketing guy, I always want to know as much as possible when relevant – so I ask lots of questions.
It pays to talk.
I was not aware of it at the time but the woman who I was casually talking to at the desk was actually the owner of the store. She was very friendly and was more than happy to tell me about some cool parties that were going to happen that night in the local area. A couple of my friends and I went later that night to a local dive bar to see, "where the enemy sleeps at night," and we actually had a pretty good time.
Don't say no to opportunity.
Although I never would have thought about going to an event like the one we attended I was able to network, thereby building the foundation for a later dialog with an owner distributing to Shred's target demographic. I continue to discover that not taking opportunities only leads to nothing. The previous statement may seem obvious but I think that it is important to say that if you find that yourself constantly asking, "why?" when presented with opportunity, you should really ask yourself, "why not?"
written by Ben Gardner
Need an E-Commerce Website?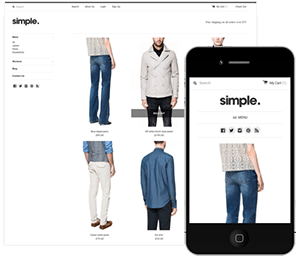 Shopify
is perfect for beginners and experts. You don't need to have any technical or design experience to easily create a beautiful online store with your branding. Choose from tons of well designed e-commerce templates that look great on desktops, phones, and tablets. Easily customize, create pages, add products, and you're pretty much ready to accept payments. Plans come with a free no risk 30 day trial period. Check out
our in depth review of Shopify here
and see why Shopify is our number 1 recommended shop for clothing companies.