I just signed up for a page at Facebook. I know I am behind the times but at least I am starting now. I think it will be a good way for store owners to connect with each other. You can post in the discussions section, upload photos of your products, or just post a link to your store.
http://www.facebook.com/pages/How-to-start-a-clothing-company/333842945937
Also does there have to be that long number there for the link? it doesn't seem necessary but it doesn't work without it.
I've got more stuff in store for this site in the future to create a community instead of just a blog.
Need an E-Commerce Website?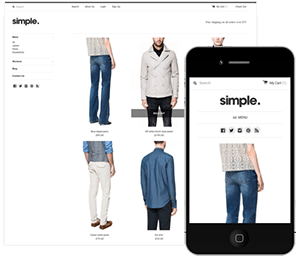 Shopify
is perfect for beginners and experts. You don't need to have any technical or design experience to easily create a beautiful online store with your branding. Choose from tons of well designed e-commerce templates that look great on desktops, phones, and tablets. Easily customize, create pages, add products, and you're pretty much ready to accept payments. Plans come with a free no risk 30 day trial period. Check out
our in depth review of Shopify here
and see why Shopify is our number 1 recommended shop for clothing companies.


Thread's not Dead is "the ESSENTIAL strategy guide for dominating the t-shirt business"
- Says Jeffery Kalmikoff, Former CCO of Threadless.com
Start your own clothing company and become the next Mark Ecko, Obey, or Johnny Cupcakes! Learn how to dominate the t-shirt business.

 How to Start and Grow your Own Clothing Company

 How to Build a Massive Following Using Social Media

 Case Studies and Interviews with the Best of the Best
Use the code "howtostart" for 20% OFF