Working for Teefury, I sometimes have to modify art to reduce color counts to suit our 6 color maximum.
I've uploaded this PATTERN OVERLAY that can be used from Layer Styles to fill a layer with a halftone pattern. It's a faster way to change an area of color to a halftoned representation, and since you can scale in Layer Styles, you can choose the halftone sizes on the fly. If you don't know how to load a downloaded pattern, please read.
This is the pattern applied to a layer.
The Stormtrooper below is created with black, dark gray, light gray, and white.
On observation, I decided that the dark gray, highlighted with red, would be the best color to be reduced with minimal quality sacrifice.
The process is simple.
1. Isolate the target area.
2. Extract it into it's own layer.
3. Apply pattern and adjust the scale to proper sizing.
In the Stormtrooper image, since the black and white pattern is too high of a contrast, and light gray is available, the pattern fill overlay was modified to make it look better by making the halftone pattern be comprised of light gray and black instead of white and black. It's a closer representation of the dark gray.
1. It was first split off into it's own layer by "Create Layer from Fill" so it could be modified.
2. It was inverted so the predominate color of the fill would be black/darker. Original halftone pattern is predominately white.
3. Since we have light gray to work with, we filled a layer underneath the pattern with light gray.
4. Changing the pattern layer to multiply, we now see the halftone represented by light gray and black.
Viola! Color count minus one.
NOTES:
– In most instances, utilizing another color from the design into the halftone instead of white will help to keep better color continuity throughout the image.
– The most typical case in which I use this technique is when an artists uses a darker shade of an existing color to create a shadowed area. Black is usually integreated in the design so it is an easy conversion. Another worst case scenario is to create orange. Halftoned red and yellow makes for an easy illusion of orange.
– Be careful not to reduce the halftone pattern scale to a very small size, otherwise dot gain may muddy the halftone area depending on the printing method.
jimiyo
http://twitter.com/jimiyo
http://facebook.com/jimiyoart

Need an E-Commerce Website?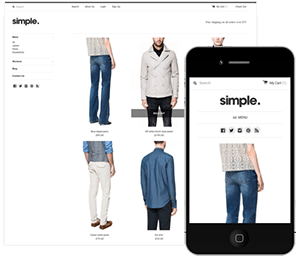 Shopify
is perfect for beginners and experts. You don't need to have any technical or design experience to easily create a beautiful online store with your branding. Choose from tons of well designed e-commerce templates that look great on desktops, phones, and tablets. Easily customize, create pages, add products, and you're pretty much ready to accept payments. Plans come with a free no risk 30 day trial period. Check out
our in depth review of Shopify here
and see why Shopify is our number 1 recommended shop for clothing companies.