I had this discussion with my buddy David over at SEIBEI. I was thinking about raising my prices to include shipping, mostly so when retailers looked at my site they wouldn't see that we are selling shirts for $20 and that we charge them more then 50% of the cost for wholesale. Here is what he told me.
"I've read studies that show that most people don't think about shipping when ordering items online, that the subtotal is what really stands out in their mind. I think offering shirts with free shipping as a given is going to mess with the perception of the price of your line. For instance if someone offers free shipping on everything and build this cost into their shirts – everyone just sees a shirt for $27; they don't do the math and realize that it's really a shirt for like $22 or $23. DON'T OFFER FREE SHIPPING. Having shipping built into your price only heightens the hurdle between looking at a product and having it in your shopping cart."
One thing I have done is do $5 shipping for US and Canada and that's it. Order 1 shirt or order 20 it's the same cost for shipping. This is a great incentive for people to order more stuff at a reduced cost. It's $25 for the first shirt but you save $5 on each shirt after that because I don't charge more for shipping. I upsell this at checkout, when customers are ready to pay there is a message telling them about this deal. I've gotten some orders over $100 which is really nice and not much more work then packaging 1 shirt.
Need an E-Commerce Website?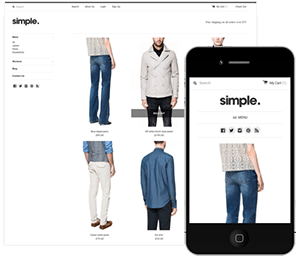 Shopify
is perfect for beginners and experts. You don't need to have any technical or design experience to easily create a beautiful online store with your branding. Choose from tons of well designed e-commerce templates that look great on desktops, phones, and tablets. Easily customize, create pages, add products, and you're pretty much ready to accept payments. Plans come with a free no risk 30 day trial period. Check out
our in depth review of Shopify here
and see why Shopify is our number 1 recommended shop for clothing companies.


Thread's not Dead is "the ESSENTIAL strategy guide for dominating the t-shirt business"
- Says Jeffery Kalmikoff, Former CCO of Threadless.com
Start your own clothing company and become the next Mark Ecko, Obey, or Johnny Cupcakes! Learn how to dominate the t-shirt business.

 How to Start and Grow your Own Clothing Company

 How to Build a Massive Following Using Social Media

 Case Studies and Interviews with the Best of the Best
Use the code "howtostart" for 20% OFF