I posted Fur Face Boy's experiences at Pool last year and saw he had a new blog post up about his experiences this year. You can read his whole article here
Early this week, I exhibited my brand at the Pool Tradeshow for a 2nd time. I figured that since I lived through a Pool Tradeshow before and that Fur Face Boy was a bit more established since when I first exhibited back in 2009, maybe this time around it'd be more of a success.
When you've experienced Pool before, you learn a thing or two. The first time I exhibited, I went ALL OUT. Custom vinyl wallpaper, low-run prints of sample tees, 7′ long custom sign, mannequins, loads of stickers, line-sheets and free shirts to give away, loads of decor and let's not forget airfare, shipping my shit to Vegas, renting a car and booking a hotel. What does all of that mean? MONEY. I'm not gonna lie to you, the first time I exhibited at Pool it cost a fortune! Back then, I still had a comfortable paying job and I was wayyyyy more naive than I am now. Those attributes and attitudes gave me cushion to cover my expenses as well as allow me to go all out without knowing the consequences my bank account would get hit with.
I left my job early in the year and I don't fall for much bullshit as I used to anymore, so this time around, I tried to be as smart with my funds as I possibly could. I waited until the last month to commit to the Pool Tradeshow. Why? Because that means you have a better chance of getting a last minute 'we want as much money as we can get before the show starts' booth price. Sure getting a booth at the last minute means that you won't be mentioned in a few online and printed show publications, but seriously…who the F
actually looks at that shit? Another cost-saving maneuver I ended up doing was contacting my friend, Chris of MadGods (who I met the first time I exhibited at Pool) to share a booth, as well as a hotel room with me. Our brands are so different from each others that we knew that we wouldn't be competing. In fact, we thought that this would bring in a more diverse crowd to check out both of our lines during one booth stop.
Other cost-saving moves I made were: Instead of renting a car we took the tram daily, I also called the hotel I was staying at and personally asked if they could give me a better deal on a hotel since I was exhibiting at Pool. Immediately they said…"Yes, we can" –that instantly saved me an additional 15% off a night. Since I have a business credit card with airline benefits, I used my accumulated points (from FFB business only purchases) to fly to Vegas for free. I also didn't print a sample run, instead, I just brought tees from my personal vault to show as sample pieces. Also, I didn't go all out with the decor, instead, I wanted my product to do the talking. Basically, my set up was just my tee's, order forms and my high degree of charm. *blows on nails* That's it. Doing it this way saved me much more than half of what I originally spent in 2009. You live and learn, y'know?
Click here to read the full article
Need an E-Commerce Website?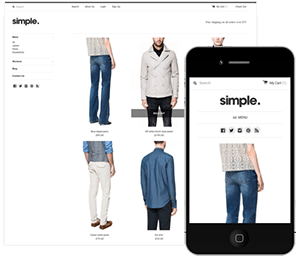 Shopify
is perfect for beginners and experts. You don't need to have any technical or design experience to easily create a beautiful online store with your branding. Choose from tons of well designed e-commerce templates that look great on desktops, phones, and tablets. Easily customize, create pages, add products, and you're pretty much ready to accept payments. Plans come with a free no risk 30 day trial period. Check out
our in depth review of Shopify here
and see why Shopify is our number 1 recommended shop for clothing companies.