This post was taken from Tee hunter.
I was very pleased to be able to interview the seriously cool and visionary dude behind Glamour Kills,  Mark Capicotto. He has done amazing things with his brand and the success he is now enjoying should ignite the spirit and desire in all fledgling tshirt designers and fashion entrepreneurs! It can be achieved! Glamour Kills have just put out their summer line and it is immense! So enjoy the interview below and have a look at just a very select cross-s3ection of the new threads available!
There are a lot of bold tshirt brands out there now, treading a similar line to you, how do you keep innovating, competing and leading the way?
Glamour Kills: I always try to keep glamour kills doing something different, thats why i started the company. and with our popularity its spawns alot of companies trying to do the same thing and now we have to set the new trend. Right now im changing our style up drastically without losing the glamour kills feel. we want to appeal to more than just one type of person.
What inspired the new summer line?
Glamour Kills: Music, i mean music and design are my two passions and they go hand and hand for me. It sounds cliche but i draw all my inspritaion from there….well maybe a little from perez hilton.
I see you are broadening your line more and more, the addition of boardshorts/bikinis is really cool, did you ever imagine going beyond printing just tshirts when you first started and how does it feel to be producing nearly everything a human can wear?
Glamour Kills: It's surreal when I first started I wanted to do all of these things but didnt know how, just t-shirts. as the company grew and the knowledge of the business grew it became easier. Im still wanting to do more (be on the look out for shoes backpacks hats soon but its really surreal to see people wearing the stuff i still get all giddy when i see someone in the mall wearing something.
What is your favourite designs from the summer line and why? (did you design it and if not who did?)
Glamour Kills: Well the summer line is the first line where i didnt design 100% of everything myself. As the company has grown it is difficult for me to do everything. But i work with a select few designers who help take our vision to life. Id have to say my favorite tee of the summer line is the space odyssey shirt (pictured below!) i dont know what it is, i wear that thing everywhere.
How far ahead do you work on your seasonal lines and what is good and bad about this approach?
Glamour Kills: We are just wrapping up our fall line now its good to be prepared and have plenty of time before the release but its hard to design for that far in advance its summer right now so i wanna make summer shirts but i cant cause its for the fall haha. But we are hoping to get cracking on the winter stuff soon so its done before summer is over.
When you launched, did you know where you wanted to position yourselves as a brand and how did you go about making it happen?
Glamour Kills: I really didnt when i started I just wanted people to wear my stuff i didnt care who. The music industry was something i knew pretty well so going that route for the brand made sence for me. But the music skate scene is where we fit best and i love being here.
What have been your biggest high points and lowest lows since starting the brand?
Glamour Kills: Some high points were being picked up nationally by a major retailer as well as overseas.
As well as seeing my stuff everywhere its a great felling. I wouldnt say ive had any lows, everything is great.
What is the next big move for Glamour Kills?
Glamour Kills: We are opening up some stores across the country early next year as well as a tonne of other stuff that i cant disclose just yet. but soon!
A HUGE thank you to Mark for his time and great responses! The Glamour Kills summer line is out now and available to view and buy on www.glamourkills.com
Need an E-Commerce Website?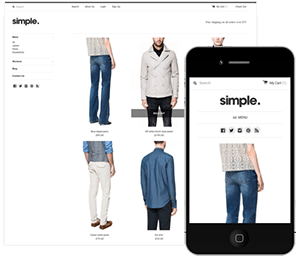 Shopify
is perfect for beginners and experts. You don't need to have any technical or design experience to easily create a beautiful online store with your branding. Choose from tons of well designed e-commerce templates that look great on desktops, phones, and tablets. Easily customize, create pages, add products, and you're pretty much ready to accept payments. Plans come with a free no risk 30 day trial period. Check out
our in depth review of Shopify here
and see why Shopify is our number 1 recommended shop for clothing companies.