When selling t-shirts online, a major thing that determines your long term success in the industry is how well your customer service is. Of course your t-shirt designs have to be good in order for people to want to buy, but what makes people really buy from you is how much they like you; how they feel about the way you communicate with them. Sometimes, the difference between a shop doing pretty good and a shop doing extremely well can be in the quality of customer service.
Here's some customer service tips that you should apply if you want customers to keep coming back:
1) Don't give customers stock responses
When a customer, or potential customer e-mails you asking something, talk to them! Don't just give some automated robotic response to their question. People can tell when they receive an answer that someone took the time to write or an answer that a robot could have wrote. Read the message that the customer sent you, and answer every question the customer has. If there is a case in which you have to start with a template message, address the customer by his/her name, make variations in the message, and add a little humor so the customer knows that a real person is behind the message.
2) End the email or call on a high note
Let's say your telling a customer about a delay in shipping of his product. This problem may or may not be your fault, but you still have to explain the situation to the customer. You'll have to apologize to the customer about the problem, but be careful not to give the "everything's wrong, oh no, we failed" impression. Just state the problem in a couple of sentences, but make sure to end the message or conversation with what you're doing to fix the problem and a time for when the problem may be solved.
3) Avoid over compensating for your mistakes.
On the subject of explaining a mistake and problems to customers. Although you're supposed to end the email on a high note, don't give them the world just because you made a small mistake. Now of course if you did something like ship the wrong shirt to the customer, you should at least let them return the shirt (free shipping), give them the shirt they wanted and a 10% discount on the next order. But don't go all out and give them like 5 free t-shirts for something like that, because this can have the opposite intended effect, and make the customer think you're unprofessional or not worthy of their business. Making up for your mistakes is a good thing, when done in a reasonable manner.
read the rest of the article at teebiz
Need an E-Commerce Website?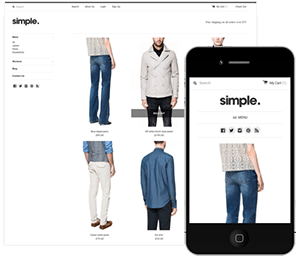 Shopify
is perfect for beginners and experts. You don't need to have any technical or design experience to easily create a beautiful online store with your branding. Choose from tons of well designed e-commerce templates that look great on desktops, phones, and tablets. Easily customize, create pages, add products, and you're pretty much ready to accept payments. Plans come with a free no risk 30 day trial period. Check out
our in depth review of Shopify here
and see why Shopify is our number 1 recommended shop for clothing companies.


Thread's not Dead is "the ESSENTIAL strategy guide for dominating the t-shirt business"
- Says Jeffery Kalmikoff, Former CCO of Threadless.com
Start your own clothing company and become the next Mark Ecko, Obey, or Johnny Cupcakes! Learn how to dominate the t-shirt business.

 How to Start and Grow your Own Clothing Company

 How to Build a Massive Following Using Social Media

 Case Studies and Interviews with the Best of the Best
Use the code "howtostart" for 20% OFF