Written by Ray Masaki
Questions:
Hello Ray,
My name is Justin. I have pondered starting a clothing line. I've been doing extensive research because, well, if I do start one I'll be running off a shoestring budget. Anyhow, I'll cut to the chase and ask the questions I've been wondering about.
Do you make your own shirts, or do you outsource this?
If you do outsource it (I understand the process of outsourcing) does the company making the shirts put the label and hang tag on for you, or do you do this?
If you do not outsource, do you print them up yourself with a DTG printer or screen printer, and then sew on your label, and put your hang tag on yourself? And where do you get your products from? I have researched many, and a lot of smaller operations recommend American Apparel.
I have many more questions, but I'll leave just one more. I imagine you are a busy person, just as I am.
What kind of numbers do you have rolling in, and are you making a big enough profit to expand your line?
My start up costs would be different from yours, but it helps to have some general ideas, that way I can figure out my break even point.
Any advice would be great.
Thanks,
Justin
Answers:
Hey Justin, thanks for the questions.
I'm assuming you're asking if I print my own shirts rather than make them, but no, I don't print my own shirts. I wish I could, but I'm still a student, and it would be too much labor for it to be worth it.
The company I outsource puts in the labels for me, but I put on the hang tags myself, because that's pretty simple.
I can't share my numbers, because that's personal, but I make enough to be able to run Lowdtown only off of the money it makes. Mind you, I don't really use any of the money I make from Lowdtown for personal things, so I pretty much put 100% of the profit back into Lowdtown.
And I don't think knowing my numbers will help you figure out your point for breaking even. You figure out how to break even, by figuring the cost of your blanks plus the print and any additional embellishments (labels, hang tags, etc). That would be your raw cost of the t-shirt. Then you figure out your retail price, and subtract your raw price per t-shirt. By figuring out how much money you'd be making off each shirt, you can see how many shirts it would take to break even. Of course there would be a lot of other factors, but that's the barebones way I use to figure it out.
Good luck!
Need an E-Commerce Website?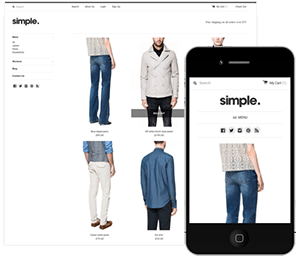 Shopify
is perfect for beginners and experts. You don't need to have any technical or design experience to easily create a beautiful online store with your branding. Choose from tons of well designed e-commerce templates that look great on desktops, phones, and tablets. Easily customize, create pages, add products, and you're pretty much ready to accept payments. Plans come with a free no risk 30 day trial period. Check out
our in depth review of Shopify here
and see why Shopify is our number 1 recommended shop for clothing companies.