Everything a Start-Up Fashion Brand Needs to Know About Celebrity Endorsements
If you're reading this, it's because you own a fledgling clothing company that's just about to go to market, and it's probably safe to say that you're facing a fair amount of uncertainty. You've done all the hard work: conceptualizing, designing and creating items that you think will become staples in the fashion industry, not to mention all the work you put in creating a business plan and a strategy for your company's direction. And while all of that is critical to ensuring a successful launch, there's one other piece that's arguably the most important to getting your brand's name out there: how you will market the brand. In this article, I want to cover celebrity endorsements as a medium for marketing, and how they can be used to effectively grow your brand.
With a good celebrity endorsement, a brand can go from obscure to ubiquitous almost overnight. Take BAPE, for example. The company was founded in 1993, but it wasn't until Pharrell lent his star power to the brand in the mid-2000s that the company became well-known in the United States. Within a year of his endorsement, BAPE went from a little-known Japanese clothing company to one of the most in-demand brands in the United States. Need another example? How about Michael Jordan and Nike? Before Jordan signed on, Nike was a fledgling shoe company fighting Adidas, Reebok, and all other brands for a foothold in the market; after Michael Jordan came along, however, Nike set itself apart from its competition, beginning a decades-long reign as the king of the shoe brands.
Make no mistake: a good celebrity endorsement is as important to a startup brand as a business plan and a great product. So today, we're going to discuss how to make sure you put your brand's best foot forward when it comes to celebrity endorsements.
Identify a Quality Celebrity
This may seem obvious to some, but you'd be surprised how many brands don't understand the difference between a high-quality celebrity endorsement and an endorsement from the latest "hot at the moment" celebrity. Finding a high-quality celebrity is a key component of a successful campaign. So when you're starting to put together your potential list of celebrity endorsers, make sure they have a decent amount of staying power and that they're generally well-liked by the public. After all, once you have a celebrity endorser, that celebrity will forever be associated with your brand, for better or worse, so make sure you select someone you feel confident will remain in the public eye for a long time.
You should keep in mind the acronym "FRED" when determining which celebrities would be a good fit for your brand:
Familiarity

: The more familiar a celebrity is to your target audience, the more impact the endorsement will have. So in your case, if you're targeting a fashion-oriented audience, you'd want someone who is already known to that audience (for example, ASAP Rocky).

Relevance

:

How relevant is the product to the celebrity endorsing it? When it comes to celebrity endorsements, the target audience has to be able to connect the product being endorsed to the person endorsing it. So while David Beckham is a household name, having him endorse a new pair of basketball shoes wouldn't resonate with the target audience.

Esteem

: The esteem of the celebrity endorser carries over to the product they're endorsing. But this goes both ways- a well-respected celebrity also has a personal brand to maintain, so if the product is inferior and incompatible with their brand, their reputation will suffer as a result. So while you want to get an endorsement from a well-liked celebrity, make sure it's a product that you'd be happy having their name on and that the celebrity is comfortable endorsing.

Differentiation

: This is the big one, and it's part of what separates traditional endorsements from non-traditional ones. Differentiation simply means making the celebrity endorsement stand out from all the other ones out there. That can usually be done with a creative approach to the endorsement itself.
Some other things to keep in mind is the previous brands that the celebrity may have endorsed as well. For example, if the celebrity is endorsing many brands then your message may be diluted, and not get the best impact. You can utilize an endorsement database like Celebrity Endorsers to identify celebrities based on your brand identity. By making sure the celebrity you choose to endorse your product meets all these criteria, you'll stand a much better chance of making your partnership with that celebrity a long and successful one.
Know Who (and How) to Contact
Now that you've identified the celebrity you want to be the face of your brand, the next step is contacting them. But making sure you contact the right person is almost as important as knowing what to say to them. Your desired outcome of reaching out to the celebrity also plays a role in what you should say and how you should say it. We've covered this before, but most celebrities have a team of representatives (typically an agent, a manager and a publicist), so you need to be sure that you're reaching out to the person who's most likely — and most able — to help with your request.
For example, if you're looking for a standard endorsement deal, you'll want to reach out to their manager (unless they have an agent who handles endorsements). On the other hand, if you're just trying to get your product into the celebrity's hands for free with a request that they talk it up on social media, you'll first want to touch base with that celebrity's publicist. In rare cases, some celebrities don't have a team of representatives managing their business; if that's the case with the celebrity you're targeting, then you can simply contact the celebrity directly with your request. As a reminder, the message you send to the celebrity's relevant representative depends on what you're hoping to achieve through your work with that celebrity, so be sure you highlight what's likely to be most important to that specific representative when you reach out.
Understand the Compensation Options
The ways a celebrity can receive compensation for their endorsement are as varied as the products themselves that the celebrities are asked to endorse. There are plenty of different kinds of deals that can be made, but a large part of determining what kind of deal to offer has to do with your business plan and operating costs. Let's take a look at some of the more common and relevant compensation options available to someone running a startup clothing brand.
One-off payment
Like the name implies, this compensation structure involves a one-time payment to the celebrity for a predetermined amount of work. What the celebrity does as part of this agreement is entirely up to you; maybe you want them to wear your clothes at a red carpet event. Or, if the celebrity is a musician, maybe you want them to shout out your clothing line in one of their songs- the options are practically endless.
Probably the most common is a social media deal, where the celebrity publishes a certain number of posts on their social media account about your product. In some cases, you can negotiate a package of posts at a cheaper rate per post than you would have to pay for a series of one-off posts about your product.
Equity
If you're a little cash-poor at the moment but really need a celebrity endorsement to elevate your brand to the next level, another option to consider is giving the celebrity an equity stake in your company. This option really only works when the conditions are absolutely right; for example, you need to be sure that the celebrity is committed to maintaining their support of your brand over the long haul and won't just stop pushing your product after a while.
As mentioned above, you have to be confident that the celebrity you're asking to endorse your product has staying power. The last thing you want to do is give equity to a celebrity who will fade from the public eye in less than a year but will continue to take a cut of your company's profits long after their value as an endorser is gone. If all the conditions line up perfectly, equity can be a great way to secure a long-term celebrity endorsement, but you need to be absolutely certain that the deal works for both parties in the long-term before offering it.
Revenue sharing
Similar to offering equity in the company, revenue sharing is a good way to secure a celebrity endorsement without putting down more money up-front than you can comfortably afford to spend. Revenue sharing is simple: you partner with a celebrity who will represent your brand in the public eye; in return, the celebrity will receive a percentage of your sales. Unlike equity, however, the celebrity does not have an ownership stake in your company.
Offering revenue sharing to up-and-coming celebrities is also a smart idea, since up-and-comers can usually be persuaded to only start taking a percentage of your sales after you've broken even on your costs. This is more the exception than the rule, however; most celebrities will still often want some sort of up-front payment for their work. But if you have enough money to cover that up-front fee, revenue sharing can be a good (and creative) way to secure a celebrity endorsement without bankrupting your company in the process.
Free merchandise
While all these options are great, what do you do if you've sunk every last penny into your business? You don't enough money to cover a one-off payment, you don't want to give up any equity in your company, and the celebrity won't agree to any revenue sharing deal without an up-front fee (which you can't afford). Luckily, you can always turn to the one thing you have plenty of: your product.
Offering free merchandise is a great way to get your brand's name out there without incurring costs you can't afford. Many clothing companies will send free merchandise to celebrities in the hopes that the celebrity will be photographed wearing the clothes; if the brand is really lucky, the celebrity will be so happy with the new clothes that they'll post about them on social media for free. For example, Joyrich knew that Trill Sammy was a fan of their brand, and gifted him with some free clothes and he posted about it. Also with more popular celebrities, wearing an up-and-coming brand gives them clout and boosts their reputation as a trendsetter.
Of course, because offering free merchandise is the least expensive way to promote your brand, plenty of other clothing companies do the same thing, which means the odds of the celebrity wearing your brand out of the hundreds they've received are much lower than they would be with a traditional, compensation-based endorsement deal. But if you're confident in your product and really can't afford to spend the money for a traditional endorsement, sending free merchandise has high upside with few drawbacks.
So there you have it. As you know by now, starting your own clothing company is a difficult endeavor with lots of challenges along the way, and the work doesn't end when your line of items is complete; in fact, it's just getting started. But by using the tips in this article, you can put yourself (and your business) in a position to make a splash in the fashion world when your company launches, and with the right celebrity endorsement, you're well on your way to making your product a household name for years to come.
Billy Bones is marketing director at Booking Agent Info, a celebrity contact database that allows brands to skip the middleman by providing the contact information for the official agent, manager, and publicist of celebrities. He also works at Celebrity Endorsers, which provides brands with celebrity data including their celebrity endorsements, interests, and the causes and charities that they support.
Need an E-Commerce Website?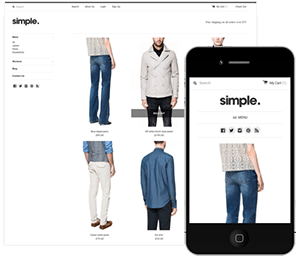 Shopify
is perfect for beginners and experts. You don't need to have any technical or design experience to easily create a beautiful online store with your branding. Choose from tons of well designed e-commerce templates that look great on desktops, phones, and tablets. Easily customize, create pages, add products, and you're pretty much ready to accept payments. Plans come with a free no risk 30 day trial period. Check out
our in depth review of Shopify here
and see why Shopify is our number 1 recommended shop for clothing companies.