I have gotten a lot of emails being a freelance designer myself and most people don't know how to properly contact artists. The worst is when I get an email that say "how much for a design". Really… that's all I have to go on. I don't even know who the person is, what their company does, or if I am even the right person for the job. Please don't do this if you expect to get any kind of response.
Here is a check list I follow when emailing artists and designers.
Introduce yourself
Tell them about your company
Tell them about your project
Let them know how you work and what's expected
Payment details
Before I get any further here were some of the answers I got from fellow designers about the subject.
"The best experiences I have had are with people who are down to earth, yet approach me in a personal way. Those who are open minded and send me a message on myspace or shoot me an email are always great to work with. I am not a fan when a band will message me and be like how much for a design? and that's all they say."
"When contacting a new artist I give a brief introduction to myself, the business I work for and express an interest in hiring them for some freelance work. I'll give a general idea of how we prefer to invoice but leave it open if the artist prefers another way (flat fee, kill/approval fee, hourly, etc.) I'll also explain our business' workflow so the artist and I can reach an understanding of the process and schedule accordingly. Then once the details are agreed upon I'll give as much direction as possible and we'll get to work.

It is best to keep it somewhat personal yet still professional and keep an open dialogue. People that just email you "How much?" are probably not the kind of people you want to work with. Never be afraid to ask questions no matter how dumb they may seem."

 
Basically the more information you give an artist the better they will understand your business and in turn the design will usually turn out better. Let me break down that checklist I wrote in the beginning.
Introduce yourself
Who the hell are you? I want to know who I am dealing with. When I send out emails to artists I usually tell them about my clothing company, blog, and that I am a designer myself. It's an easy way to connect with people by showing them that I am a designer to and this is the work I've done, it makes me credible.
Tell them about your company
What's your demographic, age group, who is going to buy your designs? Hype your clothing company and make the artists want to be a part of your clothing line.
Tell them about your project
Give them a solid idea to design off of. Sometimes I work with a designer to come up with good subject matter but usually the idea is already polished in my head and just needs to be given to the right artist to get it down on the computer.
Let them know how you work and what's expected
I spell it out that I want to see rough drafts and sketches before they start inking. For some reason a lot of beginning designers will just go on their own and give you a finished design without you okaying anything. This is a recipe for disaster because the designer put tons of time into the work that may or may not be what you intended. Just make sure the designer knows that you want to see his progress to fix any problems along the way.
Payment details
50% up front? Paypal? Check? Make sure everything is clear before they start
Now you have no excuse for emailing a designer for a quote.
Need an E-Commerce Website?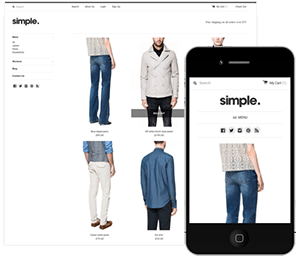 Shopify
is perfect for beginners and experts. You don't need to have any technical or design experience to easily create a beautiful online store with your branding. Choose from tons of well designed e-commerce templates that look great on desktops, phones, and tablets. Easily customize, create pages, add products, and you're pretty much ready to accept payments. Plans come with a free no risk 30 day trial period. Check out
our in depth review of Shopify here
and see why Shopify is our number 1 recommended shop for clothing companies.


Thread's not Dead is "the ESSENTIAL strategy guide for dominating the t-shirt business"
- Says Jeffery Kalmikoff, Former CCO of Threadless.com
Start your own clothing company and become the next Mark Ecko, Obey, or Johnny Cupcakes! Learn how to dominate the t-shirt business.

 How to Start and Grow your Own Clothing Company

 How to Build a Massive Following Using Social Media

 Case Studies and Interviews with the Best of the Best
Use the code "howtostart" for 20% OFF