Written by Ray Masaki
Question:
Hi Ray. First off let me tell you how rad your clothing line is – really awesome! I don't want to take up too much of your time, but I do have a question and I figured you would be able to help through your experience.
What I'm real confused about is the printing method. I'm just about to have a real small launch and I don't do ANY designs. I've hired an artist to do my designs, but if I'm not mistaken he has to do them a certain way for it to be able to be printed. So my first question is, What exactly are the guidelines I need to give to my artist.
My second question is once I get the artwork, What are the steps I have to take with my printer? Do I have to buy the brand of shirts I want myself and tell them the colors to print the shirts on? And should I go with a local printer or have it done online?
Thanks Ray for the info,
Jenny K. The Up-and-Comer : )
Answer:
Hey, glad you like my brand. Here is my advice; it probably varies from printer to printer, but from the 3-4 printers I've worked with in the past, this is the method I've used that usually works.
First of all, it depends if you're working in Photoshop (raster) or Illustrator (vector). Vector's are scalable to any size, so in the case of vector images, all you really have to do is specify the color and the size of the print on the shirt. I've learned that it's always a good idea to show a mock-up image of a t-shirt so that the printer has a pretty good idea of how large the print should be.
In the case that it's a raster image (ie. done in Photoshop), you would need to have the file of at least the size of your print (ie. 16″ x 24″ or whatever) and have it at 300dpi. The dpi is very important because if you don't have it at 300, it'll most likely come out blurry. 300dpi is usually for print and 72dpi is usually for web, so if you receive a file at 72dpi, tell your artist that it's wrong!
If you have an experienced artist, he or she should probably separate the colors for you, but if it's not separated, your printer should be able to handle it. In terms of colors, the best way to get the most accurate colors is by using a pantone color book. A pantone color book is a special book that most, if not all printers use that have the same exact color swatches. That way, even if the design's colors may look different from monitor to monitor, if you have it properly labelled with the pantone number, there should be no mess ups.
It also varies from printer to printer if you need to buy the blank shirts or not, but I personally like buying the shirts myself. That way, you can buy samples to see which blank is the best for your brand. Also, some printers tend to mark up the price of the blank to get a cut of profit off of that, so you should be careful about that.
Local versus outsourcing is always a debate as well. I currently work with a local printer and I love it, because I get to see samples and stuff in person, and it cuts out the shipping cost as well. However, I'm pretty fortunate that I have a great printer nearby, but there may not be good local printers in your area. In the case of that, outsourcing to well accredited places would be ideal.
Hope that helps, thanks for your questions.
Need an E-Commerce Website?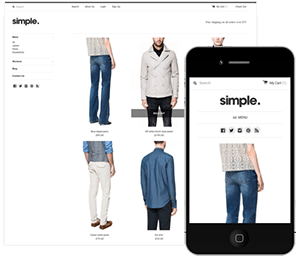 Shopify
is perfect for beginners and experts. You don't need to have any technical or design experience to easily create a beautiful online store with your branding. Choose from tons of well designed e-commerce templates that look great on desktops, phones, and tablets. Easily customize, create pages, add products, and you're pretty much ready to accept payments. Plans come with a free no risk 30 day trial period. Check out
our in depth review of Shopify here
and see why Shopify is our number 1 recommended shop for clothing companies.