Niche in the Marketplace
Now that you have systematically analyzed your industry, your product, your customers, and the competition, you should have a clear picture of where your company fits into the world.
My biggest strength is my ability to communicate ideas and my sense of humor. There are a lot of companies out there that do concept and joke driven shirts but there are two that stand out as my largest competitors: Busted Tees and Snorg Tees. Both of them have some decent shirts but I think a lot of them suck, and a lot of their ideas are unoriginal. How many times can someone make an "Im McLovin" shirt? My plan is to make t-shirts that I love, that are original and well designed, and hopefully people will be into that.
To Brand or not to Brand
I thought this post by Jeff Finley from Go Media really nailed it.
In high school in the 90's, every kid wanted the brand name on the shirt. If it didn't say Abercrombie and Fitch, American Eagle, GAP, or whatever mall store, you were a loser. I don't know if high school is still like that any more though. But I'm sure there is a crowd out there that buys shirts based on the name and could care less about a design. Brands like Armani and Versace have years of history behind them and their name holds something bigger than your typical start up clothing copmany. It's hard to compare a start up clothing company to Versace.

And there is also a crowd who enjoys artwork and graphics on a shirt. I personally enjoy lots of designs from stores at the mall, but will not wear it because it says Billabong or Volcom huge across the chest. But legions of kids wear it because they are trying to brand themselves amongst their friends by the brands they wear.

It seems to me people choose their clothing based on an assumed perception of what their peers will think of them. If I wear this shirt, I will be well liked. Or If I choose this shirt, people will think this about me…

So what target market are you going after? People who like art/designs or people who like brand names? There are companies succeeding both realms, look at Affliction.

If it were up to me, I say let your art do the talking. Forget the gimmicky clothing company name and make awesome shirts!
Brands will always have their place, and kids will still wear them to fit it, but I feel like there is a growing crowd of people that want to wear something different. This is great for smaller companies that sell they're stuff of the internet.
With great brands everything works together for an ultimate feel of the company. Their advertising has the same voice as their website, product, packaging, everything. Brands are also more than just a name it's something you can get behind. Since I'm not going to put my name on any of my clothes my branding is going to focus on the voice of my company. I want my own personality to really come through and show my sense of humor while being very fun and lighthearted. David who runs his clothing company Seibei has done a great job of bringing a voice to his company. The writings in his blogs and referring to his links as awesome blog and wicked links really makes his personality come through. I also think Johnny Cupcakes has done a great job branding. I heard he had an old fashioned mixer in his building and put flour in with the shirts when he mailed them. How cool is that, this guy really goes all out.
For shirts that use your brand name on them I feel like you need the support of a community to really succeed. I've seen a lot of bands on myspace that have a banner ad that says they support Glamour Kills. Glamour kills has an army of artists that say their stuff is cool so what are all of these artists fans going to believe as well. Billabong and Quicksilver are both the same way they have tons of surfers that wear their stuff and have a ton of fans because of this.
Need an E-Commerce Website?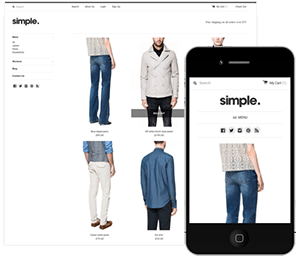 Shopify
is perfect for beginners and experts. You don't need to have any technical or design experience to easily create a beautiful online store with your branding. Choose from tons of well designed e-commerce templates that look great on desktops, phones, and tablets. Easily customize, create pages, add products, and you're pretty much ready to accept payments. Plans come with a free no risk 30 day trial period. Check out
our in depth review of Shopify here
and see why Shopify is our number 1 recommended shop for clothing companies.


Thread's not Dead is "the ESSENTIAL strategy guide for dominating the t-shirt business"
- Says Jeffery Kalmikoff, Former CCO of Threadless.com
Start your own clothing company and become the next Mark Ecko, Obey, or Johnny Cupcakes! Learn how to dominate the t-shirt business.

 How to Start and Grow your Own Clothing Company

 How to Build a Massive Following Using Social Media

 Case Studies and Interviews with the Best of the Best
Use the code "howtostart" for 20% OFF