So the moment has come, either through word of month, a blog post or even possibly an ad you placed. A customer is on your site and is browsing your clothing line to see what you have to offer. After a few minutes your potential customer exits your page but with nothing in their shopping cart. What went wrong; your designs are great, prices are spot on and heck you are even giving free shipping! How and why did they not buy anything?
Have you ever really sat down to think to yourself about the challenges that you are facing by selling online? In the rest of this article I am going to discuss the number one thing that turns me off while shopping online as well as give some tips to hopefully help you increase your sales!
As humans we love to stimulate and use our 5 senses; whether it is going to a sporting event, going out to eat or simply going shopping we are enthralled and drawn by things that stimulate all of our senses. The average shopping mall is a perfect example of a sensory overload of sites, sounds, tastes, smells, products and experiences that we love to interact with. The problem is we simply can not experience this online.
So what's the point? The point is when you go shopping at a mall looking for your next killer T-shirt, accessory or pair of pants you can actually interact with what you are buying! You can try on a shirt to see how it fits, stare in the mirror to see how it looks on you and of course show it to your friends react to see how they react to it.
When you are shopping online you are obviously at a disadvantage. You can no longer touch the product to see how it feels or try it on to see how it's going to fit and often times there is no one around giving you their opinion on what they think. Yes I know this is extremely obvious, but this is where I see a lot of companies missing the point, by not addressing and trying to overcome these barriers.
To me, the number one way to hurdle most of these obstacles is simple. TAKE QUALITY PICTURES!!! So you may be saying to yourself, "well, I have already sunk all my money into getting these shirts designed and printed, I don't have a professional camera or light equipment and I can't afford to hire a photographer to take pro pictures. what am I to do?"
Well take a deep breath, that's what I am here for! Many people automatically assume that if they do not have an SLR or access to a photographer they are sunk. Do not give up so easily! With cameras on the market today, a simple point and shoot camera can do wonders!
So here is the plan!
1. BE CREATIVE!
Yes there is nothing wrong with taking a few pictures in front of a solid color backdrop but come on people lets sell these designs! Tell me how long would you look through a flyer or catalog of people just sitting in front of a white wall? That's what I thought! Take action shots, unusual shots, shots of you destroying your shirt anything to make a customer feel something about that shirt! Open up a catalog for a clothing company or store you admire and take some notes. Or better yet, cruise on over to a clothing company that you admires web page and see what they are doing. There are a lot of great references out there, so get out and look!
2. SHOW EFFORT!
So what if you don't have a professional light setup, make an effort to do the best you can with what you have! We film Iamthetrend TV using $10 floor lamps but you'd never know! If you put effort and a bit of thought into making the best of your surroundings I guarantee your final product will turn out better than expected. Nothing works better than trial and error, so if you don't at first succeed try and try again; I promise you'll get a better result!
3. GET EXCITED!
Remember that feeling when your box of newly pressed shirts arrived at your doorstep? You need to convey that feeling to your customers. By taking exciting pictures, or pictures that your customer can see themselves being a part of, you are creating a buyer experience and increasing your chance of a sale. To me this is the most important part. Think about it, why do you think brands sponsor bands? Customers are influenced by what they deem to be cool, or something that they want to be a part of. No one wants to be a part of what seems to be a shirt in a white padded room! Create an experience through your pictures; paint a story that is going to sell and entice buyers.
4. DITCH THE MOCKUPS!
I have not and will never buy from a Photoshop mock up. No I am not talking about well done mockups that you see on sites such as emptees.com I'm talking about companies that literally paste their design onto a one-dimensional flat colored pseudo t-shirt cutout. Doing this style of mockup makes me think that you either do not have the products that you are selling or do not care enough to put together a proper representation of your product. Either way, its not the 90's and there are a ton of photorealistic mockups available. The best site that I have seen for them is gomedia.us you can also watch tutorials of how to use those mockups on www.watchteev.com So there you have it, stop making excuses!
5. TAKE CLEAR PICTURES
This probably seems like a no-brainer common sense tip, but there are way too many companies that do not take clear pictures from multiple angles of their products. If you have a graphic that wraps around the side of your shirt make sure to take a picture that properly conveys that placement. Remember your customer can not pick up your shirt so you need to your best to help them visualize your product.
In closing, take pride in your photos and try and represent your products in the best and most professional way that you and your budget can put together! Remember you are just not selling shirts you are trying to create and experience for your customer. Experiences will keep your customers coming back for more and telling their friends! I'll leave you with what I think are some of the best promo pictures and photorealistic mockups out there and remember to find more examples and find photographers check out www.iamthetrend.com guide to indie clothing, art, bands, products, articles and more. As well as watchteev.com for videos of all things T-Shirt and apparel related!
Some Examples
Sometimes when you have a very busy shirt it's best to leave the background simple. Remember to take pictures that work, sometimes less is more!
Johnny Cupcakes does an incredible job of playing off what he is portraying on his shirts and creating a cohesive brand image. If your brand centers around something specific such as animals, use that in your pictures to help convey your message.
Kill Brand always does a great job of portraying a specific mood or action in their photos. Again its nothing crazy but it is effective and thought-out.
watchteev.com
Need an E-Commerce Website?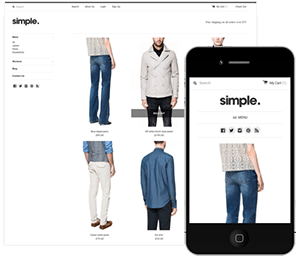 Shopify
is perfect for beginners and experts. You don't need to have any technical or design experience to easily create a beautiful online store with your branding. Choose from tons of well designed e-commerce templates that look great on desktops, phones, and tablets. Easily customize, create pages, add products, and you're pretty much ready to accept payments. Plans come with a free no risk 30 day trial period. Check out
our in depth review of Shopify here
and see why Shopify is our number 1 recommended shop for clothing companies.


Thread's not Dead is "the ESSENTIAL strategy guide for dominating the t-shirt business"
- Says Jeffery Kalmikoff, Former CCO of Threadless.com
Start your own clothing company and become the next Mark Ecko, Obey, or Johnny Cupcakes! Learn how to dominate the t-shirt business.

 How to Start and Grow your Own Clothing Company

 How to Build a Massive Following Using Social Media

 Case Studies and Interviews with the Best of the Best
Use the code "howtostart" for 20% OFF