Don't rush. First impressions are everything. Don't release any product unless you know for sure it's as good as you can get it to be.
Don't get bummed out if you go broke. You have to spend money to make money.
Travel, travel, travel.
Get a catchy domain name. Do something different, original, and memorable. Take your time coming up with a name.
Try to limit/not mass produce anything. Everyone wants what nobody has.
Be prepared to toss out any relationships or hobbies, if need be. You have to put 110 percent into building any company. You need to get your own act together before taking on a relationship.
Focus, focus! Living a drug-free, alcohol-free lifestyle my whole life has enabled me to save money, think straight, live healthy, focus more, and use my time wisely. I'm not saying do what I did, I'm just pointing out that you're going to have to make your company your first priority.
Personalize your online orders. Johnny Cupcakes shirts are wrapped in special cupcake tissue paper, and usually come with a Ninja Turtles or Garbage Pail Kids card. Taking a couple of extra minutes to do that puts a gigantic smile on someone's face!
This was taken from an article written on NPR.org
For the complete article click here
Need an E-Commerce Website?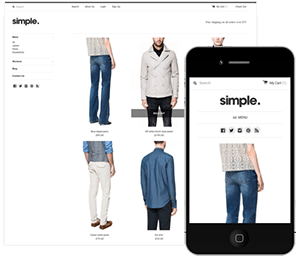 Shopify
is perfect for beginners and experts. You don't need to have any technical or design experience to easily create a beautiful online store with your branding. Choose from tons of well designed e-commerce templates that look great on desktops, phones, and tablets. Easily customize, create pages, add products, and you're pretty much ready to accept payments. Plans come with a free no risk 30 day trial period. Check out
our in depth review of Shopify here
and see why Shopify is our number 1 recommended shop for clothing companies.


Thread's not Dead is "the ESSENTIAL strategy guide for dominating the t-shirt business"
- Says Jeffery Kalmikoff, Former CCO of Threadless.com
Start your own clothing company and become the next Mark Ecko, Obey, or Johnny Cupcakes! Learn how to dominate the t-shirt business.

 How to Start and Grow your Own Clothing Company

 How to Build a Massive Following Using Social Media

 Case Studies and Interviews with the Best of the Best
Use the code "howtostart" for 20% OFF