Johnny Cupcakes is a legend in the clothing business. He built an empire without compromising. You can check out his story on his website.
This was originally posted from a post he made on emptees called "How I run some parts of my business / don't be a whore . org."
"Grab some Sour Patch Kids and a glass of Virgil's Rootbeer – this is a long blurb about the way I operate and the thoughts behind it;

I'm not the best at photoshop/illustrator. However, I am a doodle master and I barely sleep because I think about ideas, designs, details & concepts non stop.

My office and bedroom are filled to the brim with sticky notes, notebooks and computer paper that I've baptized with my brain juice/9 yr old boy who just watched nickelodeon's SNICK-esq imaginative drawing stylee.

Since I juggle a little bit of everything in my brand & have borderline A.D.D. – I almost always send out my doodles, drawings, and/or concepts & ideas to my adobe illustrator mastermind(s).

I use to work with a bunch of different adobe illustrator masterminds, but as I grew I wanted to stick with a couple or one. Some clothing lines will just hire everyone and anyone, which makes there brand not look too consistent(which could be good or bad, depending on what you're going for.) Also, some designers/illustrators work with WAY too many clothing lines whom are in the same ring, as well as doing mucho band shirts. It is cool and is a respectable business move to scoop up lbs of hard earned business. But sometimes you illustrators need to learn to say no & be picky/choosy with who you work with. Yeah, it might be a bum out to lose a few possible clients/sales – however, you will be more respected in one way or another.

I turn down offers every day from shops that want to carry my brand. Literally, every day. Why? Because people want what nobody else has. I like making my shirts a bit of a challenge to get. And I love the fact that just about everyone who wears my shirts – knows, respects and appreciate my brand. Rather than some John Doe/Joe Shmoe who picked it up at the mall. I get to control their Johnny Cupcakes experience either in my shops or online. Although, I do supply products to a midgets-handful of stores in which I see my product fitting.

When I first started my brand, I wanted every single person to see it. Shortly down the road after seeing heaps of kids wear the same sneakers as I had, made me think to myself…"man, I hate seeing people wearing the same clothes that I have…I'm tearing up these orders and halting business with some stores."

I've turned down offers from Urban Outfitters, Hot Topic, Nordstroms, and a small-town-phonebook-sized list of other shops. Yes, I did hold back on making lots of quick money…whoever, what I now have is priceless. A worldwide Johnny Cupcakes cult following. I wouldn't trade it for the world. Having someone camp out for shirts and an experience that I built, is an undescribable feeling.

Anyways, back to the designers who keep painting the scene(s) with their dope work. Switch up your style a little. Consult some of your current and past clients before supplying clothing lines and bands whom are somehow in the same ring, with very similar looking graphics/colors/print layouts.

Once or twice a year, I will collaborate with an artist or two. But I now have a full time graphic designer/illustrator who works just for me and for no other clothing lines. Some brands don't like listing who designed what, because all these little scoundrel-like myspace-born newbie clothing lines will hound every and any contact that they can get, until they practically mirror all of what you created and worked your bum-bum off for.

-Miletogobelts; Great guy, awesome business man, has helped me out tons over the years! I decided to part ways because I'm working on a bunch of custom belts overseas. There's too many clothing lines doing those belts. It is def awesome for Greg, however – I want people to look at my products and be like, "How the heck did he get that made?!" But that's just me & I'm a weirdo. I'm even losing money because I decided not to make any/many more of those type of belts! I gotta stick with my gut instinct though, it's what got me to where I am today.

It is nice to be helpful and share "industry secrets". I remember when I was starting out, I was spending sleepless nights trying to find a place that makes custom tags. I hated the fact that nobody would help me out with this simple thing. Although – as much of a pain in the ass it was to find said tag places, it's all part of the game. It felt awesome and rewarding after that migraine filled industry scavenger hunt. And after I spent all those sleepless nights finding all these places that make custom products, I don't feel so right giving them out to some random Douchey McDouche on myspace who has a clothing line consisting of 90% generic diamond designs and who thinks starting a clothing line is as easy as putting some generic images in random spots on the shirt and endorsing gallons of warped tour bands.

NO MORE DIAMONDS ON DSGNZ PLZ!!
(Unless you're Diamond Supply Co., but you're not, so chill out.)

As far as endorsing bands, these are my thoughts;

People like what nobody else has…including bands. If you start endorsing so many bands, your shirts are going to go way down in percieved value. I turn down bands all the time. I don't care if you're on VH1 every day and headlining the Jesus Teeva's Foot Steps Across America tour. The small batch of friends/musicians that rep my shirts would feel not so special after seeing lbs of other bands wearing the same thing. They're going to open their LL Bean initials-embroidered backpack to grab a t-shirt to wear on stage, and say, "Hmmm…should I wear a plain t-shirt, or this neato shirt from a clothing line that endorses me? Well, tight-pants ironed hair McGee on the Bert & Ernie Ballz stage is wearing the same exact shirt. Fuck it, I'd rather wear this plain t-shirt with nothing on it." Now you don't want someone to choose a plain t-shirt over your bad ass designed t-shirt, do you? That's kind of like having your girlfriend leave you for another girl. Yeah, that happened to me during senior year.

In conclusion;

-I have a hand(s) in every design (whether it be my big hand or small hand).
-I still do share my tips and advice to as many people as I can without getting arthritis. I've also been lecturing at different schools. I love motivating people and/or changing the thought process on some. It makes me feel like my life is worth a little more than some cupcake t-shirts and dusty nintendo games.

***Above is just a small sample of my own opinions and work morals. My non-traditional way of going about business may not be the right way, it's just my way. Take & leave what you will – hopefully my time spent typing this has helped you all in one way or another. That was mostly my intent.

Just don't mirror my exact morals & operations please. Find your own niche! Better yet, make like a book and "Choose Your Own Adventure"! Get it? Like the adventure books at the Scholastic Book Fairs?

…nevermind."

– Johnny Cupcakes
Need an E-Commerce Website?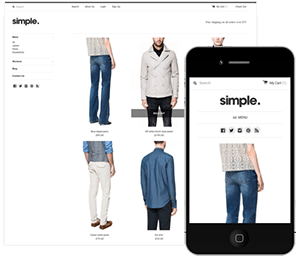 Shopify
is perfect for beginners and experts. You don't need to have any technical or design experience to easily create a beautiful online store with your branding. Choose from tons of well designed e-commerce templates that look great on desktops, phones, and tablets. Easily customize, create pages, add products, and you're pretty much ready to accept payments. Plans come with a free no risk 30 day trial period. Check out
our in depth review of Shopify here
and see why Shopify is our number 1 recommended shop for clothing companies.