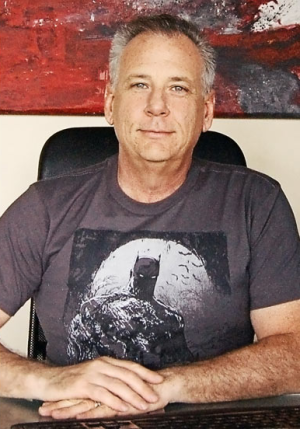 I had the opportunity to interview Allan Goldberg who is the president of Jack of All Trades. They have a ton of superhero and band shirts that are really well designed and stand out above the rest.
I see that you guys have a huge list of comic book, rock bands, and other pop icons that you have licensed. How do you go about getting the licenses when you started, and is there any information you can give to clothing companies starting out that want to do the same.
You have to come up with a hook an edge that will convince licensors they should allow you a license. It was a lot easier years ago than it is now. More competition going after the same licenses in the same categories, some licensors that care more about companies that will put up large sums of money over putting together amazing product. We have issues to deal with all the time and you have to know when you stand up for something you want and when to walk away but most of all you have to convince the licensors that you have a vision for their licenses that others don't in order to get them to listen and consider you for a license.
Tell me about your 30 years of experience working in this industry
I have been working with screen printers for 30 years doing my designs license and non license and have educated myself to the techniques of printing and in turn have worked with my screen printers to ensure the end result is what I want. I am like an artist that has chosen to use a T-shirt as a canvas. The T-shirt has to be the right quality in order for the design to have the right feel and result I am looking for. The art files have to be created properly, the files have to be separated correctly, the screens needs to be exposed exactly right and then the ink has to be right, the contact of the blades have to be right….and when it is all right you have a beautiful artwork on a t-shirt that has the right look and feel to exceed people's expectations. This is also providing the art you created is going to be appreciated by all and it is something we pride ourselves on doing better than others in the graphic industry as we live it and breath it day in and day out and are very passionate about it!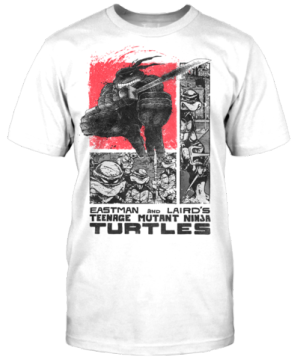 What is your most memorable moment running your clothing company?
It is the moments that continue to happen each and every day when I am out on the town, in another city, country, part of the world and I see people wearing a t-shirt my team created and whether it is something we did last month or 20 years ago it is great seeing people wearing them day in and day out. Sometimes I do let people know that it was my company that did that t-shirt and when they come back with such positive comments it makes it all worth it!
When did you feel like you were successful with your clothing company?
I still don't feel successful I just like doing what I am doing and have a good business that I want to continue to grow by offering people great t-shirts and knowing that we are supporting local economies and local foundations and if I can continue to do more for the people that want to buy our products and for local economies throughout the Americas that treat people fairly and for communities then I guess I will continue to feel I am doing what people consider is being successful.
How did you get involved with the Montreal Children's hospital?
They approached me to make them T-shirts once for an event. The introduction was made through another company that I do things for, a local radio station and once we made the product I decided to offer them our support by contributing proceeds every month from our online sales. It has been over a year we have been doing this and we also do it for the Children's wish foundation and I hope with time we can even do more.
What are some of the biggest mistakes you have made?
No mistakes just lessons to be learned and there were a few but it is all part of business and each day we grow from these lessons. The key is to not repeat the same ones over and over again and teach your staff to do the same. I have no regrets even though things have not always worked in my favor I look at it all today as the opportunity for growth.
What is the best form of advertising you use and how has your advertising changed since you
started?
The best form is when people spread the word about what you do in any form, they are all good when you are being talked about. The more people talk about us the more people know what we are about and the more people want to wear the t-shirts we put out and the more they appreciate it! Social media is the way to go. It is what I believe in and what works as it is real and real people that spread the word. I was never one that liked print advertising as it was always hard to judge what people thought of it and whether it works but with social media you get to hear what people think and with that it makes us a better company.
What do you know now that you wish you knew when you started?
What I know now is what I need to know to move forward and what I knew in the past is what I needed to get to where I am now. There are no good lessons or bad lessons they are all things that make you what you are and it is important to experience it all! I can say all this now but did not always feel this way when times were tougher I wished I knew other things but looking back I am glad I did not as they were important to learn at the times that is what happening.
You sound very passionate about what you do. Any tips on how to maintain that passion in your business.
The passion comes from focusing on what works and not on what doesn't!
What advice would you give someone that is starting a clothing company?
Do what you love to do! When things don't work don't give up just change it a bit to get to the same result that you are looking to achieve. Never give up on something you believe in!
website: http://www.jackofalltradesclothing.com/
Need an E-Commerce Website?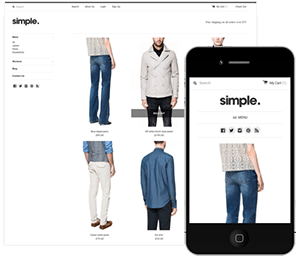 Shopify
is perfect for beginners and experts. You don't need to have any technical or design experience to easily create a beautiful online store with your branding. Choose from tons of well designed e-commerce templates that look great on desktops, phones, and tablets. Easily customize, create pages, add products, and you're pretty much ready to accept payments. Plans come with a free no risk 30 day trial period. Check out
our in depth review of Shopify here
and see why Shopify is our number 1 recommended shop for clothing companies.