Written by Ray Masaki
Questions:
Hi Ray!
I was just looking through some online articles and stumbled on your site. I'm also a young entrepreneur and I'm looking to start up a sneaker accessory brand for sneakerheads! There's so much stuff to consider when starting a brand, so I absolutely appreciate the tips that you wrote on your blog. And I think it's so important to reach out to fellow startups. The dream of success!
Amazing job with everything! I think the main thing that'll be a big cost for me is the design part (I'm not a designer, unfortunately! Haha) and of course the inventory part. Since you were a student at parsons, do you know how much it is to get like logos and packaging designed?
Thanks! Your graphics are amazing — if ever I make any money, I promise to buy a t-shirt.
Answers:
Hey Ting,
Logos range in price, depending on who you hire. And obviously, as with everything else, hiring a professional designer is really crucial. I'm sure you can pay a crappy myspace teenager online for a $100 logo, but if you're looking to get a professional logo, I'd say it would range from around $400-1000. But considering your logo is the most important thing in your brand that needs to make an impression on everyone, you really shouldn't be frugal about it.
I'm not really sure how much packaging design costs, being that I've never made any custom packages. I'm also not sure if you're asking how much graphics to go on pre-made packaging is or if you're asking how much it costs to get the packaging itself custom designed. The latter is obviously much more expensive, but that's about all I can say. If you simply want to get designs printed onto pre-made packaging, I probably wouldn't expect to pay more than $250.
Hope that helps!
More Resources:
Need an E-Commerce Website?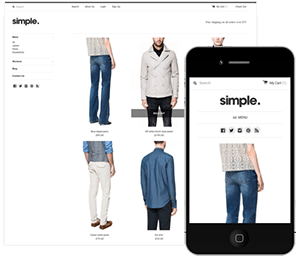 Shopify
is perfect for beginners and experts. You don't need to have any technical or design experience to easily create a beautiful online store with your branding. Choose from tons of well designed e-commerce templates that look great on desktops, phones, and tablets. Easily customize, create pages, add products, and you're pretty much ready to accept payments. Plans come with a free no risk 30 day trial period. Check out
our in depth review of Shopify here
and see why Shopify is our number 1 recommended shop for clothing companies.