My name is John LeDrew and I have been operating professionally in the garment decoration business for 10+ years working with some of the countries most notable brands and production shops. The potential of DTG has been promising enough that I have worked with nearly every large DTG printer manufacturer since 2007. This article will address the common misconceptions of DTG and how the Epson SureColor F2000 has revolutionized the industry.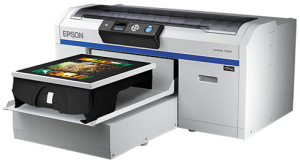 Direct to Garment (DTG)  is the process of printing on shirts using specialized or modified inkjet technology (kind of like printing shirts with your computer printer).
With DTG you can easily do low volume, full color, easily customized printed apparel. As it has grown in popularity DTG has proven to fall short of it's promise leaving the industry skeptical of the viability.
Reliability
It's extremely difficult to make money if you are constantly diagnosing and troubleshooting breakdowns. It's very simple, if your printer is not printing, you're not making money. DTG quickly gained a reputation for being unreliable; reliability is the main issue when discussing the viability of DTG.
Why so unreliable? Simple, every DTG printer to hit the market is made up of solvent ink paper printer components. Solvent ink is viscous and does not clog easily. Textile ink is sticky and heavy in comparison. Putting textile ink through a solvent ink delivery system, causes catastrophic breakdowns and clogging. White textile ink in particular is extremely problematic in solvent based printer systems.
Problems on Dark Garments
The first DTG printers printed on light garments with CMYK ink pretty well. CMYK ink is not as dense as white ink and therefore much easier on the ink delivery system. The industry demand to print on all color garments requires the ability to print white ink as an underbase and a spot color. White ink has titanium dioxide, a heavy, sticky, agent that settles quickly in the ink formula. This means white ink immediately starts clogging everything it touches. The solution has been to attempt to mitigate the clogging by turning on and printing daily, purging ink through the system, keeping the printer in a climate controlled environment, and running extreme maintenance schedules; this is costly, time consuming and, ineffective. Low volume DTG printing has to be done quickly and reliably or you dramatically sacrifice profit margin.
Washability:
Textile DTG ink isn't as opaque and dense as screen printing ink and therefore is less durable. A portion of the durability issue lies in the need to pre-treat a garment to allow white ink to bond to the print surface. Pre-treatment solution is easily applied but can also lead to staining and poor washability. Typical wash tests on DTG prints range in 10-20 washes before there is noticeable loss in color vibrancy.
Limited Print Area:
DTG printing is limited by lateral print head travel. Most tracks allow for 14-16 inch width. By mounting the print head on a moveable track, some printers allow depths of 50 inches plus. This allows for extremely long prints or multiple printed garments down a vertical line. Allover printing is typically not feasible with DTG.
How Does the Epson SureColor F2000 Address These Issues?
Epson SureColor F2000 Reliability: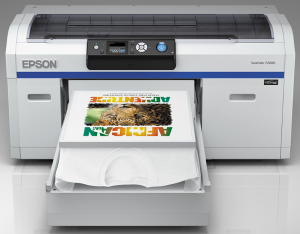 The SC-F2000 is NOT a repurposed paper printer. In fact, the Epson SC-F2000 is the first and only printer on the market that does not use paper printer components and was designed specifically for textile printing. It's hart not to over emphasis how important this fact is. Simply put, the technology in the F2000 allows for the most reliable and easy to maintain DTG printer to ever hit the market, no printer even comes close.
Epson SureColor F2000 and White Ink:
Because the F2000 was specifically built to print textile ink, every aspect of white ink that causes problems in other printers has been addressed. There is internal ink circulation to avoid build up, print head wipers, multiple ink filters, anti-drying print head caps, and a print head specifically designed for Epson UltraChrome DG Textile Ink. Epson ink is a unique formula purpose built to work in conjunction with the ink delivery system meaning reliability and color quality is unmatched.
Epson SureColor Washability:
Epson UltraChrome DG Ink and Epson pre-treat solution were designed in conjunction to allow for the industries highest rated washability. The SC-F2000 is the only Direct to Garment printer to ever receive a 5 star rating by the AATCC for washability. Only properly cured screen printed shirts receive a 5 star AATCC rating. This means designs printed on the F2000 will typically last the life of the garment. This is unprecedented in the industry.
Epson SureColor F2000 Print Area:
The F2000 can print up to 16" wide with a depth of 20" allowing for a more than average print area. There are multiple platen sizes available ranging from 4"x4" to 16"x20" and platens for alternate garments like hats and pants.
The versatility of DTG isn't just for the professional garment decorator anymore. The Epson SureColor F2000 has opened opportunity for any business with custom apparel needs to operate efficiently and profitably in nearly any environment.  Startup and existing apparel brands benefit greatly from the ability to create quick, high quality, custom apparel. DTG is ideal for print to order runs, design testing online, and sampling. We have placed DTG printers in sporting goods stores, amusement parks, sporting events, tourist venues, shopping malls, race tracks, and many other venues.
Examples of Prints
If you need low to mid volume, full custom garment decoration, there is no better option than the Epson SureColor F2000 Direct to Garment Printer.
John LeDrew is the DTG Director for Melco International.
Contact John for information on how to purchase the Epson F2000.
Need an E-Commerce Website?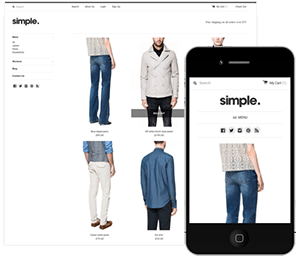 Shopify
is perfect for beginners and experts. You don't need to have any technical or design experience to easily create a beautiful online store with your branding. Choose from tons of well designed e-commerce templates that look great on desktops, phones, and tablets. Easily customize, create pages, add products, and you're pretty much ready to accept payments. Plans come with a free no risk 30 day trial period. Check out
our in depth review of Shopify here
and see why Shopify is our number 1 recommended shop for clothing companies.