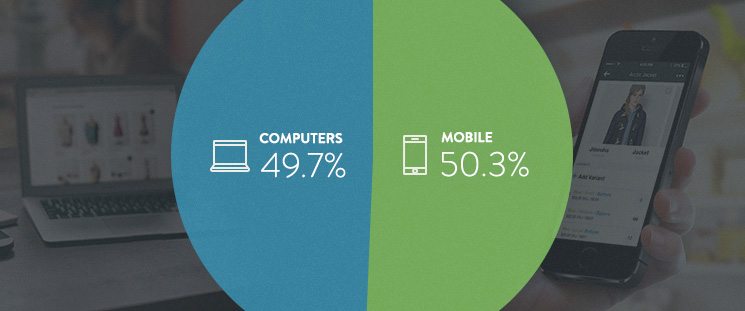 Big news in mobile ecommerce trends. Shopify just announced that :
Last week represented the first time in history that more people used mobile phones and tablets to visit online stores than using computers. Looking at data from over 100,000 ecommerce stores that use the Shopify platform, we saw 50.3% of traffic coming from mobile (40.3% from mobile phones, 10% from tablets) and just 49.7% from computers.
They collected this data from the over 100,000 stores that use shopify. So a pretty big sample size.
Mobile has been going up constantly for the last couple years and this is a milestone to have more mobile traffic then desktop.
Shopify says for the reason
The rise in mobile phone traffic to online stores is partly being fuelled by the overall trend of social-fuelled discovery becoming a major marketing channel. For example, while Facebook accounted for less than 5% of traffic to ecommerce sites on desktop, that number jumps to 7% when looking at mobile phones. In comparison, search based traffic from Google represented 18% of traffic from computers, but just 12% on mobile phones. This data seems to show that computers are being used to search for more commodity-type goods, while social media and mobile are used for more spontaneous, discovery-based purchases.
This is another good statistic for mobile ecommerce trends. Marketing on social media does better on mobile phones then desktop.
Bottom line is with over 50% of users using a mobile device you need to make your website responsive and look good on every screen size.
The data for this post was taken from
http://www.shopify.com/blog/15206517-mobile-now-accounts-for-50-3-of-all-ecommerce-traffic
Need an E-Commerce Website?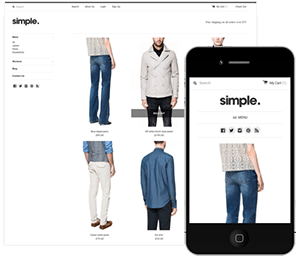 Shopify
is perfect for beginners and experts. You don't need to have any technical or design experience to easily create a beautiful online store with your branding. Choose from tons of well designed e-commerce templates that look great on desktops, phones, and tablets. Easily customize, create pages, add products, and you're pretty much ready to accept payments. Plans come with a free no risk 30 day trial period. Check out
our in depth review of Shopify here
and see why Shopify is our number 1 recommended shop for clothing companies.