Ben has written a couple articles for me in the past and is one of the most insightful clothing company owners I know. If you're serious about starting a clothing company don't miss this great opportunity. Also check out his clothing company Fright Rags
This is what Ben gad to say:
I get emails all the time from people that want advice on how to start their own shirt company. It seems like for every person who's managed to create a career out of selling shirts, there are 10 people that have no clue where to even begin. I've even received a few from members here and
have done what I can to help them out. And I always enjoy sharing my story because hell, I'm living proof of the old adage, "if I can do it –
anyone can."

When I started back in 2003, I didn't know what the hell I was doing. There weren't sites like this or even quick and easy ways to get your shirts online (i.e. Shopify, BigCartel, etc). There wasn't even MySpace, Facebook, or Twitter. But I still managed to take this lil' company of
mine from a hobby out of my apartment, to a full time career doing somewhere in the mid-six figure range in annual sales…

And every time I answer one of those emails, I seem to fall back on the same steps I took that really helped me get to where I am today, 7+ years later. Regardless of technological advances, I still believe they are the essential ingredients for starting a shirt business that will last…especially these days, when shirt "companies" (and I use the term loosely) are a dime a dozen.

So next Thursday, March 3 at 1:30pm (EST), I am hosting an online webinar to share my story and the key ingredients that helped me get to where I am today, and that can help you get started on your own journey. It's completely free, all you need to do is click the link below to sign up for a spot on the attendance list. So if you're looking to start your own thing, and want some pointers on how to get going, feel free to sign up and check it out.

On a side note, it's sad to see Emptees close next week. I have visited this site daily for the past couple of years and there will be a major void on my bookmarks toolbar after next Tuesday. I've already signed up for Mintees.com, so I hope that help keep the spirit of Emptees alive…

– Ben
password should be emptees12
Need an E-Commerce Website?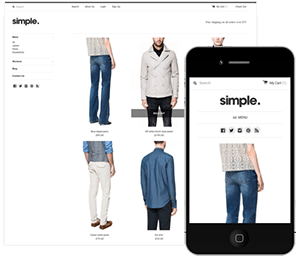 Shopify
is perfect for beginners and experts. You don't need to have any technical or design experience to easily create a beautiful online store with your branding. Choose from tons of well designed e-commerce templates that look great on desktops, phones, and tablets. Easily customize, create pages, add products, and you're pretty much ready to accept payments. Plans come with a free no risk 30 day trial period. Check out
our in depth review of Shopify here
and see why Shopify is our number 1 recommended shop for clothing companies.


Thread's not Dead is "the ESSENTIAL strategy guide for dominating the t-shirt business"
- Says Jeffery Kalmikoff, Former CCO of Threadless.com
Start your own clothing company and become the next Mark Ecko, Obey, or Johnny Cupcakes! Learn how to dominate the t-shirt business.

 How to Start and Grow your Own Clothing Company

 How to Build a Massive Following Using Social Media

 Case Studies and Interviews with the Best of the Best
Use the code "howtostart" for 20% OFF