When I started a clothing company I didn't think about all the work that went into keeping track of all my expenses and income and how much of a pain in the ass it would be to do taxes. If I did I would probably of just wanted a regular job to avoid the stress I would get during tax time.
I tried to figure out quickbooks, but it just was confusing and gave me a headache. I even took a class on it and that didn't seem to help me out. One of the biggest problems I had was importing all the data from paypal to quickbooks. I never found out a great way to do it and just gave up in the end. I'm not saying Quickbooks sucks, I'm just saying it wasn't for me and I needed something simpler that I could understand.
I ended up reading an article about small business taxes and they recommended Outright. They described it as Mint for small businesses. If you haven't used Mint for your personal finances you should check it out. It is a great way to keep track of all your accounts and manage your money. Outright really did live up to it's description. Like Mint it is easy to connect all your accounts; banks, credit cards, paypal. Once all these are connected it starts sorting the data into expenses and income and categorizes them. All you need to do is go in and double check everything, make sure everything is in the right category, make sure those personal expenses you put on your business credit card are labeled as personal expenses, and thats it. With a little bit of work your book keeping is done.
At the end of the year you can go into the taxes section of outright and they have your Schedule C all filled out.
The cost is $9.99 per month, which isn't bad for making sure you don't have a nervous breakdown during tax time. One of the reasons for paying the month to month price is that credit card companies only let outright get 3 months of previous data. So by paying this fee outright will keep on getting this data and automatically update your books.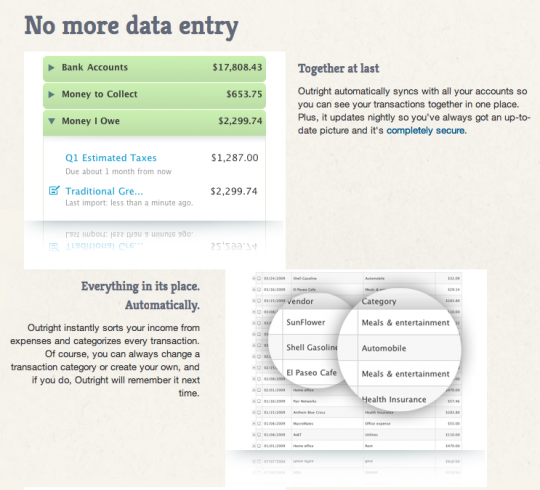 Need an E-Commerce Website?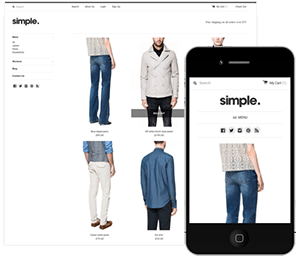 Shopify
is perfect for beginners and experts. You don't need to have any technical or design experience to easily create a beautiful online store with your branding. Choose from tons of well designed e-commerce templates that look great on desktops, phones, and tablets. Easily customize, create pages, add products, and you're pretty much ready to accept payments. Plans come with a free no risk 30 day trial period. Check out
our in depth review of Shopify here
and see why Shopify is our number 1 recommended shop for clothing companies.