Ever since attending Agenda back in January, I knew that it was a must to exhibit at a tradeshow, so last week I exhibited at my first tradeshow – the Pool Tradeshow in hot as F Las Vegas, Nevada! Let's see what my hard work, determination, sleepless nights and bank account got me into…(Brace yourself, this is an EPIC post)
2 months ago after signing up for Pool, I was already doodling up my booth set up…
1 month ago, I started mocking up my booth set up on the computer…
—————————————————————————————————————————————————-—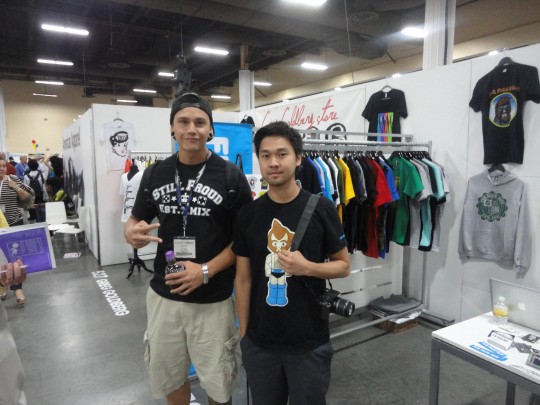 PRE-POOL (SET UP DAY) – I was at Pool ready to make my doodle / computer mock up happen…
It wasn't easy. All last month, I was in "Pool Tradeshow – Berserker Barrage" work mode. Not only was I in a furious flurry to get samples of Series 2 ready, but I also had to get on Series 3 line sheets, stickers, look books, business cards, intro kits, picture frames, hangers and wall graphics…
While putting up my wall graphics, I swear there was one point where I was gonna give up. I could'nt seem to line up the second section with the first section, I placed and removed the graphic about 50 times over to the point where the adhesive backing was losing it's stick! It was also hot as a Mutha Fer in there (NO A/C!) With my arms trembling over my head and sweat dripping from my brow like a running faucet, I pretty much got pissed at myself and said…"F! QUIT BITCHING! YOU WORKED HARD ALL MONTH LONG AND YOU'RE HERE! YOU'RE FINALLY RIGHT MOTHER FAfter blasting myself – I got it done.
I wanted the set up to be clean and subtle. It's pretty much my website made into booth form. I wanted the constrast of the big cyan FUR FACE BOY name to instantly grab the attention of bypasser's eyes and steadily lead them into my booth.
Hanging on the left side were Fur Face Boy Series 1 AND 2 shirts…
While on the right side were my lucky FFB Pillows (thanks Mom and Shogun Keith!), pictures of YOU, folded FFB shirts, bagged FFB shirts and a few Limited Edition FFB boxes (I stored my look books, intro kits and stickers in there). Looks like everything was finally set up and ready to go for the Day 1…
—————————————————————————————————————————————————-—
DAY 1 – I came to the tradeshow solo, but while in Vegas I met up with my homie from Dallas, Deadstock Stephen. Stephen was in Vegas to handle some day job shit, so he swung by to give me a hand. The night before, me and Stephen hung out at Paris, had a few beers, hit the blackjack table and banked! Stephen started with $100 and ended with $400! I started with $20 and ended with $220! Stephen had his eyes on some Air Jordan Countdown Packs, I on the other hand needed this money to pay back my screen printer…ugh.
The Moxsie Crew came out to support FFB! Moxsie looks for hot new independent labels and sells them direct from their site. They found me on twitter and have been supporting and backing my brand ever since! They do whatever they can to help push and promote FFB and that I am very grateful for! I thought it was very cool of them to make it a priority and visit me at my booth. From left to right – Jon, Diana, Shilpa and Julia.
Moxsie even helped pushed my brand while at the show! They linked me up with Merriliz from sojones.com to do a short interview about Fur Face Boy. I was really nervous while doing the interview (NEVER have I done a live interview before!) so I'm definitely NOT looking forward to seeing my dorkyass on sojones.com in the next few weeks.
I was after it on that first day. I was doing whatever I could to draw people in and explain to them my brand.
There was some slight down time, when this guy came in – John from deLux. He told me that his eyes were drawn to my booth and asked me how my first day was going. I told him that…"alot of people are coming in. They're giving me their contact info but there's no immediate buyers." He then took a step back and gave me some tips on how to improve my set up.
He said…"The setup is FHe loved the clean / subtle look but reminded me that…"buyers aren't designers! They're buyers looking to FING BUY!" He then goes on to say…"They don't give a F how the set up is, they need in your face, this is my product, this is what I have, BUY ME NOW type of shit!"
I left Day 1 feeling disappointed and heartbroken that I couldn't draw in a single order. I stayed up the whole night not able to sleep and constantly thinking what I could do to improve. My head was so much in the clouds, that I totally forgot about my meeting that the Moxsie crew set up for me! I was supposed to meet the editor of Thrillist! DAMMIT! I was also too bummed to even attend the opening night Pool party. Instead, I went to Walgreens and bought some hanging hooks…
—————————————————————————————————————————————————-—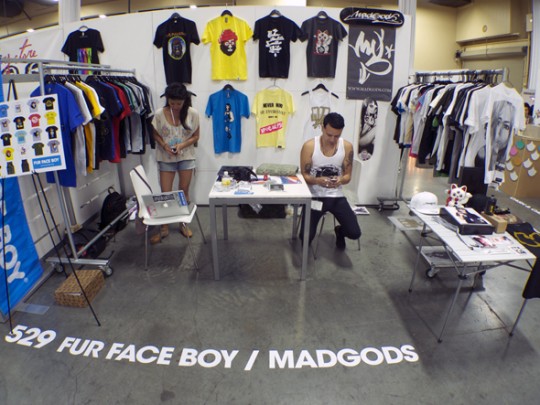 DAY 2 – I woke early and rifled my way straight to Pool. I was so early that the Pool doors weren't even open yet! When the doors opened, I took John's advice and set up my booth with a more IN YOUR FACE set up…
I even decided to rotate my chairs a bit to draw an invitation to come in and sit down.
I met alot of great / interesting people and collected alot of contact info on day 2…
…including this cute, funky-fresh Asian girl, she stopped in front of my booth and was like…"Fur Face Boy? Hmmm…I LIKE IT!" At first, I wasn't too sure who she was, then it struck me…"Hey! I know you…don't you make those food scarves? Aren't you, of course…TWINKIE CHAN!" Without a doubt it was! I hooked her up with some FFB shirts, who knows…maybe she'll wear 'em or maybe she'll make a badass scarf from 'em! Either way, NEAT-O!
During some down time, I checked out this cool artist, David Garbaldi who was on hand at the show. His style was a mix of Van Gogh and Chris Brown! See for yourself and you'll understand exactly what I'm talking about. The end result was AMAZING, SO AMAZING!
Day 2 came and gone and still not a single order. UH-OH! One of my biggest enemies was starting to creep on through…self-doubt.
—————————————————————————————————————————————————-—
DAY 3 – The last and final day of Pool has come. Going 0 for 2, I wasn't expecting to get any orders on this day either. Instead, I just wanted to take in just being at Pool. I wanted to have some fun, hang out and learn from as many people as I could. Who else better to learn from than Simone Legno.
Simone is the founder of Tokidoki. I went up to Simone and told him that though his brand is SUPER HUGE and internationally known, I came to get to know him and his brand by watching videos on lynda.com. I got to ask him first hand on how he made his brand blast off into such incredible heights. Bottom line…he says it was simply hard work. He also said that he loves Japanese girls. Who doesn't?
I also got to talk a bit to Jiro. He was the Pool Tradeshow photographer and a damn badass one at that! Check out his work if you want to be blown away! He's also a tallass Mother Fer!
Karin Anna Cheung knows what's up. Don't know Karin? Well, she's an actress. She's been in movies and TV shows such as Better Luck Tomorrow and Drake & Josh Go Hollywood. Look for her in an upcoming romantic comedy called The People I Slept WIth later this year. After that, look for her to be my girlfriend.
I just really dug this guy's look. I told him to stand in front of my booth so I can take a picture of him. I then gave him a shirt. I don't think he said a single word back to me. That look though…IT'S SO GANGSTA!
This is Don from Skullastic. Don swung by my booth and loved what I had going on with FFB. Me and Don are pretty much the new kids on the block. Fur Face Boy is just now turning 8 months old, while Skullastic is 11 months old. Also, don't you think Don looks kinda like Agent Smith from the Matrix?
These guys came to the FFB booth like 5 times! Great guys, but no order…what's up with that?!
This here is Mike Hahn. He's the intern for Beautiful / Decay. Mike's a riot and a definite Fur Face Boy! Follow him on Twitter and check out his site, The Stache Life.
Awwww…young love. DAMN how I envy those who are in love!
This lady came through and bought a few FFB Series 2 shirts at wholesale price for her son! Smart lady with a fashionable kid!
These two were my booth neighbors. On the left is Maggie and on the right is hubby, Michael. Together they form the greatness of SUPER MAGGIE! Maggie and Michael taught me so much during the show. Everyday, they would give me new advice. They told me to keep my head up and not to worry. They've been to many tradeshows before and let me know that the very first show is ALWAYS the toughest. They told me about their first tradeshow experience and how horrible it turned out, but they stuck with their brand, kept doing their thing and eventually things started to take off.
Asides from giving me plenty of advice, Maggie and Michael are really fun people! We talked about pomeranians, hotel cleaniness, foods they could / couldn't eat (Michael is Vegan and Maggie is Vegetarian, or is it the other way around? Hmmm…?) and squat sitting. I, being Asian squat alot. Maggie loves squatting too. Me and Maggie squatted in the Super Maggie booth for a bit and asked Michael to join us. Michael tried but it was so awkward because he's so long and lanky he actually started to tip over! It made for good times all around! I really mean it when I say Super Maggie are some of my new favorite people. You'd love 'em too if you were around them. They have a nice harmonic vibe coming from the both of them. Check out their stuff! It's very cool, very eco, very green, very organic driven clothes. And most importantly – VERY SOFT!
To the other side of my booth were Madgods from Austin, TX. On the left is Ryan and on the right is Chris. Both are total opposites of each other and both are real cool. Ryan is the artist / designer of Madgods and Chris is the business / accounts man. With Chris, I talked about how to manage my brand, how to take in an order, how to handle taxes, tips on inventorying and tips on how to make the sell. With Ryan, I talked about pen / brush techniques, how to separate a 4 color photo for screen printing and different artists like Michael Sieben, Barry McGee, Kaws, and Ryan McGinness. Both of them love joking around and bullshitting, which made it extremely easy for me to hang with.
On the night of Day 2, I hung out with Madgods. We hit up the Undftd and Stussy stores on Paradise Rd. I was witness to Ryan buying his first pair of Jordans (Air Jordan I – blk / steath / grey – white) after that we stuffed our faces with some In-N-Out burgers! (Double, Double – Animal Style!) Along our ventures we talked about Robocop, the unnessesaryness of butthole hairs, Japanese buyers, relationships, Asian / Swedish massages, H&M and a MASSIVELY WIDE assortment of other off topics. I'm planning on meeting up and hanging with Chris, Ryan and the rest of the Madgods crew sometime soon in Austin. Check out Madgods, it's really awesome! I now own 3 shirts myself!
Across from me, down to the right was Brian from Profile Apparel. Although Brian is an total smartass, he's a pretty cool guy. Brian also taught me alot about tradeshow preparation, taking in orders with a heavy focus on the business side branding. Constantly on his laptop, Brian knew how to run his brand. On the last day he even helped me pack up and bring my stuff out to my car. Nice huh
On Day 2, Brian let me know that if I ever needed to run to the bathroom or get lunch to let him know and he'll watch my booth. Well, one day I did a bathroom / getting lunch combo and since I wasn't getting any buyers I just left my booth as is with a "Will be back" note….
When I came back I found a note on my table that had a massive order! I was CRAZY EXCITED! Finally! A real deal order! I posted it on twitter and facebook and was just about to call my mom when Brian came by and had lunch with me. I was so excited that I immediately told Brian about my order. He then said…"Good for you! I told you you'll get that order. Oh yea, it's a fake order." Turns out Brian was disappointed that I didn't let him know that I was going to get lunch so he had to play this cruel joke on me. I laughed it off, but in my head – I was thinking knives, brass knuckles, guns and a really Fked up / bloodied Chinese guy.
This here is Rueben. Rueben is a manager for American Apparel, whose booth was right across from mine. He gave me some GREAT advice about my brand. He told me to keep my head up and to not get so down on myself that I wasn't getting any orders. He said that when American Apparel first started, it took loads of hard work year after year until AA finally hit their big break sometime around 2000. Did you know that American Apparel has been around since 1989?! He was totally down with FFB and told me to just…"Keep doing what you're doing and you're gonna do great things."
Rueben also helped support the FFB movement by buying the LIMITED EDITION, Sample 1/1 Bearmaibrick pillow for his daughter. What a sweet man. I asked him when I could catch him in the next American Apparel catalog he then chuckled and said…"You won't find fat Mexican guys in the American Apparel catalog."
Instead you'll find this…
Yes, I was lucky enough to have the beautiful ladies of American Apparel directly across from me all week long! The many times I was down and depressed, all I needed to do was look up. TOWEL! NOW! I MEAN IT!
Fur Face Boy shirts are printed on American Apparel, so why not!?
A very special shout out to my new friend Jerrell Moore from New York City. On day 1, Jerrell came straight to the FFB booth to look for me. He knew that I was gonna be wearing my Black Toe I's so he knew EXACTLY who to look for. Right from the get go, he told me how much he loved FFB and how he read the blog on a daily basis. He swung by everyday to help me at my booth. His dad actually had a booth over at MAGIC repping LOCO SUPER STAR but it seemed like Jerrell was over on my end more than over at his dad's! Haha!
It was good to have Jerrell around, not only did he help me everyday by straightening out shirts, passing out FFB print material, getting me some FREE Bustelo Cools and watching my booth when I was playing Guitar Hero but he also provided great friendship. We talked about Kobe vs. LeBron, Bapes, the NBA, the NFL, music, girls, relationships and the future. Jerrell's a good kid with a very good head on his shoulders. He has a swagger to him but at the same time was real humble. He's extremely determined and ambitious. He's actually trying to start a line of his own…Apocalypxcow. Everyday he would have a new idea. He not only wanted to keep up with Apocalypxcow, but he also wanted to start up a jean line, a shoe line, a pillow line, a sticker line…he wanted to do EVERYTHING! At just 19 years old, there's no doubt in my mind that if he stays ambitious and kept it up he could do anything he wanted to do.
During the last day of the show, I showed Jerrell my appreciation of him helping me out by letting him pick out as many FFB shirts as he wanted. He picked out 8 for himself and his girl. I think he really wanted to pick out more, but his humbleness came through. He also wanted a Limited Edition FFB box…No problemo, Jerrell definitely deserved it.
Also on the last day I finally made my first order. The weight that lifted off my shoulders as I was sitting down and writing in the order felt AMAZING! It's crazy because before the show, I was planning on a million orders from all around the world. I was starting to worry about how I was gonna ship all my orders and how my mom was gonna sew all of these labels on in time. I was ready to come home and put my 2 weeks in at my day job, I was ready to buy my mom 10 Gucci purses, I was ready to be the next big thing! But reality struck (What the F…
I'm definitely not a political person, but all throughout Pool everyone was saying how the economy played a MAJOR role in buyers not wanting to take the chance on a new brand. Most buyers were repeat buyers of an established brand. And though Pool looked HUMUNGOUS to me, everyone was saying it actually shrunk by like 3 times! In the end, I wasn't down. I actually talked to other new brands and they said they didn't get a single order in, so I feel EXTREMELY grateful with my 1 order. I learned so much during the show and made so many new friends. I'm gonna combine everyone's knowledge and come back even better! SO WATCH OUT!
I get so many emails from people saying that they're starting a T-shirt brand too. I hope everyone realizes that it's NOT easy. No, it's not just opening up a design application, drawing something out, slapping it on a shirt and making instant money. It takes alot of skill, time, energy, effort, promoting and money. Ever since I started FFB 8 months ago, I started it with the intention to just be 100% happy – NOT for money. In fact, I haven't made a single ounce of profit off FFB. I do it because I love my brand so much. In the morning when I wake up, as I'm working at my day job, right before I sleep and as I dream, I constantly think of FFB and how I can make it even better. I still have loads of work to do, I'm gonna start by contacting each and everyone of the contacts I gathered up from Pool…
I congratulate you for reading this EPIC post! I hope that though I only received one order, many of you still believe in my brand, for those who still believe are the TRUE FFB fans! Tough it out with me, I'm not quitting. We'll get there. Happy September!
Need an E-Commerce Website?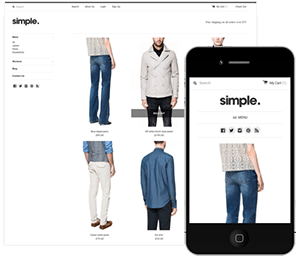 Shopify
is perfect for beginners and experts. You don't need to have any technical or design experience to easily create a beautiful online store with your branding. Choose from tons of well designed e-commerce templates that look great on desktops, phones, and tablets. Easily customize, create pages, add products, and you're pretty much ready to accept payments. Plans come with a free no risk 30 day trial period. Check out
our in depth review of Shopify here
and see why Shopify is our number 1 recommended shop for clothing companies.


Thread's not Dead is "the ESSENTIAL strategy guide for dominating the t-shirt business"
- Says Jeffery Kalmikoff, Former CCO of Threadless.com
Start your own clothing company and become the next Mark Ecko, Obey, or Johnny Cupcakes! Learn how to dominate the t-shirt business.

 How to Start and Grow your Own Clothing Company

 How to Build a Massive Following Using Social Media

 Case Studies and Interviews with the Best of the Best
Use the code "howtostart" for 20% OFF