When I first started my Chaos Wear I didn't know about plastosol transfers, my original plan was to use 'inkjet transfers' as my printing method, simply so that I could produce them as and when I needed them. Just like most start-up business owners I had this nagging voice in the back of my mind asking 'what if it doesn't work out?', so I wanted to keep my costs to an absolute minimum. I bought a heat press and a vinyl cutter so I could contour cut. After literally months of not being able to get along with my cutter I decided to change my business model and outsource my printing, I figured a couple of benefits of this would be that the printing would be to a better standard if I left it to the professionals, any error would cost them and not me and I had more time to spend on actually running the business.
I then began looking into different modes of printing and screen printing seemed the best option. The biggest problem for me was that my designs were very colorful and detailed, and since screen printing is billed per color, it wasn't looking good (I would very much advise you guys to pick your printing method before designing your shirts). The other problem was that I was offering my designs in 5 different sizes in mens, 4 sizes in womens, 5 sizes in hoodies and 4 sizes in kids, so for example if I wanted to order 5 of each type for 20 designs I would have ended up ordering 1800 garments in total! the nagging voice in the back of my head was ready to explode!
After doing some research I found out about plastisol transfers, for those of you who don't know what plastisol transfers are, it is the same process and quality as screen printing, however, instead of printing directly onto the garment, the design is printed onto release paper and then is heat pressed on.
And it really is as simple as that! For me it was a no-brainer, it felt like ordering plastisol transfers was a much better idea as I didn't need to buy tons of preprinted shirts, I could simply press as I sold, minimizing costs if the business didn't work, the other benefit that really appealed to me was the fact that I was able to offer all shirt types; to me there was nothing worse than turning away a customer that wanted to buy a specific design in a certain size which was sold out whilst the other shirt sizes were overstocked. Another benefit of plastisol transfer printing is the ability to purchase 'gang sheets', this means putting several designs onto one sheet, for example if an a3 sized sheet costs $2.40, and you're able to fit 3 designs on there, the cost of each design would be $0.80, so it can work out to be much much cheaper for some than screen printing depending on the design. Gang sheets would look something similar to this;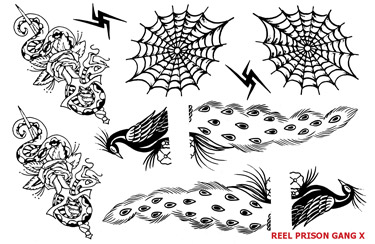 Remember my problem I told you about earlier about too many colors? Well I found out about a type of plastisol transfer/screen printing called '4 colour process' which has the same price for 4 or 40 color designs and tackles gradients and shading well, I have even seen US companies offer quantities starting from 8 pieces!
However, screen printing directly onto shirts also has it's advantages, as many screen printers do not offer printing as plastisol transfers as a service, it may be that you are able to negotiate a better price, you could also get a better price if your screen printer gets good discounts for purchasing large amounts of blank garments, another benefit is that you get the complete product, so that you are spared from any wastage due to errors whilst pressing. Outsourcing your printing completely would also spare you the cost of purchasing 'heat press' machine that range from around $200-$1000+.
whichever method you choose, I highly recommend that you request samples from potential suppliers and give repeat test washes to ensure the quality of the garments and also remember to include the cost of screen charges to the cost of the transfers when comparing prices of different companies.
I wish good luck to you all in whichever method you decide to take
This post was written by:
Ruchi the owner of Chaos Wear, a funny t-shirt company in the UK!
Need an E-Commerce Website?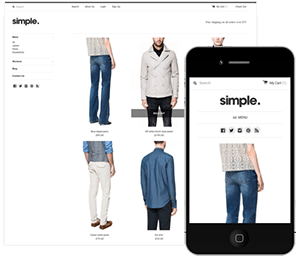 Shopify
is perfect for beginners and experts. You don't need to have any technical or design experience to easily create a beautiful online store with your branding. Choose from tons of well designed e-commerce templates that look great on desktops, phones, and tablets. Easily customize, create pages, add products, and you're pretty much ready to accept payments. Plans come with a free no risk 30 day trial period. Check out
our in depth review of Shopify here
and see why Shopify is our number 1 recommended shop for clothing companies.