This is the seventh annual Richard M. Clarke Distinguished Entrepreneurial Lecture, held on May 4, 2006, at Fairleigh Dickinson University's College at Florham. It was presented by the Rothman Institute of Entrepreneurial Studies, part of the Silberman College of Business. Seth Gerszberg is president of Marc Ecko Enterprises. He, along with Head Designer Marc Ecko and Executive Vice President Marci Tapper, founded *ecko unltd. in 1993 as a graffiti-inspired T-shirt company. Seth Gerszberg has turned a modest T-shirt company into a $1 billion clothing and lifestyle empire. to orbit the earth; he did so in October 2005 on the International Space Station. After an illustrious career as a research scientist and entrepreneur, Olsen, currently is president of GHO Ventures, where he manages his angel investments. His talk begins with his successful entrepreneurial journey and then ends with an inspiring and humorous discussion about his space travels, starting at about 23:00 minutes into the clip. In his presentation Olsen includes video clips from his space adventure. The video is about 1 hour in length
Seth Gerszberg, Chief Executive Officer of Marc Ecko Enterprises, is responsible for business development and strategic planning, in addition to directing MEE's marketing and creative services, brand imaging, licensing, international development, and MEE's retail growth strategy. Seth Gerszberg, along with partners Marc Ecko and Marci Tapper, founded *ecko unltd. in 1993 at the age of 21 while a senior at Yeshiva University.
Gifted with a keen marketing acumen, an insatiable appetite for success, and a cutting edge business model, Seth Gerszberg took the fledgling t-shirt company and grew it over the ensuing years by riding the crest of an evolving youth lifestyle market.
In addition to his corporate commitments, Seth Gerszberg supports a variety of charities, including personally overseeing and providing funding for Tikva Children's Home, a Ukrainian orphanage dedicated to saving the lives of orphaned, abandoned and abused children of the Odessa, Ukraine, region.
Need an E-Commerce Website?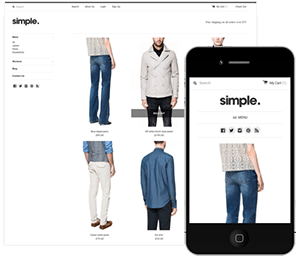 Shopify
is perfect for beginners and experts. You don't need to have any technical or design experience to easily create a beautiful online store with your branding. Choose from tons of well designed e-commerce templates that look great on desktops, phones, and tablets. Easily customize, create pages, add products, and you're pretty much ready to accept payments. Plans come with a free no risk 30 day trial period. Check out
our in depth review of Shopify here
and see why Shopify is our number 1 recommended shop for clothing companies.