I have been building e-commerce sites for the last 8 years with my web design company Double Dragon Studios. I have developed on a lot of different carts; magento, opencart, woocomerce, bigcartel, prestashop and a few others and Shopify is by far my favorite e-commerce solution and the only one that I develop e-commerce sites on right now. If you are looking to build an e-commerce site for your clothing company please read this article and save yourself a lot of time trying other carts that are a lot more complicated, not designed as well, and cost more.
I have a more updated article about Shopify if you click here.
Costs
Shopify starts at just $14
It costs $14
You can have 25 products
Unlimited bandwidth
1 gb storage
A ton of free and premium themes
Multiple gateways (you can accept credit cards!)
There are some drawbacks to this plan
You can't edit the theme files to fully customize your theme
It doesn't have discount codes
Not being able to edit your theme isn't that big of a deal. Most of the premium themes out there are going to give you a bunch of options you can edit in the backend. This will let you put in your logo, add slideshow images, and change colors and fonts so it fits with your brand. It's only the people that really want to go in and fine tune everything that will have to go to the plan higher. It doesn't have discount codes as well which I feel like most store owners are going to want to have, but for what you are getting it's an awesome deal for $14 a month.
With this plan you'll be able to accept money from multiple gateways and accept credit cards, most companies that charge a similar amount are paypal only. Also with shopify you are going to get your own blog where you can upload pictures and connect with your audience, most other companies don't offer this. They also offer a lot of amazing free and premium themes so you can just edit a few things to fit your brand and you're going to look professional. Like I said for $14 there is a lot of features and its a great deal for the price. What I love about shopify is that it is the complete package, you can run your blog and everything else on your one site. With bigcartel I made an identical theme on wordpress so it would have a blog and more functionality, with shopify you don't need to do that its all in shopify.
Basic package has discount codes
The Basic $29 a month plan use to not have discount codes. You would have to pay $59 to get that. That's a lot of money to get a feature that is pretty basic. Now shopify has added that feature to the Basic plan and I am pretty excited about that. Also with this plan you get to fine tune your theme files so you can completely customize your site.
Now I am going to go more in depth about Shopify
Shopify Review: Price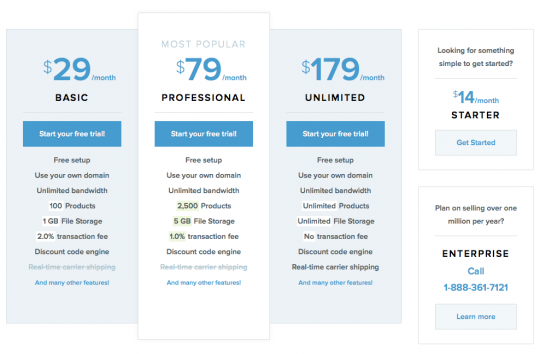 Here are the plans and prices. The starter and basic are probably going to be good enough for most clothing companies starting out. Only when you get to higher amount of products will you need to upgrade.
Shopify Review: Themes
Shopify has over 100 premium and free themes that are going to make you look professional and stand out from the crowd. Y
Some of my favorite free themes are Atlantic, Fashion, Vintage, and Simple.
All of these themes above are responsive, which is a method that automatically adapts the rendering of a web page according to the screen size or orientation of the device. Simply put your website is going to look good on every size screen including tablets and mobile. With smart phones becoming a lot more popular users are using their cell phones a lot more to browse the internet. Making your website look good on a mobile site is more important then ever and will become even more important in the following years.
Shopify Review: Theme Customization
Every website template comes with its own settings so you can quickly and easily customize your website's design. The Theme Settings editor lets you preview your storefront as you're making changes to it. Here you will be able to save a lot of money by being able to customize your store without having to pay an expensive graphic designer. You can literally make a website in a day, customize it to fit your brand, and be up in running that same day.
Shopify Review: Totally flexible website designs
I have done a couple projects with my web development company double dragon studios on shopify and used a couple of different web coders and they have all found shopify easy to work with. I've used carts like magento, opencart, and woocommerce and all of them have ended up being a  pain to get everything perfect. Shopify is just simple.
No HTML or CSS is off-limits
You have complete control over your website's design.
Shopify Review: Running your store
Shopify's backend is super simple. You are going to be able to run and manage everything yourself without any help from a web master. Add products, edit prices, add blog posts, change the front page of the site, Shopify makes it easy for you to do everything in the backend of the site. This is one of the biggest reasons why I like to recommend Shopify when I am developing sites. I want to give clients the ability to run everything once I am gone. I want to make it easy on them and Shopify does that.
Apps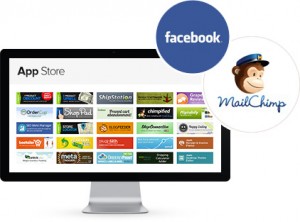 Shopify apps are a fast, easy way to add useful extra features to your website storefront.
Apps give your store an edge over the competition by increasing your marketing capabilities, making your shop even easier to manage, helping you track sales trends, and more.
Shopify already has all the basics so you aren't going to need any apps unless you are looking to do something special. I really like shopify's SEO features. It gives you everything you want and its simple.
Over 70 Payment Gateways
It's not just paypal!
The Shopify shopping cart integrates with over 70 payment gateways to accept credit cards from all over the world.
Shopify Review: Shipping
Shipping rates can be set up in a number of different ways, including fixed-price, tiered, weight-based and location-based rates. However you want to do it shopify makes it possible
Easy Checkout
The Shopify checkout process is simple and won't lose customers because it is too long and complicated. On the cart page you can use paypal to let customers skip filling out the checkout page and collect their information from paypal through express checkout. If users want to use a credit card then the checkout process is easy and quick also. Here is a picture of Fuzzy-Inks checkout page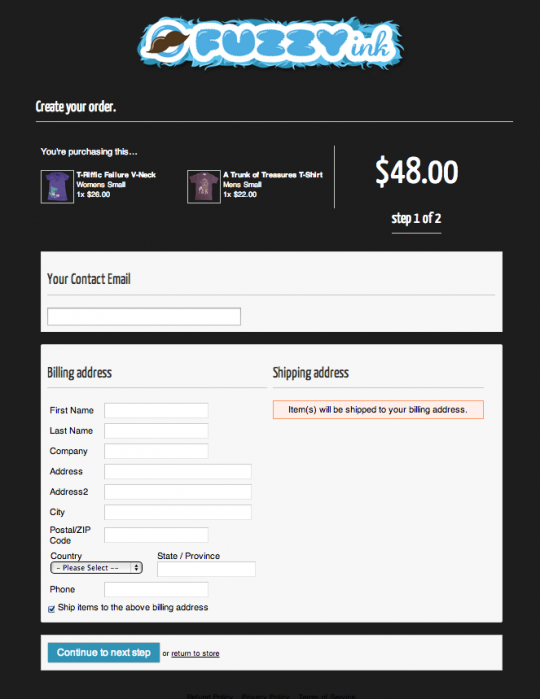 Shopify Review: Other Features
Multiple languages, taxes and currencies.
Choose from a number of local currencies and we'll automatically handle major country and state tax rates.
Shopifys  checkout comes in 50+ languages, and you can always translate your store's theme to suit your needs.
Free SSL certificate
At no additional cost, your website's shopping cart includes an 128-bit SSL certificate to keep your information secure – the same level of encryption used by large banks around the world.
Certified PCI compliant
Shopify is certified Level 1 PCI DSS compliant, which means your shop can accept VISA, MasterCard, and other credit cards as payment. It's easier than ever for customers to buy from your store.
Content delivery network (CDN)
Shopify was the first hosted ecommerce website solution to use a content delivery network.
A CDN is a large network of servers placed across the world to ensure your customers can load your website store quickly, no matter where they are.
Shopifys CDN is operated by CDNetworks, one of the most reputable CDN companies.
Search engine optimization.
Potential customers must be able to find your store using search engines. With an SEO friendly CMS, Shopify supports best practices like customizable H1, title and meta tags and SEO friendly urls.
Shopify also automatically generates sitemaps.xml files so new products and site changes are indexed and show up on search engines quickly.
Discount code & coupon engine.
Basic, Professional, Business and Unlimited plan members can use the Shopify coupon engine to create sales, discount codes and coupons to help promote your products.
Offer coupon codes that save customers a monetary amount, a percentage amount, free shipping and more.
Social network integration
All Shopify themes include social network integration, allowing your customers to spread the world and share the great products they find on your online store.
Shopify Review: Conclusion
Shopify's basic plan is for companies that want it all. They want more products, discount codes, and the ability to fine tune their website. This option is only $29 a month and I would recommend it to most companies.
Shopify is powerful and simple and you'll be able to look professional without spending a ton of money. Your getting a site with a built in blog and hosts all of your images, SEO editing abilities, a CDN so your site loads faster everywhere, a free SSL, awesome free and premium themes, tons of Apps to do whatever you want, a price that won't break the bank, and a free 30 day risk free trial.
This is the real deal. I have used a ton of different carts in the past and have been unhappy about how they work. Shopify is the exception they have gotten better over the years and offer an amazing deal for clothing companies starting out. . Click here to check out Shopify.
If you have any questions leave them in a comment and I'll answer it.
Need an E-Commerce Website?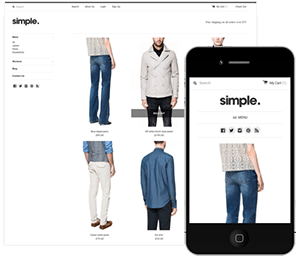 Shopify
is perfect for beginners and experts. You don't need to have any technical or design experience to easily create a beautiful online store with your branding. Choose from tons of well designed e-commerce templates that look great on desktops, phones, and tablets. Easily customize, create pages, add products, and you're pretty much ready to accept payments. Plans come with a free no risk 30 day trial period. Check out
our in depth review of Shopify here
and see why Shopify is our number 1 recommended shop for clothing companies.