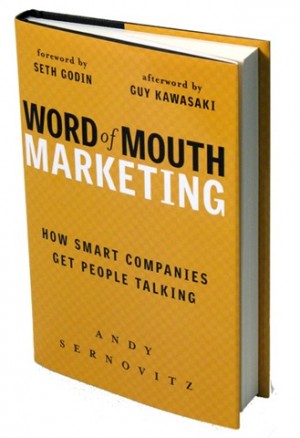 I just finished the book "Word of Mouth Marketing" by Andy Sernovitz and it was a great read. Here are a few bullet points to get you started on word of mouth advertising. I'm going to make a full post later on how companies like Johnny Cupcakes, Threadless, and Linty Fresh have used word of mouth to great success.
Look on the web for people talking about you.
Decide who will join those conversations. Start today.
Create a blog.
Make a new rule: Ask "Is this buzzworthy?" in every meeting.
Come up with one buzzworthy topic keep it simple.
Put something on your site that will remind them to talk to a friend.
Let your talkers sign up for a private newsletter.
Pick one easy way to track down word of mouth.
Put a tell-a-friend form on every page of your website
Put a special offer in an easily forwardable email.
Add a small gift and word of mouth tool to every package you sell.
Have a private sale for your talkers.
Apologize for mistakes and solve problems fast.
Partner with a charity.
Do something unexpected.
Be nice.
Do something worth talking about!
I would recommend this book to anyone out there trying to find inexpensive ways to spread the word about their company. You can get it at Amazon for under $10 on kindle. Click the link below for a link to the book.
Word of Mouth Marketing: How Smart Companies Get People Talking
Need an E-Commerce Website?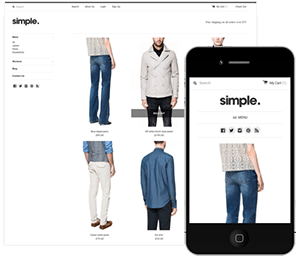 Shopify
is perfect for beginners and experts. You don't need to have any technical or design experience to easily create a beautiful online store with your branding. Choose from tons of well designed e-commerce templates that look great on desktops, phones, and tablets. Easily customize, create pages, add products, and you're pretty much ready to accept payments. Plans come with a free no risk 30 day trial period. Check out
our in depth review of Shopify here
and see why Shopify is our number 1 recommended shop for clothing companies.


Thread's not Dead is "the ESSENTIAL strategy guide for dominating the t-shirt business"
- Says Jeffery Kalmikoff, Former CCO of Threadless.com
Start your own clothing company and become the next Mark Ecko, Obey, or Johnny Cupcakes! Learn how to dominate the t-shirt business.

 How to Start and Grow your Own Clothing Company

 How to Build a Massive Following Using Social Media

 Case Studies and Interviews with the Best of the Best
Use the code "howtostart" for 20% OFF