Whenever I meet new people they inevitably ask me what I do. I usually just say I'm an entrepreneur and try and be as vague as possible because I really don't want to get into the details because they wouldn't understand. It's not even that the concepts are that hard to understand I feel it's that most people don't believe you can make money doing it.
When I do get a little more in depth and say
"I run a clothing company. I pay designers to design shirts. I pay someone to print the shirts. I pay someone to ship the shirts."
The follow up questions usually is "what do you actually do". I feel like everyone wants to see what you put in because for most people they put in hours at work and you get paid for it.
Even though I don't do a lot I am the one that makes everything happen. Without me everything falls apart. I come up with the ideas for the shirt. I make sure the design comes out how I want it. I make sure the colors are prefect before it goes to print. I make sure all the customers are happy. I get the word out about sales and new shirts.
Refining what you do and being the best at it as well as being a great manager is something every business owner needs to do. Find out what your weakest at and outsource it.
Need an E-Commerce Website?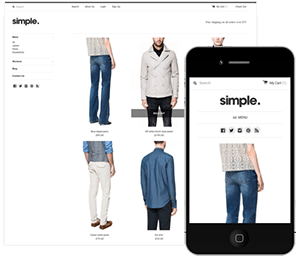 Shopify
is perfect for beginners and experts. You don't need to have any technical or design experience to easily create a beautiful online store with your branding. Choose from tons of well designed e-commerce templates that look great on desktops, phones, and tablets. Easily customize, create pages, add products, and you're pretty much ready to accept payments. Plans come with a free no risk 30 day trial period. Check out
our in depth review of Shopify here
and see why Shopify is our number 1 recommended shop for clothing companies.


Thread's not Dead is "the ESSENTIAL strategy guide for dominating the t-shirt business"
- Says Jeffery Kalmikoff, Former CCO of Threadless.com
Start your own clothing company and become the next Mark Ecko, Obey, or Johnny Cupcakes! Learn how to dominate the t-shirt business.

 How to Start and Grow your Own Clothing Company

 How to Build a Massive Following Using Social Media

 Case Studies and Interviews with the Best of the Best
Use the code "howtostart" for 20% OFF