My buddy sent me a video a couple days ago and after watching the beginning I paused it to watch it on my big screen tv with all my roommates. It is such an epic video I would suggest everyone to press the play button right now.
After it was over we had this discussion about the limitations of the human body and human mind. Really we don't have any limitations just the limitations that we put on ourselves. We are capable of such amazing things but too often we just consider things impossible.
Limiting beliefs: the beliefs or decisions we make about ourselves and/or our model of the world that limit the way we live our life.
We all do this. We tell ourselves that we can't do something. I can't cook, I can't draw, I can't be a boss for someone else. There is a great quote by Henry Ford "Whether you believe you can or you can't, you're right". If you're starting a clothing company you need to push past those limiting beliefs and open your mind up to the possibilities that are out there.
A book I read a while ago was called "Feel the Fear and Do it Anyway" by Susan Jeffers. What she talks about is putting everything in your control. If you keep on thinking things are out of your control you are helpless and can't do anything about it. If you have the mindset that you are in control of your thoughts and actions you can handle whatever life gives you. You are never going to lose your fear but you will learn to push past it.
I have been afraid of heights since I was a little kid but I really wanted to conquer my fear and be able to control it. I started by doing jumps off some rock faces into water. The first jump I did took me 20 minutes to work up the courage to jump. The more I jumped the less scary it became. You fear the unknown but once you do it you realize it isn't as scary as you thought. You never lose your fear but you learn to control it.
In business I also set limiting beliefs for myself. When I was in college I never thought I could be someone's boss and manage people but here I am doing it. Once I did it it was easy and you just need to push the initial "I can't" to succeed.
Need an E-Commerce Website?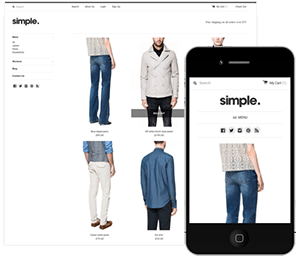 Shopify
is perfect for beginners and experts. You don't need to have any technical or design experience to easily create a beautiful online store with your branding. Choose from tons of well designed e-commerce templates that look great on desktops, phones, and tablets. Easily customize, create pages, add products, and you're pretty much ready to accept payments. Plans come with a free no risk 30 day trial period. Check out
our in depth review of Shopify here
and see why Shopify is our number 1 recommended shop for clothing companies.