Storenvy has made a lot of changes since my original review so I thought it would be good to go back and give them another review.
Storenvy Review: Things that have been improved
The storenvy marketplace has been completely revamped. They added a lot more relevant categories and made the site a lot more user friendly to navigate.
They get a lot more traffic, bringing in a million in sales just through the marketplace every month.
They added the ability to use your domain for $4.99 a month.
They have discount codes for $2.99 a month.
They added another theme called Cooper which is responsive.
Storenvy Review: Overview
If I had to describe storenvy I would call it "Etsy for things more than just handmade and vintage items." They really are very similar to etsy with the exception that you can also create your own custom store with your branding which is a nice touch. Storenvy has done a nice job at blending the two. I remember in the beginning that storenvy use to suggest other items you might be interested in from other companies at checkout. It was not cool! I didn't want customers that I brought to my site to end up buying products from another site. They have since changed and there is only a link to storenvy in the bottom right of your theme which users can leave your store and find other items to buy. The marketplace is the other part. I really like it and there is a ton of awesome features like being able to have fans watch your brand and get info in their feed when you put up new products. Also letting users comment and envy products brings a lot more community and social aspect to shopping. Here is a picture of a product in the marketplace. Users can buy the product straight from this page, you can envy the product, and write comments about it.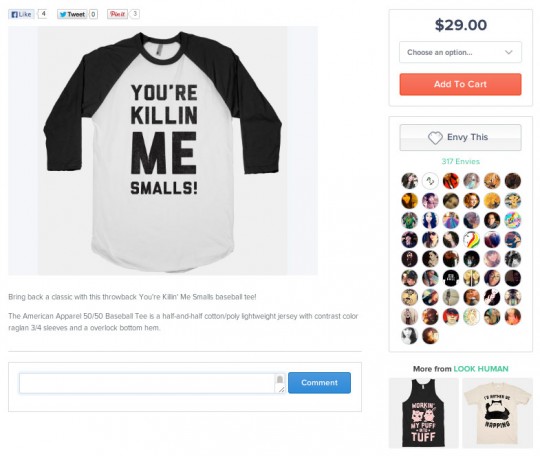 Storenvy Review: Prices
Storenvy is free for their basic setup.
To use your domain costs $4.99 a month.
Basic discount codes are free but the upgrade for more options cost s$2.99 a month.
If you want to make a business out of this I can't see anyone passing up the custom domain or upgraded discount codes so the cost of storenvy is $7.98 a month, which is still one of the cheapest on the internet
Storenvy Review: Themes
Storenvy released their second theme called Cooper which is their first responsive theme. The last one was not very good and left a lot to be desired. The new one is pretty good. You can easily edit the colors, fonts, show or hide inventory bars, add a logo, add a background image, and do some basic customization. It's a pretty solid theme.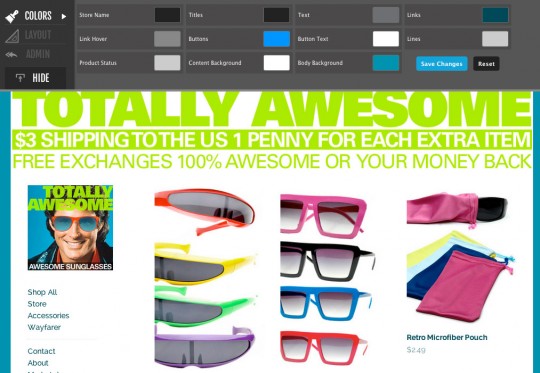 Storenvy Review: Backend
I like Storenvy's backend. It's simple and easy to use. Easily add products and edit the inventory. Easily see what you has been sold and ship out your orders. There is also an export csv file, which I am pretty sure you can import into programs like stamps.com and endicia and import over all the info for easily shipping orders.
Storenvy Review: what still needs to be changes
Most importantly the storenvy marketplace needs to be responsive.
Whatever they are working on right now they need to stop doing and put all their energy into making the marketplace better for tablet and mobile browsers. There are more and more people using their phone to browse the internet for items and not having a responsive site is making it a lot more frustrating for these users.
Adding the features of the marketplace to the store.
It would be nice to have the comment system, and the ability for users to envy products and watch your store.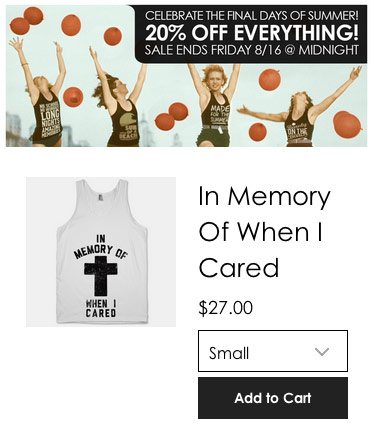 Improve the theme
I like the new responsive theme for storenvy. The last theme they had was not very good and it is nice to see a responsive theme for them.  My only big complaint is the mobile view. This should really be one column, where the product image takes up the full width of the browser. This is pretty standard from all the responsive stores I've seen. Another complaint is how big the storenvy logo is in the footer of the theme. It doesn't take up too much space in a regular browser but on mobile its too prominent.

More Themes
Storenvy has only created one new theme in a couple years which is pretty sad. Storenvy should be allowing designers to sell themes they have created on their site. One size does not fit all for website designs and there needs to be more choices for me to recommend storenvy.
More Plugins and Apps
Storenvy should also have a plugin and app store where they can buy plugins to further enhance their site.
Blog
Storenvy needs to develop a system to let companies have a blog on their site. This is one of the biggest ways clothing companies can get traffic to their site and without a built in blog they are limiting their traffic.
Credit Cards
I heard recently that bigcartel was going to accept credit cards through Stripe. Storenvy needs to be doing the same if they want to offer a service comparable to bigcartel.
Storenvy Review: Conclusion
Storenvy is a great idea I will give them that. The marketplace + custom store is something that is unique. I really like the envy options, and the ability for users to watch stores in the marketplace.  I would not suggest using storenvy for anyone that is serious about creating a clothing brand. They just don't offer the features like blog, accepting credit cards, custom themes, plugins and apps store, and SEO options that will help you build your traffic and build your brand. I think storenvy does have a market for companies that want something for cheap and don't want to spend too much time on their company. The martketplace will bring them in some sales without much work on their part. In the end I want more than what storenvy has to offer and I think serious business owners do to. For clothing companies I would recommend shopify over storenvy. There is just so much more shopify can do and for $14 a month for the starter plan is isn't even that much more expensive. With shopify you get better SEO, tons of free and premium themes, collect credit cards, tons of free and premium apps and widgets, a built in blog, and more customization of theme in backend including a slideshow. Check out my in depth review of Shopify by clicking here. If you want free storenvy is okay, but if you want more go with shopify.
Need an E-Commerce Website?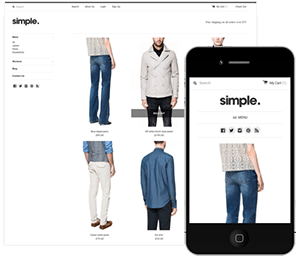 Shopify
is perfect for beginners and experts. You don't need to have any technical or design experience to easily create a beautiful online store with your branding. Choose from tons of well designed e-commerce templates that look great on desktops, phones, and tablets. Easily customize, create pages, add products, and you're pretty much ready to accept payments. Plans come with a free no risk 30 day trial period. Check out
our in depth review of Shopify here
and see why Shopify is our number 1 recommended shop for clothing companies.