I wrote this article for my blog, Tee Spotter. If you have an idea for a future article, or want your brand featured/reviewed please feel free to contact me at teespotterblog@gmail.com
Blank t shirt & How To Choose One
When starting your clothing line, one of the many factors that come in to play is choosing what brand of apparel blank t shirt to print on. This is a big decision, there are many different levels of price, quality, material, and fit that you need to take into consideration before you order. But not to worry, I'm writing this article to help people just like you who need help picking what brand to use. In order to keep this nice and neat, I'll break down each part of a blank t shirt  that should be looked into before choosing one, and then go into some examples of what brands would be best for who.
Blank t shirt parts (What To Consider)
Material – This might seem like something that wouldn't really matter because it's "just a t-shirt" but this assumption is very untrue. The material of your tees will be felt by each and ever one of your customers, and they don't want to feel some thick, rough t-shirt that shrinks to half it's size when washed. Don't go cheap.
The most popular material being used for clothing lines right now is 100% cotton, but keep in mind that just because a tee is 100% cotton doesn't mean that it's top of the line. We still have the quality factor to add in later. There is also a difference between 100% cotton and 100% ringspun cotton. Ringspun cotton is softer, feels nicer, and prints better.
Some other materials you might want to check out are cotton/polyester blends. A common blend that most people have heard of is 50/50 which is 50% cotton and 50% polyester. These blends are a bit softer, and the color is sometimes heathered with spots of other colors like grey or black showing up. Just a note, your typical heather grey shirt unless otherwise noted is 90% cotton and 10% polyester. Another type of blend that is growing more and more popular are Tri-Blends, widely known from American Apparel these tees are SUPER soft and have a stretchy feel to them. They are made up of 50% Polyester/25% Cotton/25% Rayon and they also typically show some specs of other colors as well. They are on the higher side in price but we'll get to that later.
There are also organic cotton tees, which with my own experience aren't much different from your normal 100% cotton tee, they're pretty soft, but I've also had normal cotton tees that are even softer. I guess this really comes down to if you're trying to be earth friendly with your tees, it's more of a personal decision. Still, something to think about.
Fit – This part of a blank tee matters even more than the material. The way your tee fits should be aimed at who your target market is. If you're selling to a street wear crowd you might want to go with a more baggy box cut tee or even some of those tall tees. If you're aiming at people who buy funny shirts or tees with sayings on them then you'll want to go with an all around blank that anyone would wear, not super fitted and not super baggy either. If your clothing line is meant for people who wear t-shirts everyday and want to look good in them, I would go with a fitted shirt, which is sometimes referred to as a tubular or fashion fit. Whichever fit you choose for your brand, make sure its one that your customers would wear, because if you don't sell the kind of tees they like to wear, then they aren't going to buy them.
Quality & Price – These two things tie together because the price you want to pay in the end really relies on what kind of quality you want to offer. Obviously, you want to offer the best quality, but sometimes this isn't in your budget and if you're a brand who is just starting out then you'll want to cut costs in anyway you can. If you have the money, then hey go for the best tees you can, if not, don't even justify your brands quality for a better price, but more so try to find the best quality you can at a price that's right for you. It will take some research but it will be well worth it in the end, and I'm here to help you with this article. Let's get into some actual brands.
Blank t shirt brands
What brand of blank t shirt  you pick doesn't technically matter to your customer because they may not even know the names of these brands or know what the difference is. Especially if you re-label your shirts they most likely won't know what brand you're using, BUT there is another way to look at this, take a look at the bigger companies like American Apparel who have a huge name. It might be a good idea on your part to tell your customers this(that is, if you choose to USE the brand, don't go lying to them), but, it's up to you if you tell your customers what brand you print on. Let's get into each brand and which would be right for you. To save the length of this article, I'm going to stick to the most popular brands out there.
Standard Tees (Ex. Fruit of the Loom, Hanes, Gildan, Anvil, ect.) – These brands are the standard for most screen printers because they cost the least to use. They are usually 100% cotton(not ringspun) and box cut, not fitted in any way. Some of these brands DO offer a fitted version of their tees(ie. Gildan Soft Style) but they will cost a little more, still worth looking into though. If you're a brand selling funny tees with sayings on them or selling to the skateboard crowd these brands will work just fine for you, they are a good bang for your buck.
American Apparel – American Apparel have gotten themselves a pretty big name in the clothing world, not just with t-shirts, but with just about everything; though when it does come down to their t-shirts, you can't really go wrong. They offer 100% ringspun cotton, 50/50 blends and Tri-Blends and all come in a million color choices. The quality of these shirts is above standard, so you do pay more for them, but it's well worth it. Especially if your brand is for people who wear t-shirts 24/7 and want to look good and feel comfortable, or if your brand has more of a fashion sense to it rather than just awesome looking t-shirts. All around, this is the most popular blank t shirts out there, for many reasons, one of the main ones being they are made in the USA.
Alternative Apparel – Think of this brand as a more expensive, equal to or slightly higher quality American Apparel. These shirts are super soft and have a really nice fit. The fabric is slightly stretchy and is noticeably thinner than your average t-shirt. The sizes are also not as consistent with other t-shirt brands, so if you choose this brand make sure you take a look at the size charts and send the message along to your customers. Overall they are decent shirts, a lot of the ladies prefer them over other brands because of the fit(we're talking women's cuts). If you can afford to print on these then go for it, but I wouldn't empty your wallet over them.
Tultex – Ah, yes, the t-shirt brand with the most controversy. There are a lot of mixed feelings about this brand of blank t shirts, and to be honest, all of them are correct. The thing is your paying less for a comparable version of a fashion fit tee. Are they 100% ringspun cotton? Yes. Are they fitted? Yes. Are they nice tees? Yes. Then what's wrong with them? Nothing. Tultex is providing you with a less expensive alternative to offering a nicer fitted shirt for your customers, and if we go back to the "Quality & Price" section of this article I'll repeat to you that you get what you pay for. Tultex shirts shrink a bit when dried, the colors aren't 100% consistent between batches and the sizes aren't always spot on, BUT, for the price you pay for them, they are great tees. If you're a brand who wants to print on American Apparel or something similar but can't afford to pay the big bucks, try out this brand. Tultex is most definitely a close second to the big dogs. PS- They also offer a 50/50 blend.
Alstyle – Very similar to Tultex, Alstyle is a great way to put out a quality product and save a few dollars. They aren't as good of a fit as Tultex or American Apparel and they do shrink quite a bit more, but if you're looking to print shirts just to try out a design or for promotional use, then they will work fine. Also, they are 100% cotton but not ringspun, so don't expect an extremely soft shirt. These would also be a decent option for someone who's printing funny shirts or something for a street wear brand.
There are more brands out there worth looking into, but like I stated above, I highlighted only the most popular. Some other brands you may want to consider are Next Level, Royal Apparel, Bare Apparel, and Bella. There are still more but I could fill up a whole extra page full of shirt brands. I have to leave some of the research for you 😉
Conclusion: Blank t shirts
I'm not saying in any way that a street wear brand can't print on Alternative Apparel or that a fashion based brand can't print on Alstyle. These are merely suggestions based on my own knowledge and experiences in the t-shirt business. I've been involved with t-shirts more than the average person(probably more than a healthy person should be) for about 5+ years now and I'm still learning more everyday.
I don't know everything, and you might not all agree with what I said and that's perfectly fine, everyone is entitled to their own opinion. Please keep in mind that what shirt you print on is ultimately up to you, this article is only here to help guide anyone who may not know about the industry enough to make a choice.
Thanks for reading everyone! Let me know what you think about this article in a comment on the original post, I would really appreciate your feedback. Spread the word to anyone you might know who's working on a clothing line of their own.
Decide what blank t shirt is right for you
Now that you are a little more informed about what type of blank t shirt your interested in go out and order some samples. It is wise to get a sample of every color shirt and brand you are going to print on. No one wants to get 100 screen printed shirts on something they didn't expect.
Need an E-Commerce Website?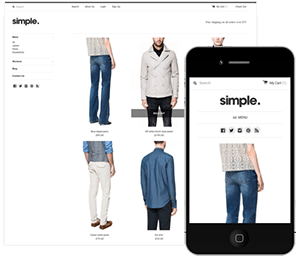 Shopify
is perfect for beginners and experts. You don't need to have any technical or design experience to easily create a beautiful online store with your branding. Choose from tons of well designed e-commerce templates that look great on desktops, phones, and tablets. Easily customize, create pages, add products, and you're pretty much ready to accept payments. Plans come with a free no risk 30 day trial period. Check out
our in depth review of Shopify here
and see why Shopify is our number 1 recommended shop for clothing companies.